Snickerdoodle Cookie Dough Truffles. Enjoy your favorite childhood cookie in truffle form! This egg free cookie dough is rolled in white chocolate and dusted with cinnamon sugar.
We can't get enough homemade truffles around here! That's why we have truffle flavors for every occasion, from Candy Corn Oreo Truffles to Chocolate Chip Cookie Dough Truffles!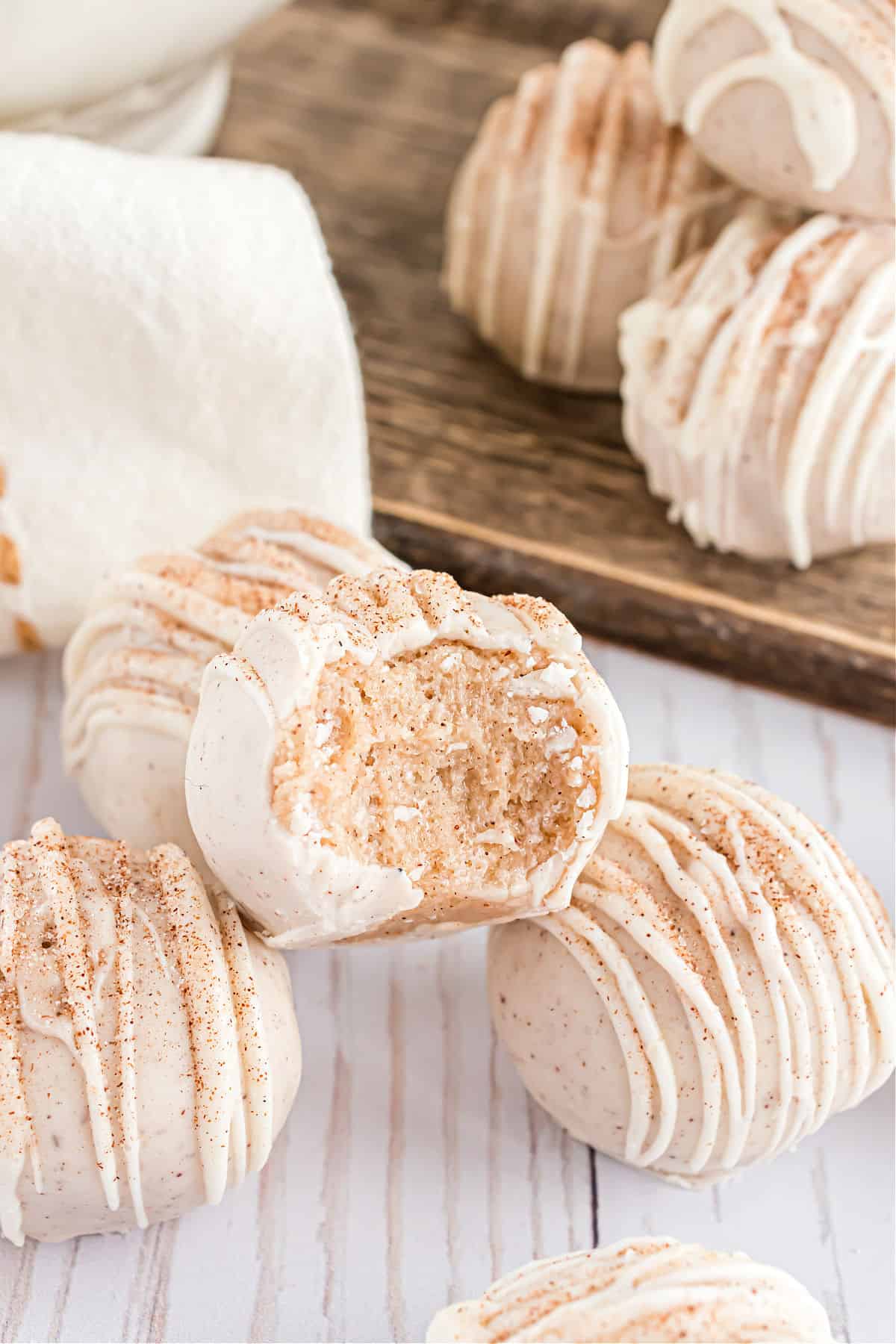 Why this Recipe Works
Everyone loves chocolate chip cookie dough. But Snickerdoodle cookie dough is just as delicious!
The center of these truffles is a ball of snickerdoodle cookie dough. No worries–the egg free dough is totally save to eat raw!
A white chocolate cinnamon coating makes up the outside of the truffle.
Extra cinnamon/sugar sprinkled on top gives the truffles that classic Snickerdoodle look.
Snickerdoodle Cookie Dough Truffles are so easy to make. They're perfect to give as a gift or share with friends.
Ingredient Notes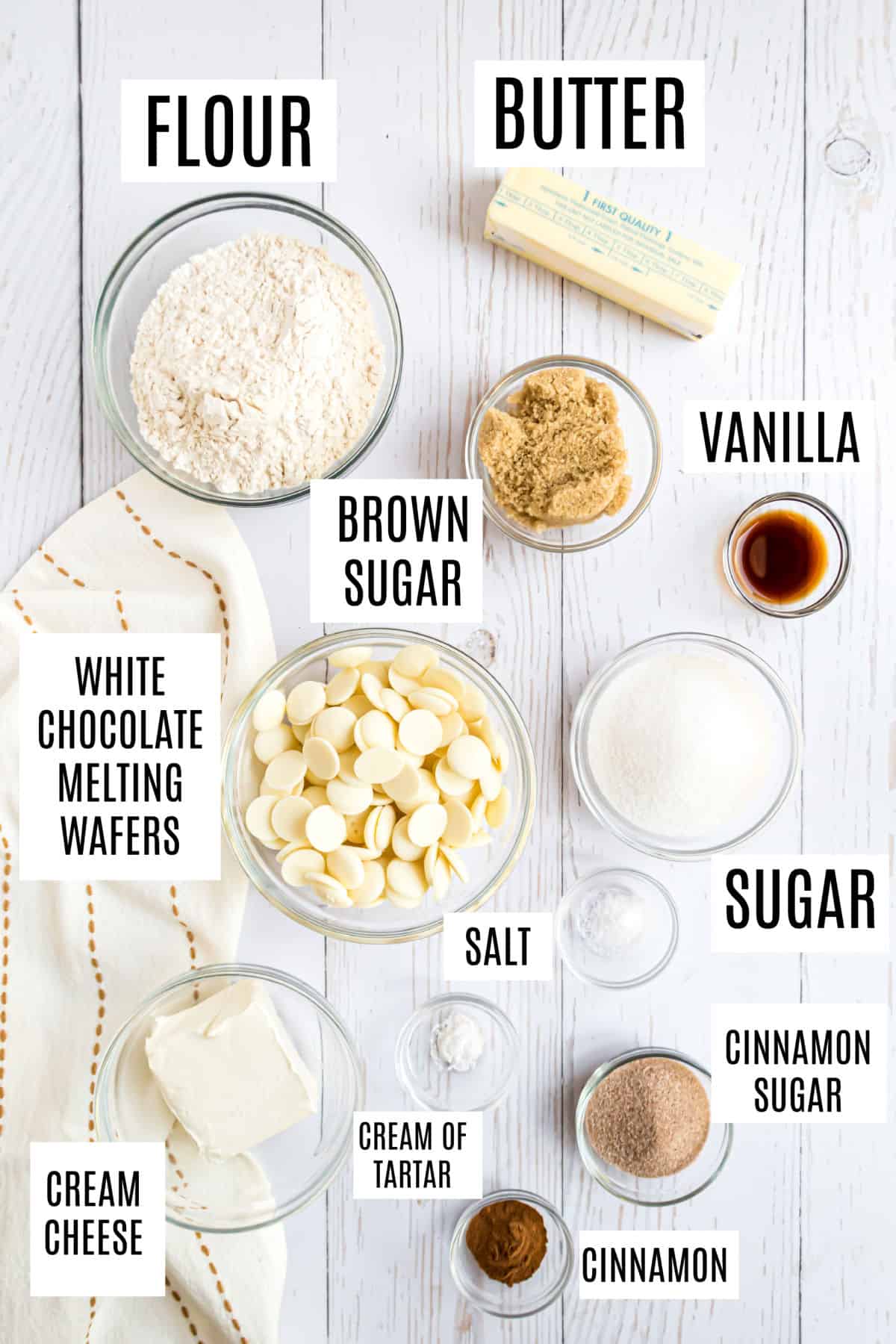 All purpose flour. Before adding flour to the recipe, make sure you heat treat it. Toasting your flour in the oven for a few minutes kills any unwelcome bacteria that may be present and ensures your raw cookie dough is safe to eat!
Cream Cheese and Butter. Gives the truffles filling a soft and tangy flavor.
White chocolate wafers. As always, I use Ghirardelli melting wafers for this truffle recipe. You can also use vanilla almond bark or vanilla candy melts.
Easy Instructions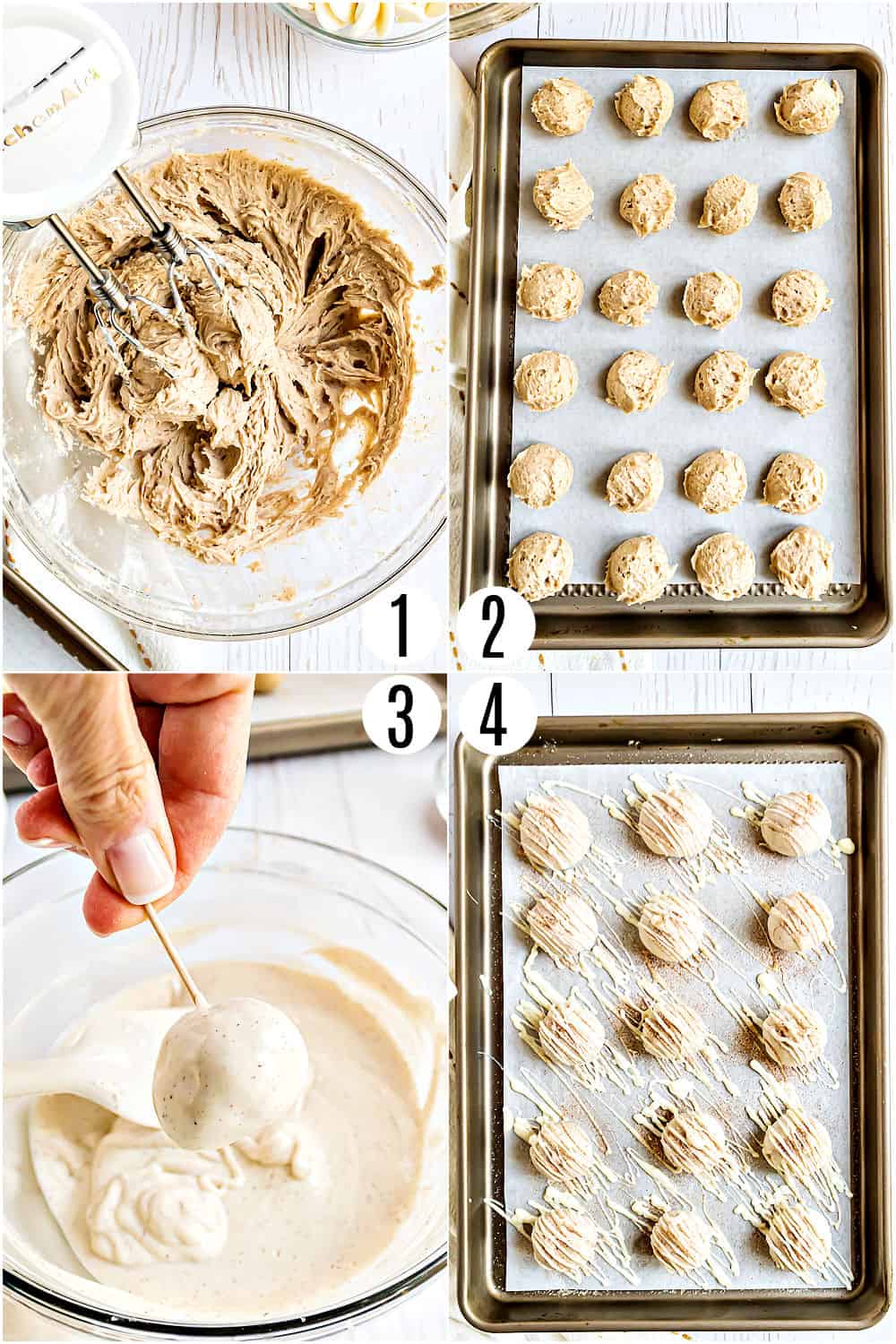 Make the cookie dough. Beat cream cheese and butter with brown and white sugar. Add vanilla extract and your dry ingredients to form a dough.
Freeze the cookie dough. Scoop the dough by the tablespoon onto a parchment lined baking sheet. Freeze for at least 2 hours.
Dip in white chocolate. Melt chocolate wafers according to package directions. Set a little aside in a separate bowl. To the rest, add a dash of cinnamon. Use a toothpick to dip the frozen cookie dough balls into the melted cinnamon white chocolate. Drizzle the remaining white chocolate over the dipped truffles.
Cinnamon sugar coating. Sprinkle the dipped truffles with a mixture of cinnamon and sugar. Let the chocolate set for about 15 minutes. Eat right away or store in the fridge for later.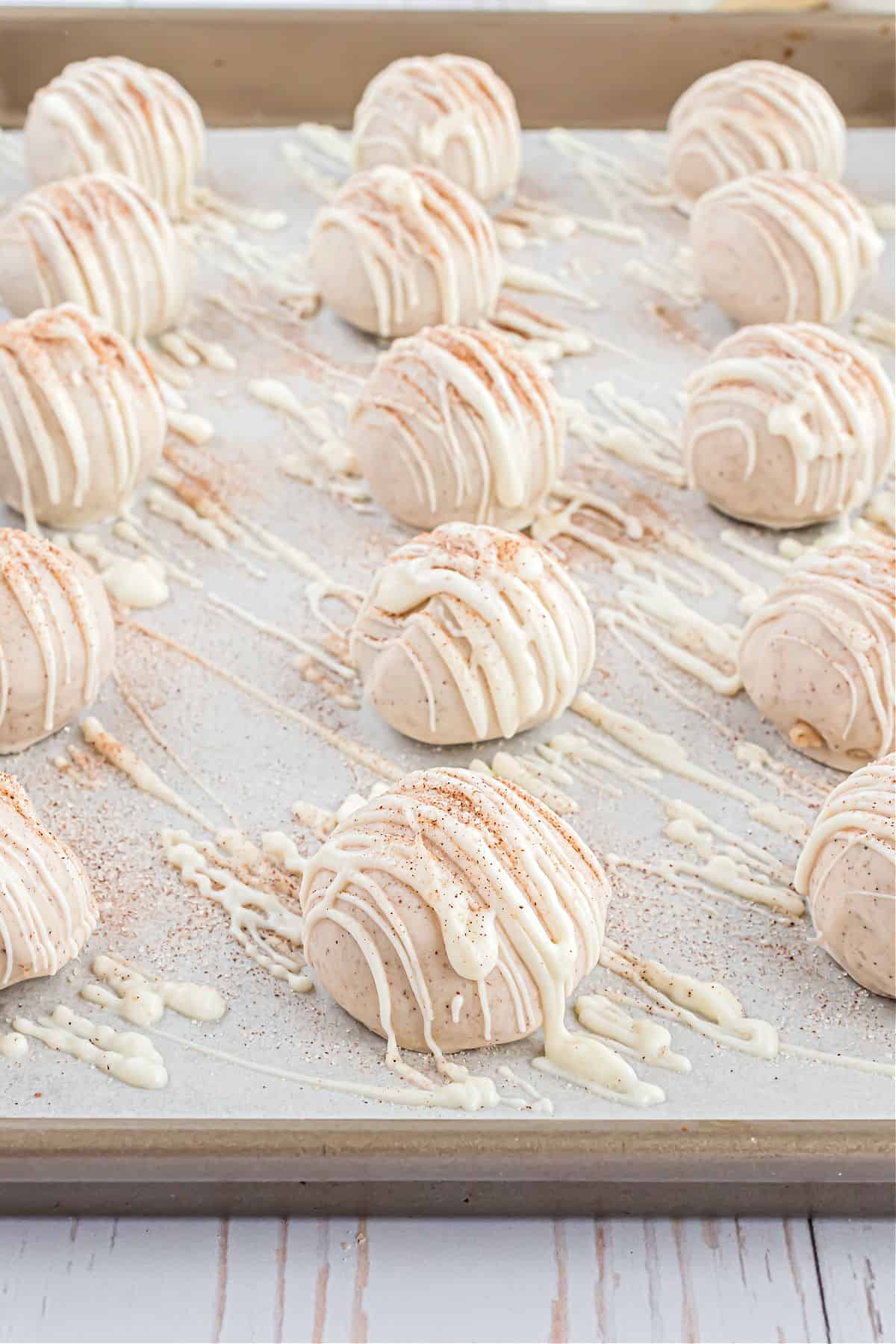 Tips and Tricks
I love using this metal cookie scoop for evenly sized truffles.
You can prepare the cookie dough ahead of time and store the balls in the freezer until you're ready to make truffles.
If storing longer than a few hours, transfer frozen cookie dough balls from the baking pan to a freezer safe container to preserve freshness.
I store Snickerdoodle Cookie Dough Truffles in the refrigerator. They're delicious cold!
For longer storage, keep the truffles in the freezer!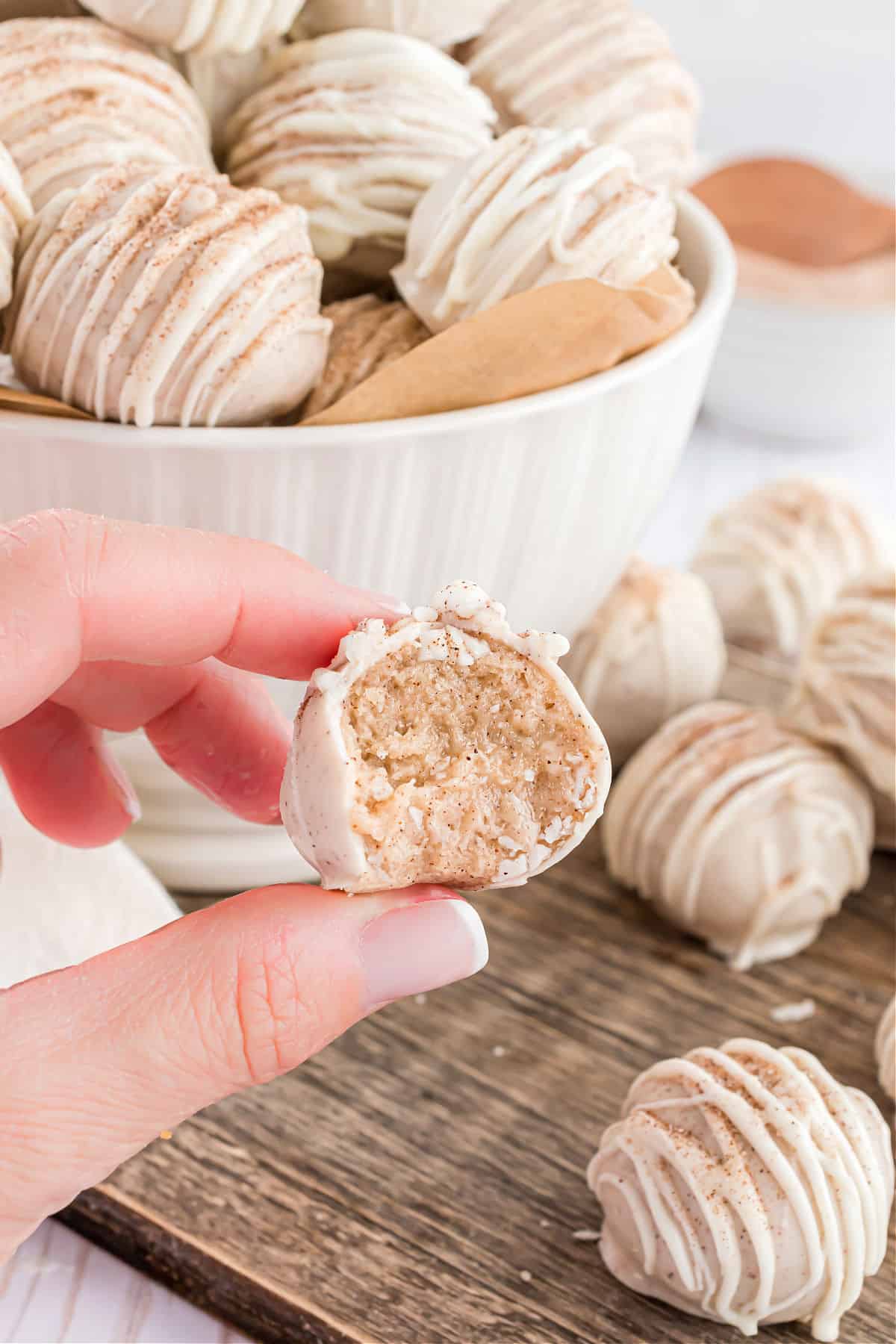 Recipe FAQs
Can I use white chocolate chips instead of melting wafers?
I don't recommend it. The consistency of the set chocolate won't be smooth and the texture will be off. Melting wafers are the way to go here!
Do I have to heat treat the flour first?
For food safety, heating the flour to kill microbes is necessary. You don't want to risk someone getting sick from your homemade truffles! It only takes a few minutes and it's worth it.
How long will homemade truffles keep?
In the refrigerator, these stay fresh for about 5 days if you can resist eating them all before then!
If keeping these in the freezer, they'll stay good for up to 3 months.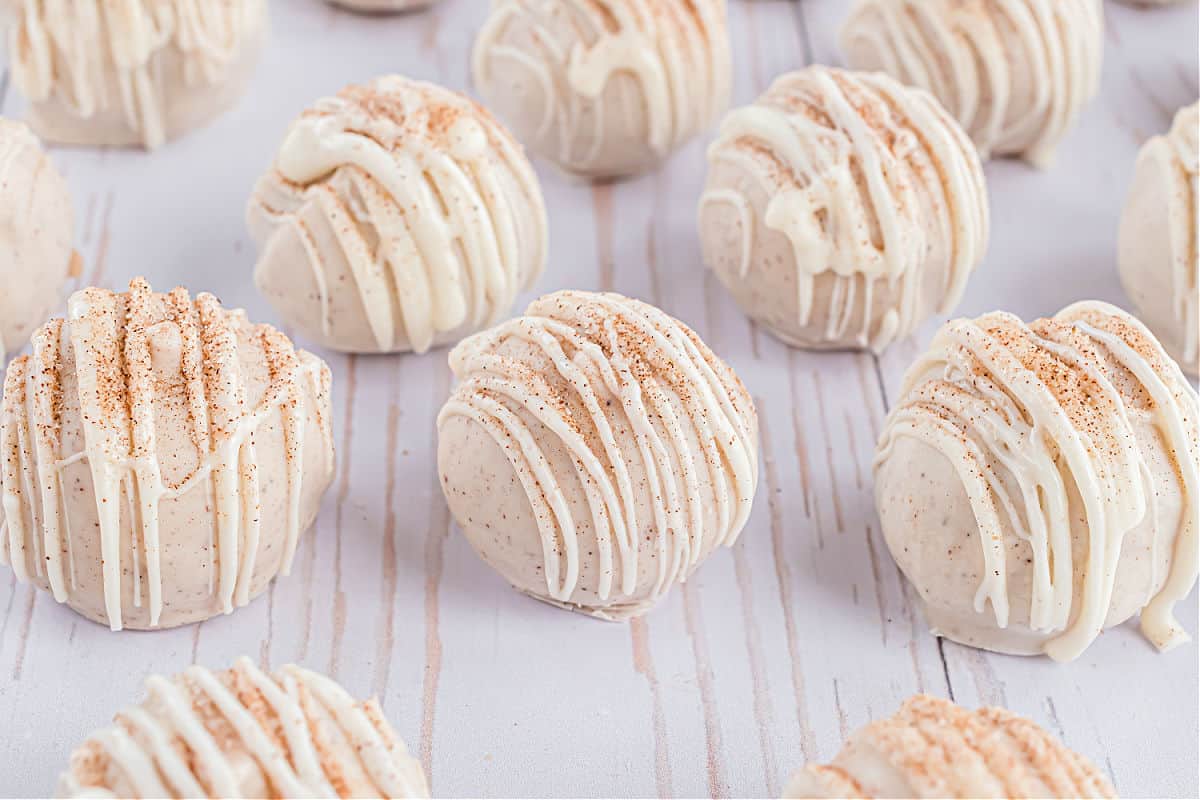 More Candy Recipes
Who can resist cookie dough? It's even better when it's rolled in white chocolate and sprinkled with cinnamon sugar to make Snickerdoodle Truffles!