Filled with oatmeal and butterscotch, these classic Revel Bars get an extra dose of deliciousness from triple the chips. Fudgy, chewy, chocolate-y oatmeal cookie bar perfection!
Love oatmeal cookie bars? Be sure to try this classic Oatmeal Raisin Cookie Recipe. Soft and chewy! Or, my favorite, these Oatmeal Scotchies. Packed with butterscotch, the flavor is incredible.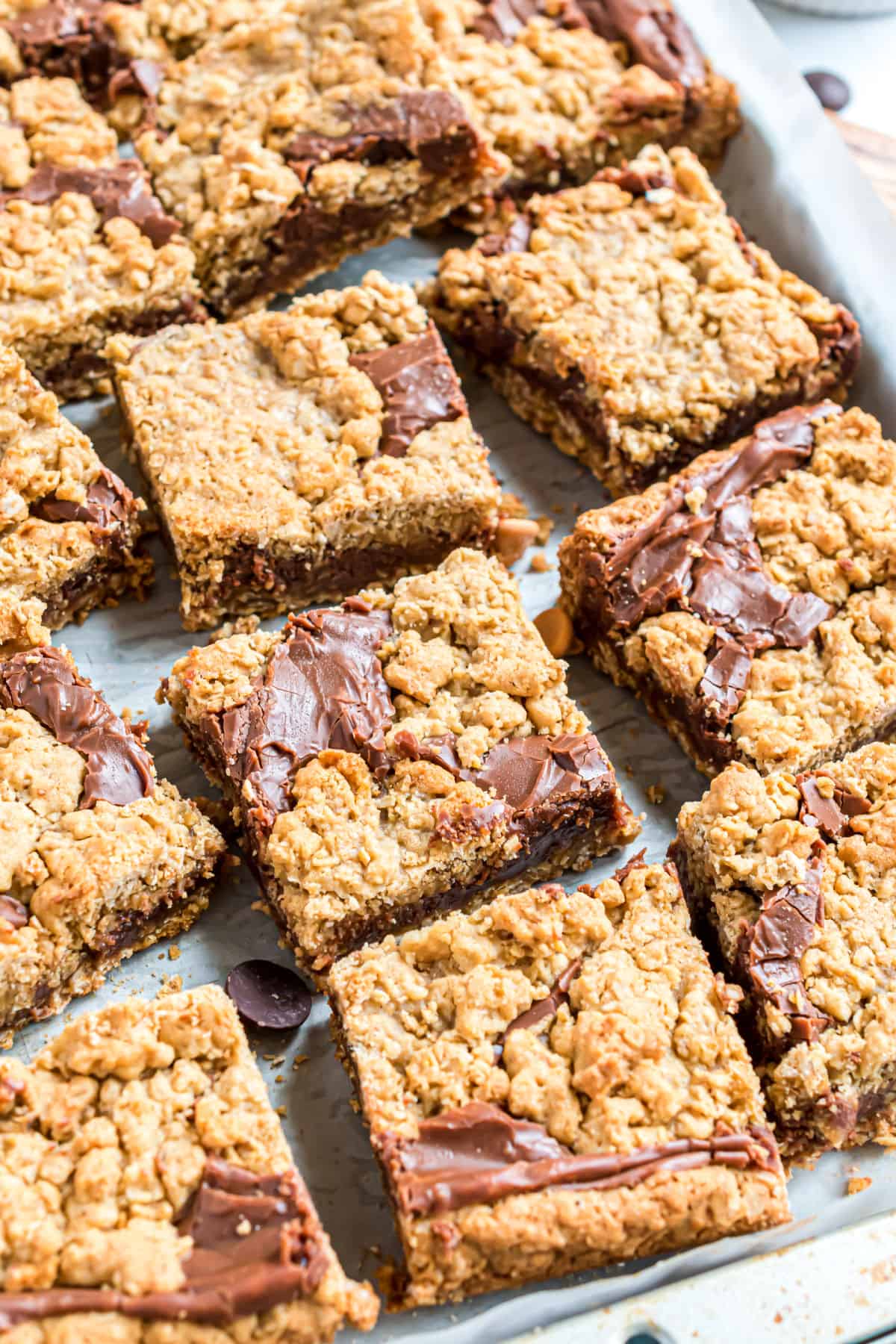 What Are Revel Bars?
This is not your average cookie bar! On a spectrum of cookies and fudge, Revel Bars fall somewhere in the middle.
A rich chocolate fudge gets sandwiched between layers of oatmeal cookie dough.
Bake them up and slice into chewy bars with a gooey chocolate fudge center.
I first got the recipe from my Betty Crocker Cookbook years and years ago and they've been a favorite family treat ever since!
For this Triple Chip Revel Bar, I use two kinds of chocolate in that center layer and threw in some butterscotch chips, too. It's hard to beat the deliciousness of a traditional revel bar, but this twist might have just managed to do it!
The additional butterscotch reminds me of the flavor in our favorite haystacks or spider cookies!
Ingredient Notes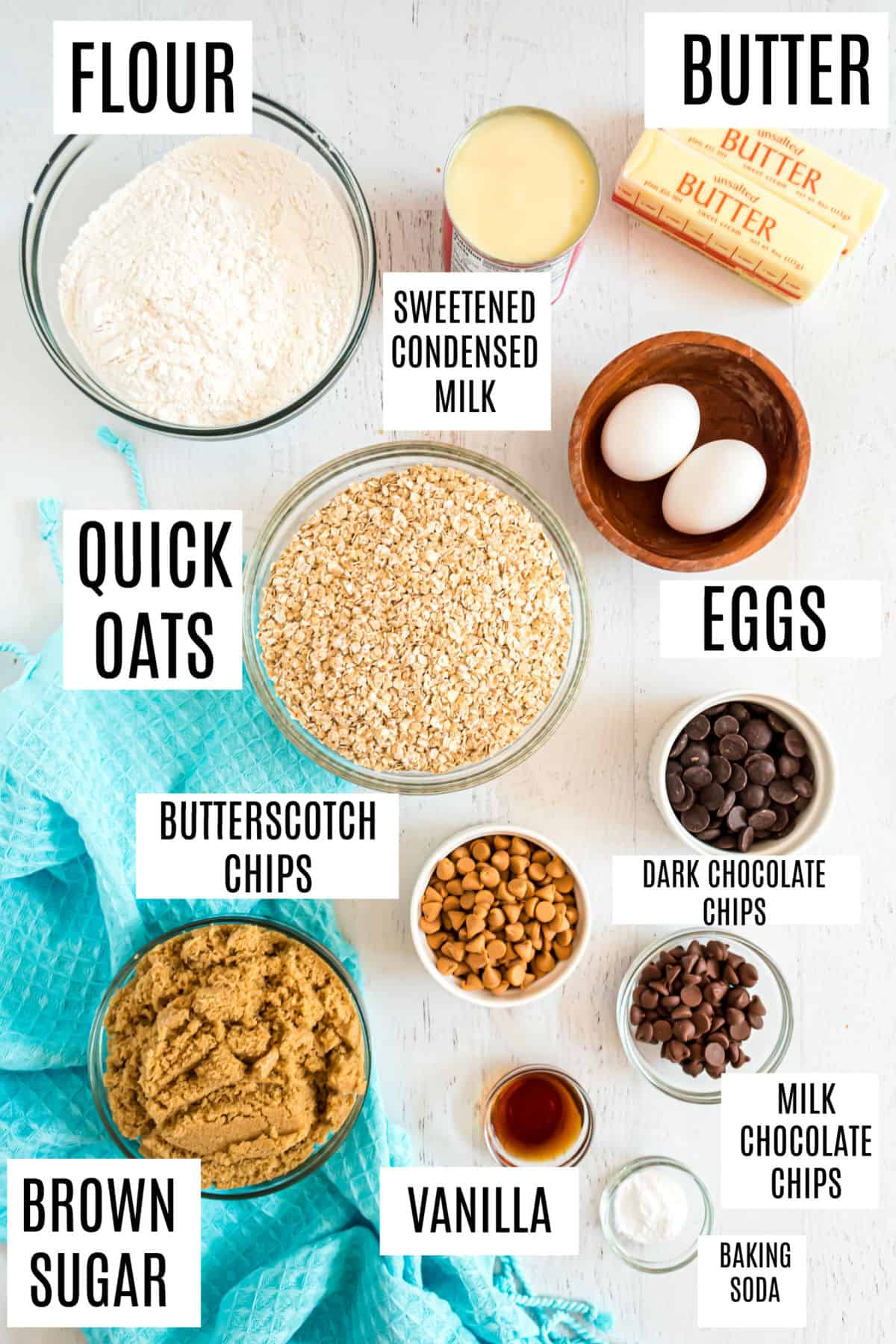 Quick cooking oats – Do not substitute whole rolled oats or steel cut. Those are not as processed so they won't work in the cookie dough.
Butterscotch morsels – You can find butterscotch chips in the baking aisle near the chocolate chips!
Chocolate chips – I used a combination of milk and dark chocolate morsels to get my ideal flavor. Feel free to substitute with all milk, all dark, or semi-sweet if you prefer.
Vanilla extract – For an even better flavor, try making your own vanilla extract to use in all your baked goods.
Easy Instructions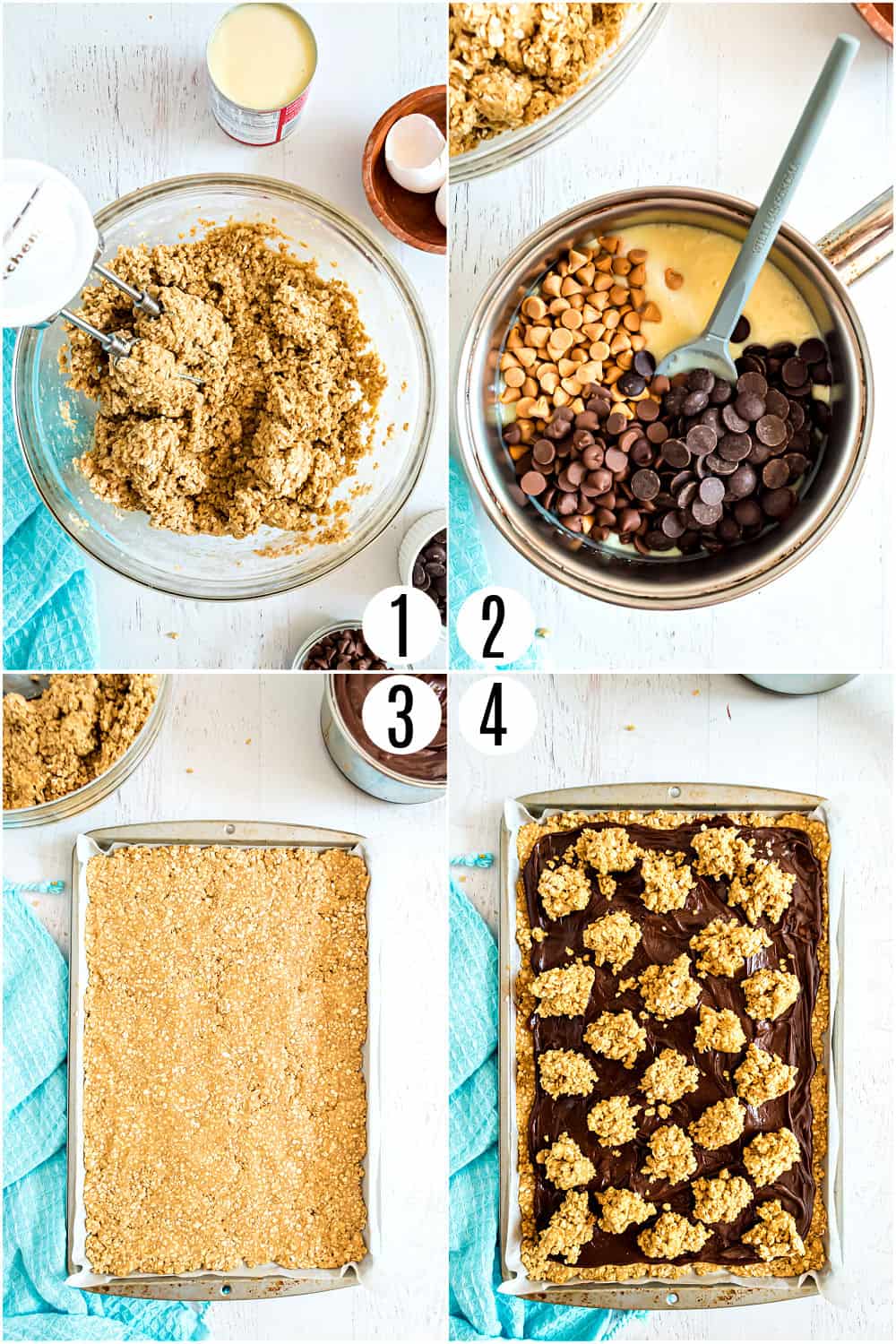 First, make the dough for the oatmeal cookie layer. Beat butter with brown sugar, then add eggs and vanilla along with baking soda. Add the flour and quick oats and stir to combine.
For the fudge layer, heat sweetened condensed milk in a pan, then add butter, butterscotch morsels and chocolate chips, stirring until the sauce is smooth and melted.
Now, it's time to layer!
Press 2/3 of the cookie dough into a baking sheet. Use your hands to make sure the dough is evenly spread and touching all the sides of the pan. Pour the chocolate fudge sauce over the dough.
Drop the remaining dough over the chocolate by the spoonful.
Bake for 25 – 28 minutes and let cool before cutting into bars.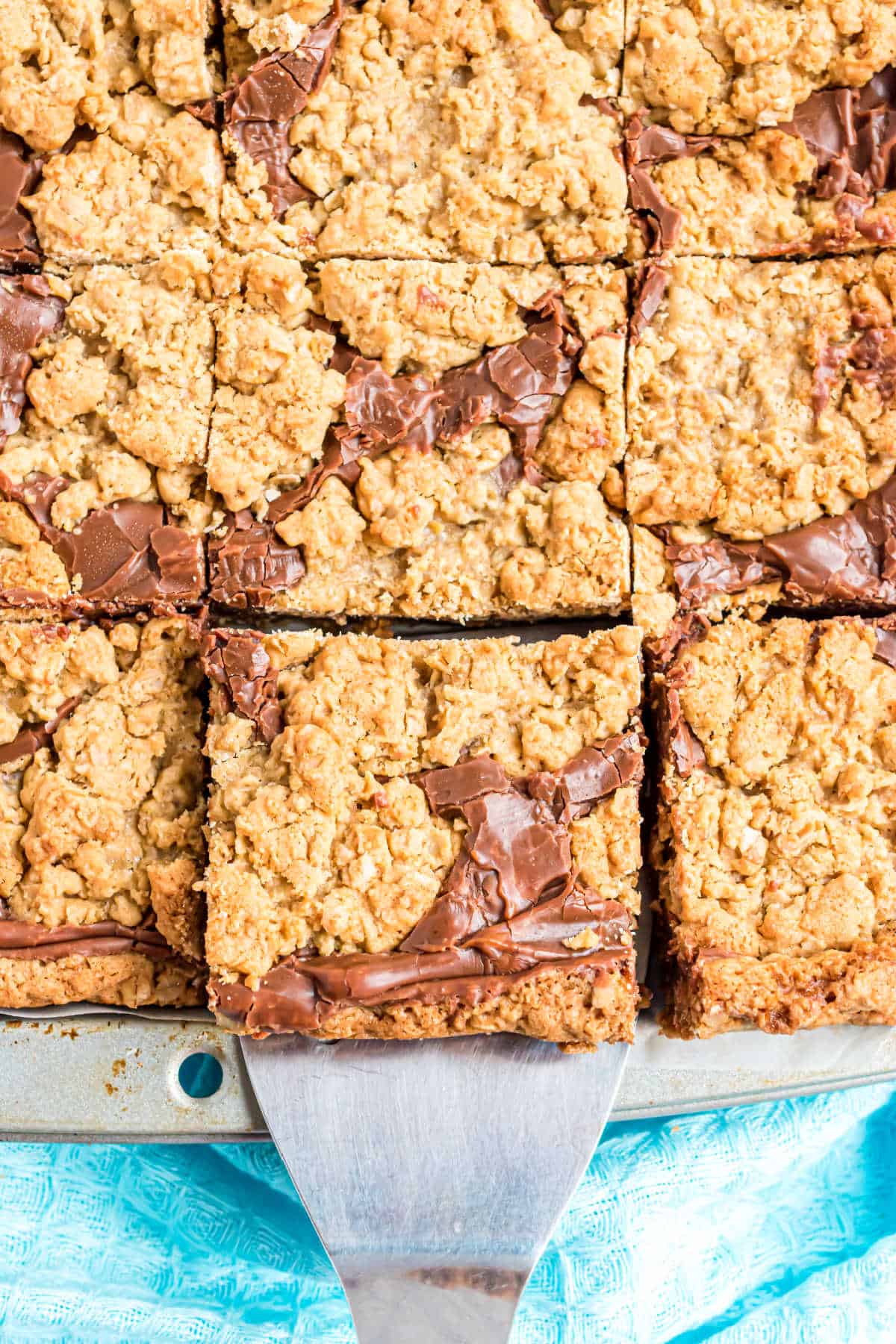 Tips and Tricks
Cookie Sheet- make sure your cookie sheet has at least a 1-inch lip.
Cool Bars completely before cutting. This allows the chocolate fudge to set up firm.
STORAGE: Store bars at room temperature in an airtight container. Or freeze bars for up to three months in airtight freezer safe container.
More Flavors: Love today's recipe? Try our butterscotch revel bars and our peanut butter revel bars next!
Recipe FAQs
What size pan should I use to make Revel Bars?
I used a 15 x 10 inch cookie sheet for this revel bar recipe. It might seem like there's too much dough to fit in the pan at first, but keep pressing. I promise it all fits. The dough layer will be fairly thick.
How do you store Oatmeal Cookie Bars?
Once cooled, transfer the oatmeal cookie bars to an airtight container and store them at room temperature for up to a week.
Can revel bars be made without butterscotch chips?
Yes, for revel bars you can replace the butterscotch with more chocolate morsels if you prefer. I happen to love the additional flavor the butterscotch adds to the bars!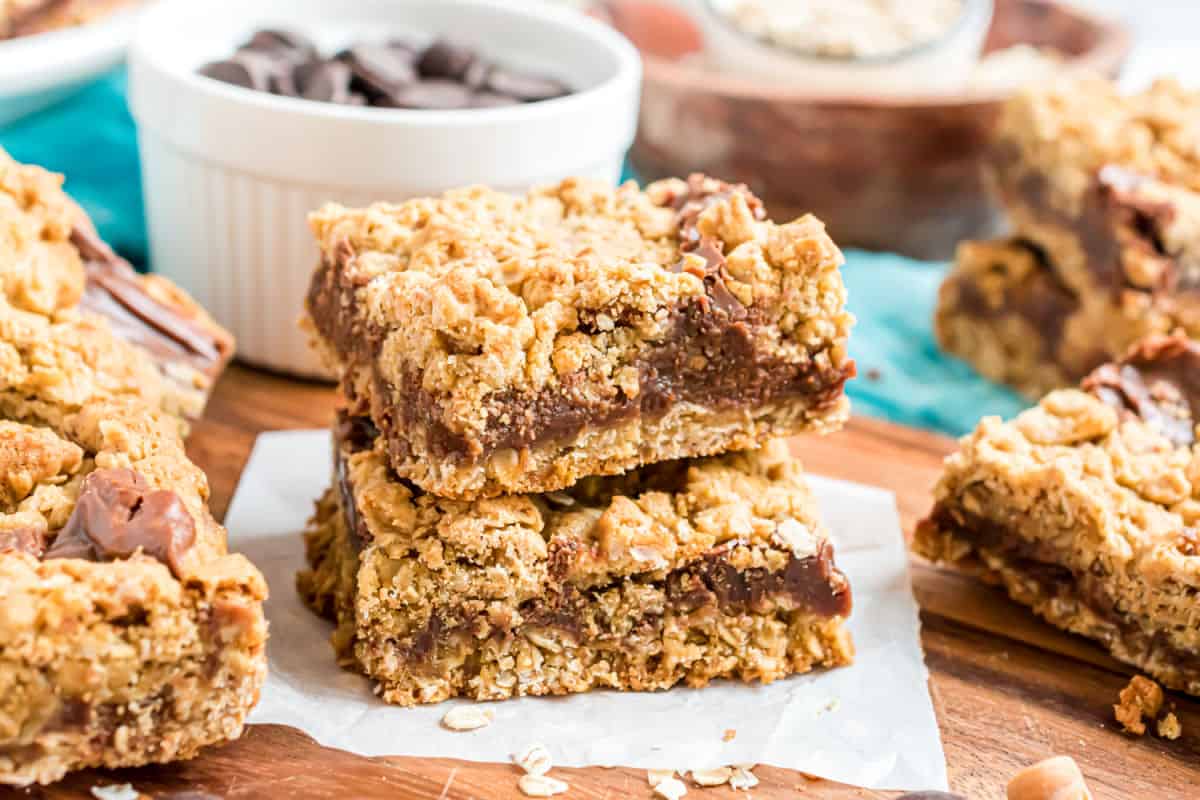 Oatmeal cookie bars with a gooey fudge layer in the middle. Throw in some butterscotch and extra chocolate and you get irresistible Triple Chip Revel Bars.