Blueberry Lemon Hand Pies take just 30 minutes to prepare! With a flaky crust and citrus glaze, these easy hand pies are too delicious not to try.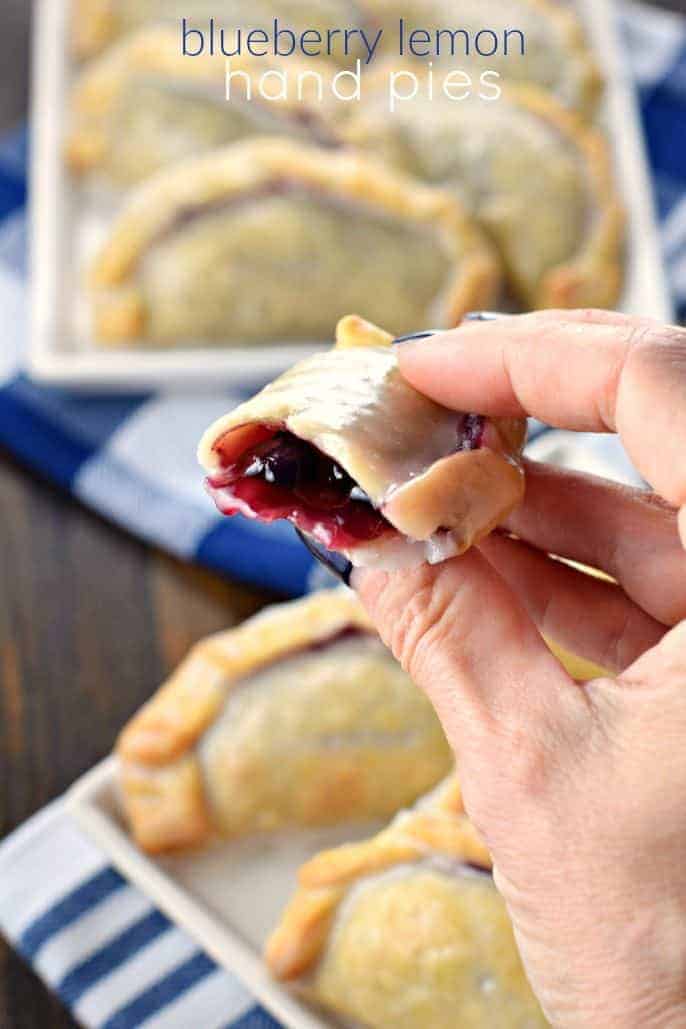 My easy hand pies are now some of the most popular recipes on my blog. Not only are people making them, but they are sharing photos and stories with me too! I love it.
It's seriously one of the best parts of blogging, to see and hear from people about what they are cooking in their kitchen.
Blueberry Hand Pies
These hand pies bring together my favorite tastes of summer, blueberry and lemon.
Juicy berries and fresh citrus together in a neat little hand held pastry are easy to make, transport and share.
. . . even though you might be tempted to keep all the blueberry hand pies for yourself!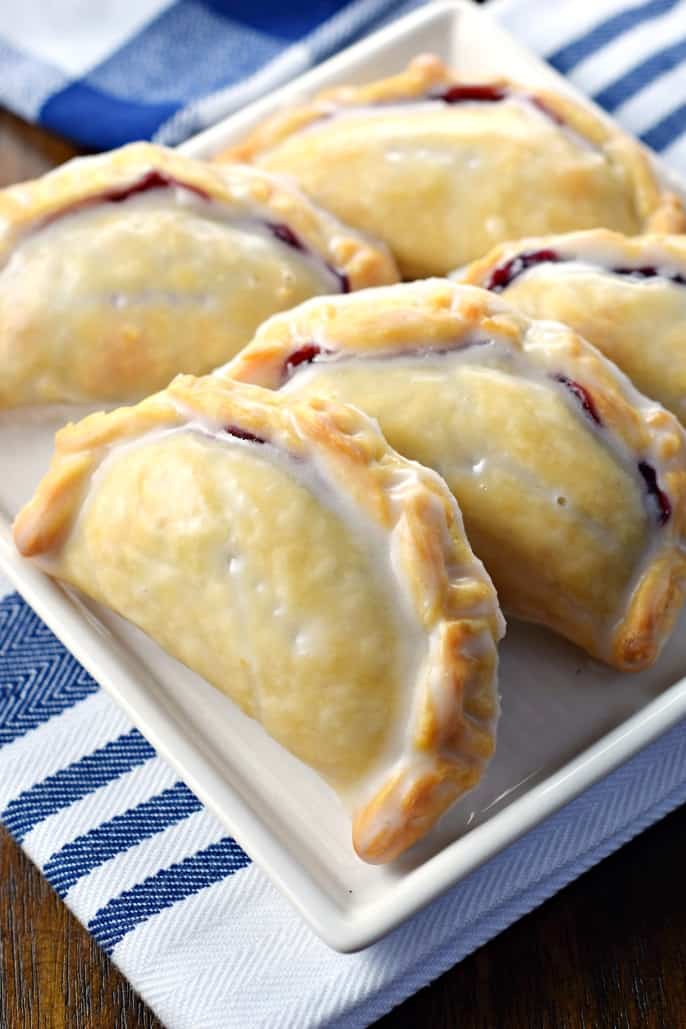 Baked not Fried
Growing up, we used to eat those NASTY Hostess cherry hand pies. You know the ones I'm talking about right?
Full of all kinds of dyes and corn syrup and who knows what else? They tasted good(ish) while you're eating them, and then you feel sick later.
My hand pies are smaller than those packaged pies. About two bites and you're done (unless of course you keep going back for more).
They taste 1,000,000 times better and you won't wind up with a stomach ache afterward.
Blueberry Lemon Hand Pies are incredibly easy because they are baked, NOT fried.
I also cheat and use refrigerated pie crust and canned pie filling. Don't be hating on me okay?
Sometimes a girl needs a few tricks up her sleeve to get a quick dessert on the table for a crowd. If you prefer to make homemade pie crust and filling, please do!
Just don't judge the rest of us who ask Pillsbury and Lucky Leaf to help out.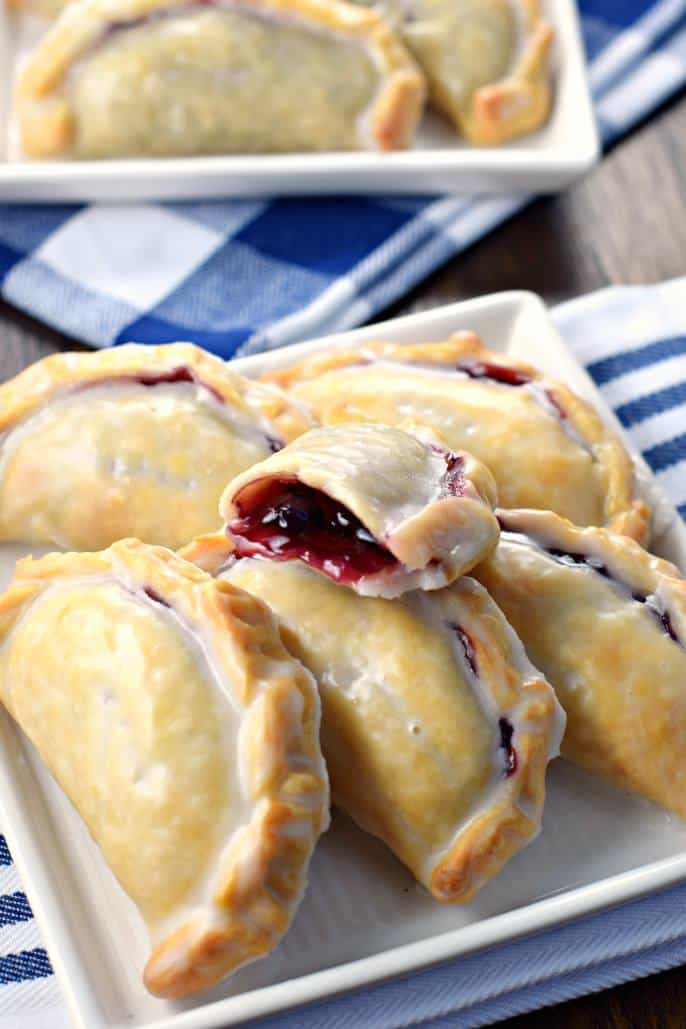 Today's combo is delicious. I used a blueberry filling and glazed them with a sweet lemon glaze! Such a refreshing combination, if I do say so myself.
Ingredients Needed
Here's all you need to make delicious homemade hand pies:
Refrigerated Pie Crust – Brought to room temperature before baking
Blueberry pie filling – I used canned, but your favorite homemade pie filling recipe is a great choice, too.
Powdered sugar
Egg white
Lemon – You're going to use both the zest and the juice.
How to Make Hand Pies
STEP 1. Bring the crusts to room temperature
Preheat oven to 425°F. Remove pie crusts from package and allow to come to room temperature while you prepare filling.
STEP 2. Make the pie filling
Dump pie filling in a shallow bowl and add lemon zest. Mix until blended. Set aside.
STEP 3. Assemble the pies
Once warmed to room temperature, unroll pie crusts and cut 6 circles from each crust using a 4-inch biscuit cutter. You may have to re-roll the scraps to get the 6th circle.
Using a 1 tbsp cookie scoop, drop the blueberry pie filling into center of each pie crust circle. Fold in half and pinch edges completely.
Fold pinched edges over and press with the tines of a fork to seal. Poke hand pie with fork once. This allows steam to escape as the hand pies bake so they won't burst open.
STEP 4. Brush and bake
Beat egg white in a small bowl until frothy. Brush over the tops of each hand pie. Bake on a parchment paper lined baking sheet (1 inch apart) for about 15 minutes, until browned.
STEP 5. Lemon glaze
While pies are baking, whisk together the powdered sugar and lemon juice until smooth. Remove cooked pies from baking sheet and drop (while warm) into glaze, coating it completely.
I use two forks to flip it in the glaze and remove carefully. Return to parchment paper and allow to set (about 5 minutes). ENJOY!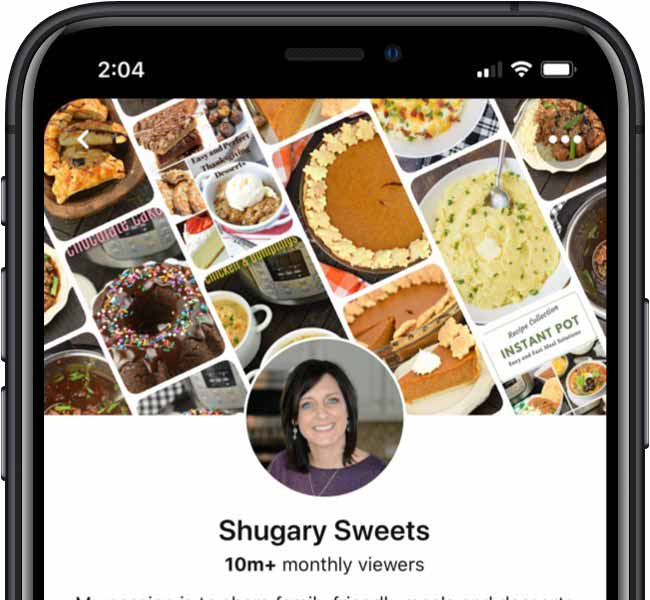 Tips and Tricks
Measure the filling: The cookie scoop helps get an even amount of filling into each pie. If you don't have a cookie scoop, you can also use a measuring spoon.
Pinching: To keep your fingers from sticking to the pie crust when you're folding and pinching them, dab your fingers in cold water first. Make sure to use a good amount of pressure to pinch the ends together to seal.
Trouble with them popping open? Brush the edges with egg white before pinching closed. It seems to help in most cases!
Parchment paper: Don't forget to line your pan. The parchment helps make clean up easier and helps keep the flaky pie crust from sticking to your baking pan!
Can you freeze hand pies? Blueberry hand pies can be frozen but the texture will be much softer after thawing and you'll lose that buttery flakiness from the crust. I prefer them baked and eaten fresh! This recipe makes 12 – 15 individual pies, which is perfect for my family.
Can you substitute homemade crust or another kind of pastry dough? If you have a pie crust recipe you love and have the time to make it, by all means use it for your hand pies! I don't recommend substituting other kinds of dough for this recipe. They'll probably taste okay but I want my hand pies to be, well, pies! And that means pie crust.
More Hand Pies
Everyone loves these hand pies! They're a great dessert for a picnic or party because of how easy they are to transport. No cutting and serving onto plates, everyone can just grab one from the platter and pop it in their mouth.
But here's the question….what's YOUR favorite flavor? Is it my first love, the Apple Hand Pie?
I've got you covered with a Cherry Hand Pie, Pumpkin Hand Pie, and even a S'mores Hand Pie.
And, for dinner, how about we tackle these savory Pepperoni Pizza Hand Pies, mkay?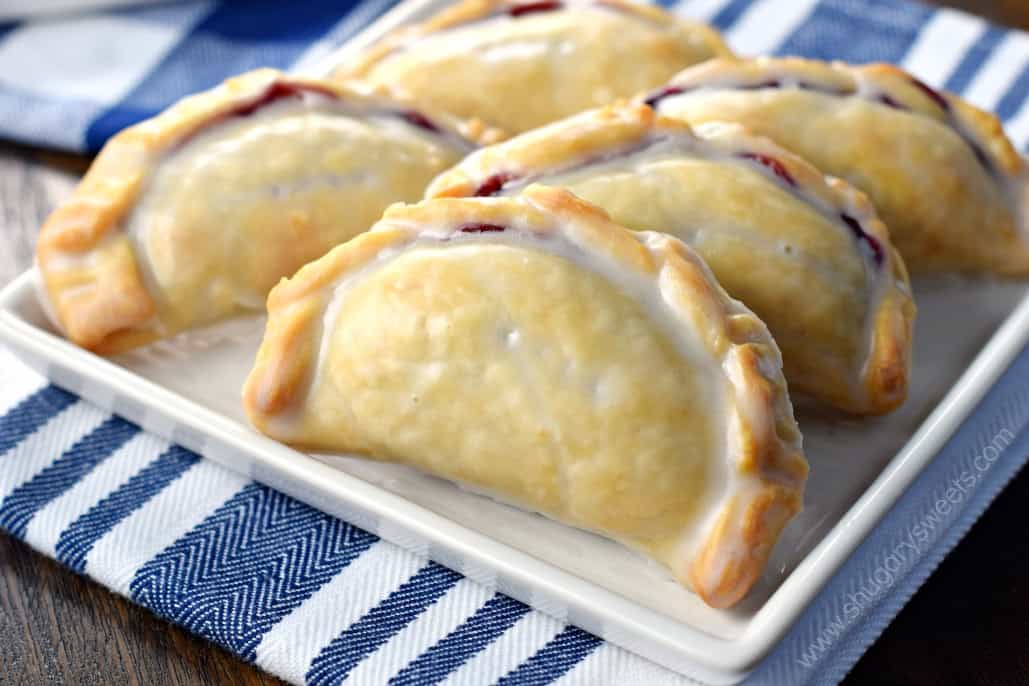 Tools used:
4-inch Biscuit Cutter – can easily find on Amazon!
1 Tbsp cookie scoop– makes it easy to NOT overfill the hand pies
Metal Baking Sheets – I love this set that never warps in my oven!
Silicone Basting Brush – perfect for brushing on the egg whites
Find and shop my favorite products in my Amazon storefront here!