Chocolate Chip Cookie Dough Truffles are an easy, no bake recipe for any occasion. Delicious, egg free cookie dough dipped in melted chocolate are the ultimate dessert idea!
Love truffles? These Oreo Balls are simply amazing. Our readers are obsessed with Peanut Butter Buckeyes!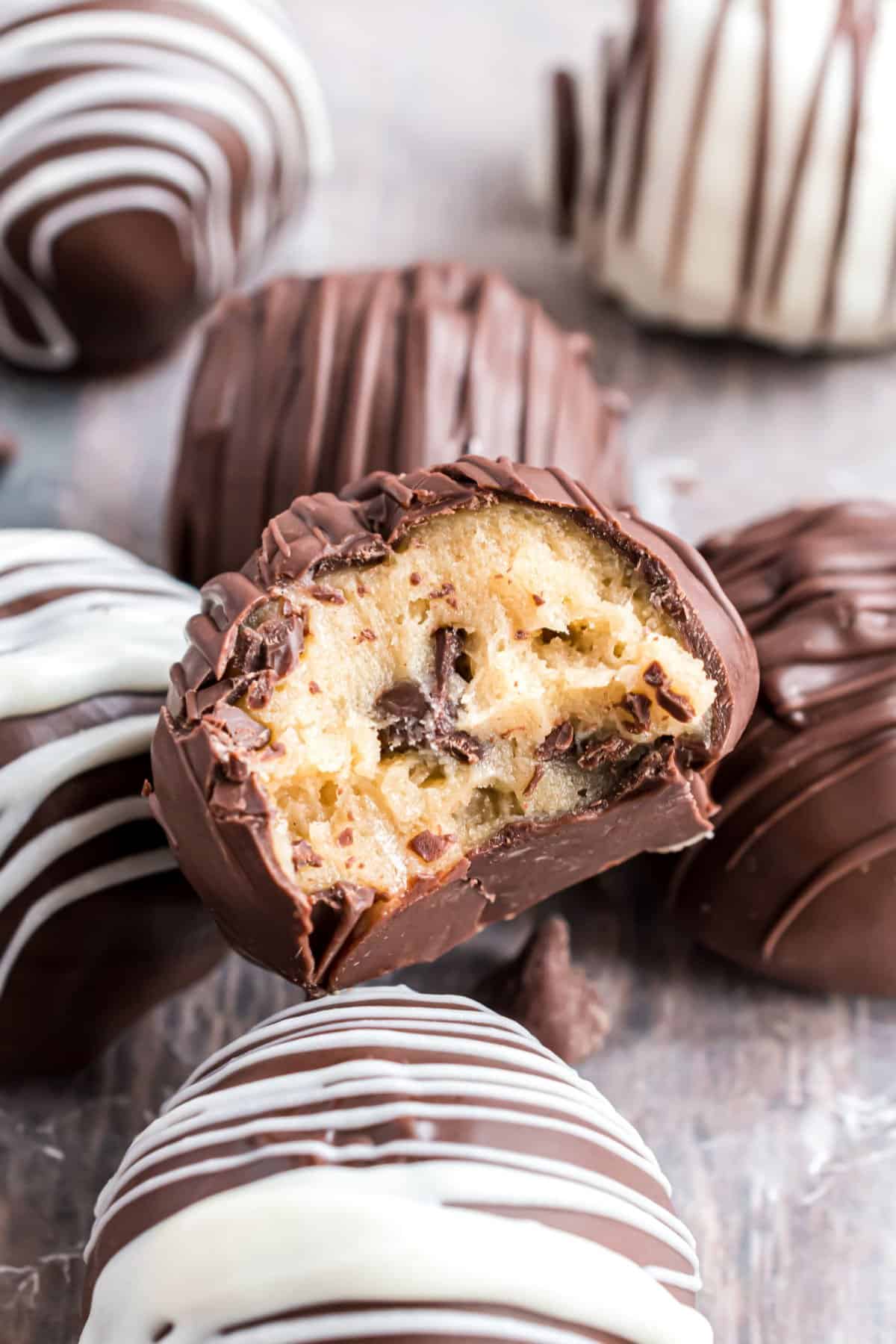 Perfect Cookie Dough Recipe
Is there anything better than chocolate chip cookie dough?
Sometimes I enjoy the cookie dough more than the actual cookies. I know we aren't supposed to eat raw cookie dough, but I've taken my chances here and there.
I didn't think much could top the tastiness of chocolate chip cookie dough.
That is, until I dipped my cookie dough bites in chocolate and made these delicious chocolate chip cookie dough truffles.
And they turned out so good!
And since these cookie dough truffles are egg free, they are totally safe to eat–in small batches or in large quantities.
These are beautiful, and perfect in every way. Soft cookie dough on the inside with a crunchy chocolate coating on the outside. They taste like bits of heaven and I'm certain these will be served in abundance in heaven.
Love chocolate chips? Be sure to try our chocolate chip brownie recipe next. Thick and fudgy, and easy to make too!
How to Make Cookie Dough Truffles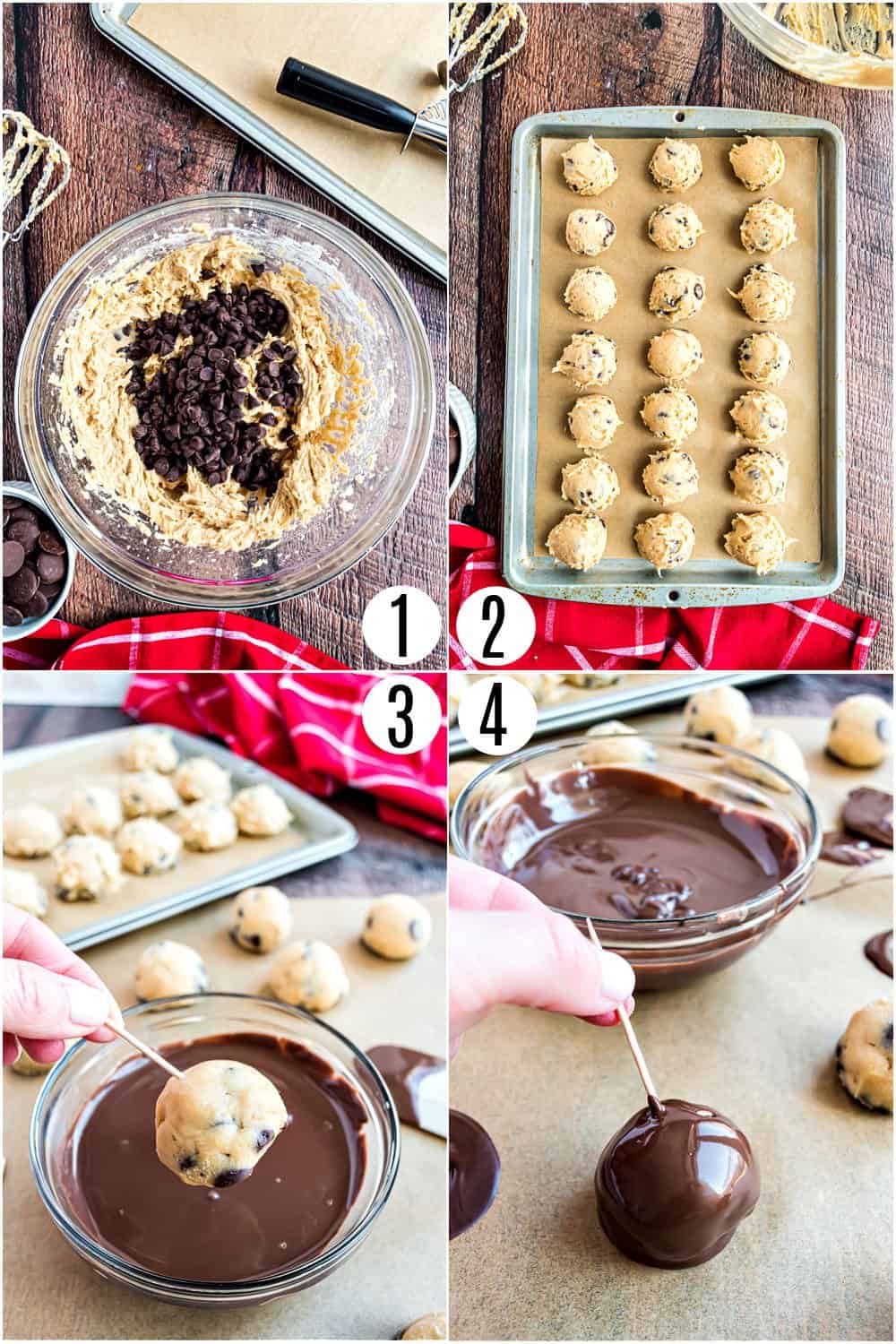 Make the cookie dough.
Start by putting your softened cream cheese and softened butter into a mixing bowl and beat until creamy.
Add in your sugar and vanilla extract and then beat in the heat treated flour. Add the kosher salt and then stir in your chocolate chips.
Scoop Dough.
Once it's all stirred together, scoop about 1 to 2 tablespoons of the dough onto the parchment lined baking sheets and then freeze for at least two hours.
Now that your cookie dough batter is done, we'll work on creating our cookie dough truffles.
You could stop here and eat the cookie dough, but turning them into these truffles is worth the extra few steps.
PRO TIP: I love using this metal cookie scoop for evenly sized truffles!
Make Truffles.
Once frozen, use your hands to shape the dough into little balls.
Put the chocolate wafers in a microwave safe bowl and melt it in the microwave for one minute. Stir and then heat for an additional 15 to 30 seconds until completely melted.
Take your frozen cookie dough bites and using a toothpick dip them into your melted chocolate coating and then place on the parchment paper.
Drizzle with melted vanilla bark.
Chill.
Refrigerate and enjoy.
These are delicious on their own or enjoyed with a bowl of vanilla ice cream!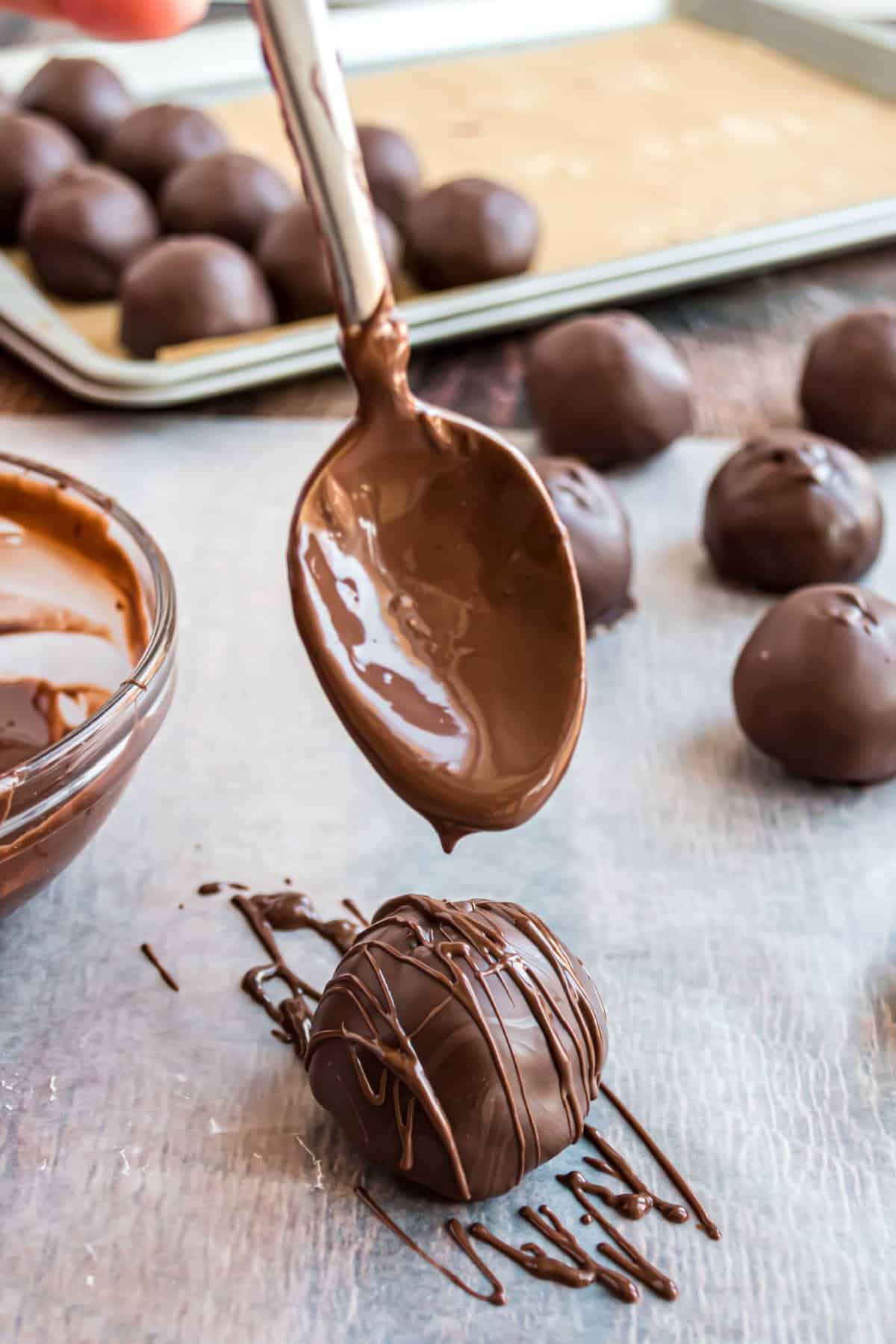 How to Store
You can make these ahead of time and store them for later. They turn out beautifully and make great gifts for teachers, coworkers, grandparents, anyone, really!
You can store them in the refrigerator for up to 5 days or in the freezer for up to 3 months.
You can also make a batch of the cookie dough and store that in your freezer and add your melted chocolate to the truffles later.
Tips and Tricks
Keep them egg free. You don't want to risk anyone getting sick from raw eggs!
Use a toothpick to dip the balls into the melted chocolate and then tap off any excess.
Add sprinkles or drizzled chocolate to cover the toothpick hole.
You can also use dark, milk, or white chocolate for your coating.
Skip the chocolate all together if you just want to enjoy delicious, egg free cookie dough bites!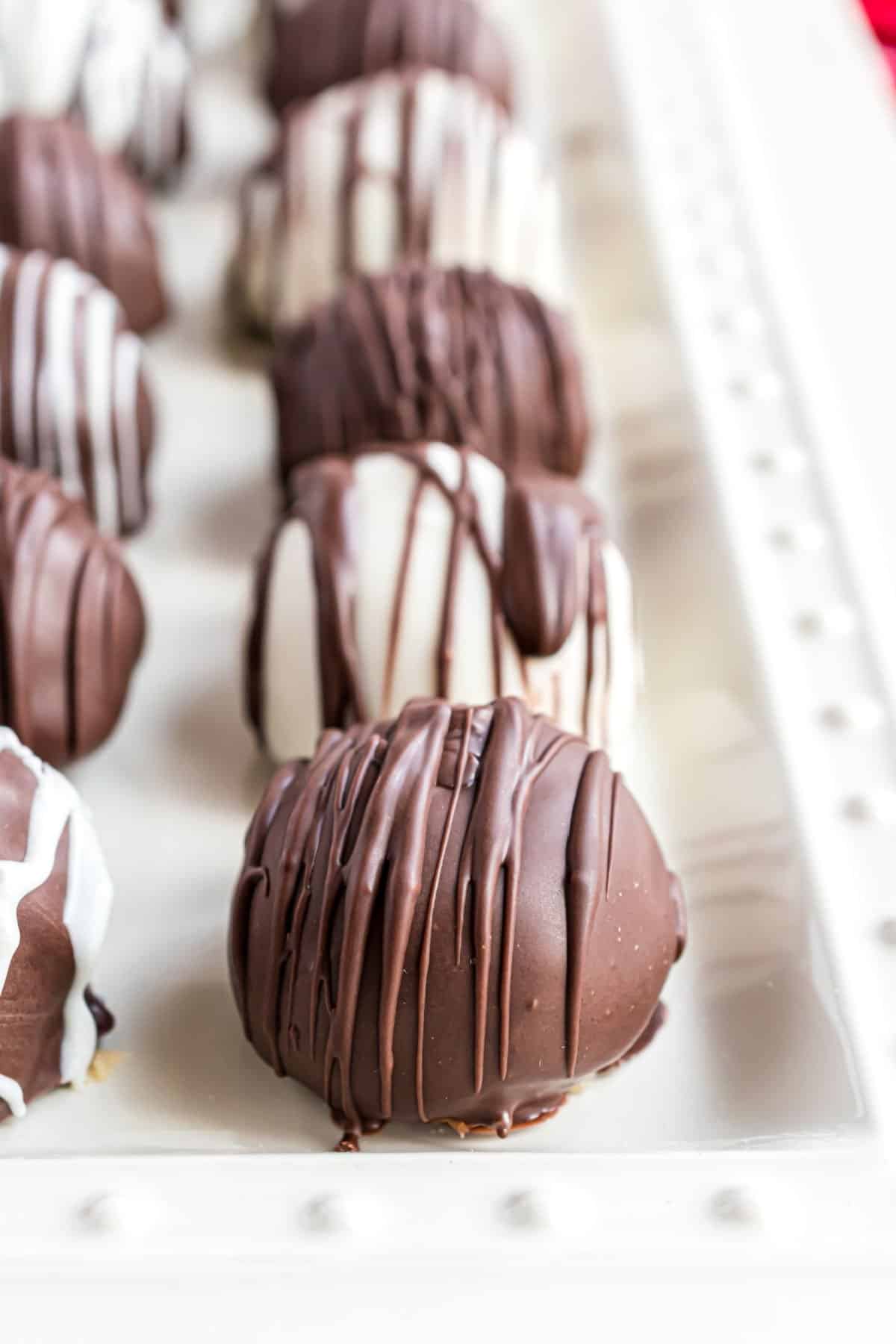 What kind of chocolate is best?
I use Ghiradelli dark chocolate melting wafers for these truffles. They can be found at most grocery stores in the aisle with the chocolate chips.
You can use any chocolate or vanilla bark for the chocolate candy coating. I like to heat mine in the microwave but you can also use a double boiler if you prefer.
Frequently Asked Questions
Is it safe to eat raw flour?
If you want to be on the safe side, you can heat treat your raw flour before using it in this recipe. Heat treat your raw flour by spreading it evenly on a baking sheet and putting it in the oven for 5 to 10 minutes at 350 degrees.
Can I freeze cookie dough truffles?
These truffles can be frozen in an airtight container for about 3 months, either with or without the chocolate candy coating. The frozen cookie dough balls also make a yummy quick treat.
How long will cookie dough truffles keep?
You can store chocolate chip cookie dough truffles in the refrigerator for up to 5 days or in the freezer for 3 months. But mine have never stayed out of my family's mouths for that long!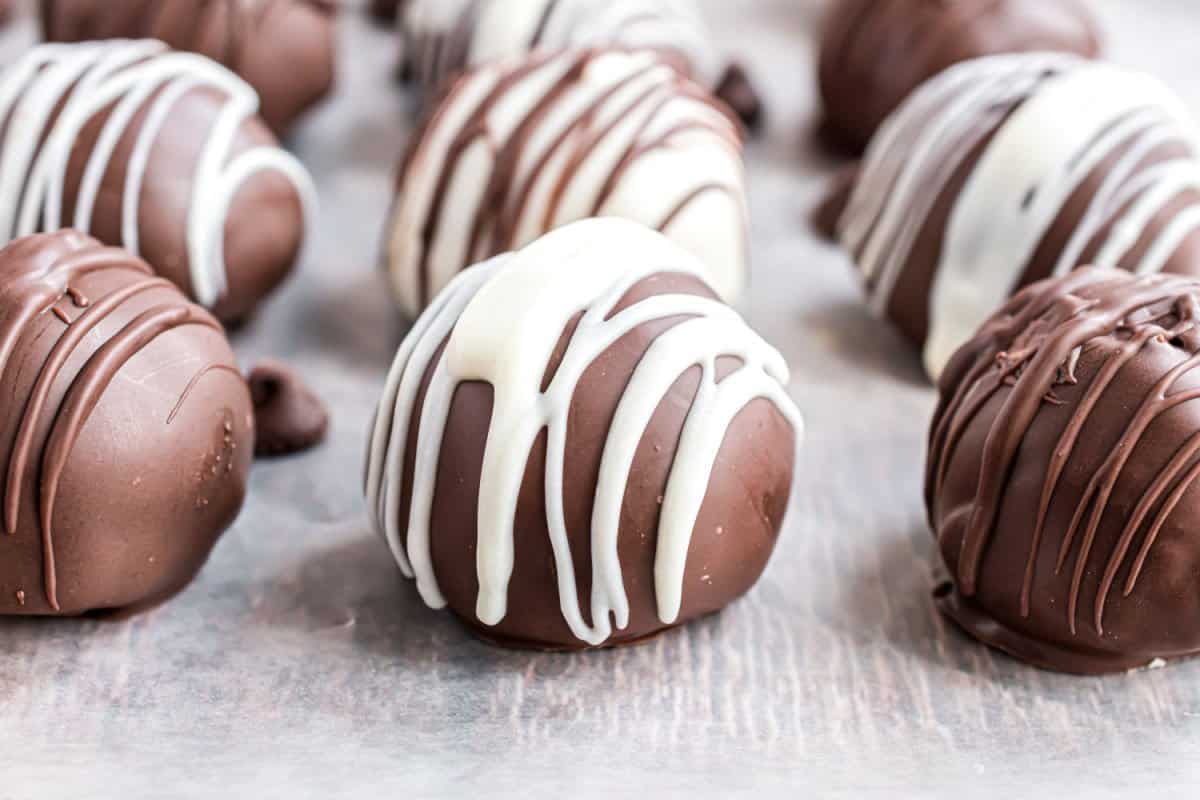 More Easy Desserts
Chocolate Chip Cookie Dough Truffles are an easy, egg free treat dipped in melted chocolate.