Kitchen Sink Krispie Treats
This is how every Monday should begin. With dessert.
I feel we are starting to get to know each other a little bit here at Shugary Sweets. But I think I have failed to let you all know one big secret about me.
Rice Krispie treats are my absolute favorite dessert. Of all the things I make, good old fashioned krispie treats complete me. I have even perfected
how to make rice krispie treats
.
But, I can't very well share that recipe with all of you. How boring. Especially if you knew how often I make Krispie treats. It's a very bad thing.
You know it's bad when you go to a church event and you elbow children out of the way just to make sure there are enough treats for yourself. Not that I have done that (I usually grab my dessert first instead).
So, what do I do? I went and Pimped My Krispie treats. Yep. I do that a lot. Pimp things. Wait. What are we talking about? I mean food.
I am so glad we're friends here. Because of all of you, I made this incredible dessert. In my quest to make a Krispie treat you all would enjoy, I realized how many open bags of morsels, marshmallows and other stuff were in my pantry! Like an open bag of Heath bits. And about 6 bags of chocolate chips…from bittersweet to milk chocolate.
So I present to you…Kitchen Sink Krispie Treats. Which, have you ever seen places that serve Kitchen Sink ice cream? Holy Cow, that's a lot of food!
Kitchen Sink Krispie treats
Ingredients
5 cups Rice Krispies
10 oz bag large marshmallows
¼ cup butter
12 oz bag butterscotch morsels
16 oz vanilla bark
1½ cup mini marshmallows
¾ cup peanut butter morsels
¾ cup Heath bits1 cup
milk chocolate morsels
Instructions
Line a 13x9 dish with foil. Set aside.

Melt butter in large saucepan. Add marshmallows and heat on low until smooth. Remove from heat and add butterscotch morsels. Stir until melted, fold in rice krispies.

Pour into prepared 13x9. Allow to set while making the next layer. Melt vanilla bark in microwave safe bowl for one minute. Stir and heat another 15 seconds. If still not creamy heat in 15 second intervals until melted. Set aside for several minutes, to allow to cool slightly. Good time to wash the pot from the Krispie treats!

When cooled slightly, quickly fold in mini marshmallows, peanut butter morsels and heath bits. Pour over prepared Krispie treats.

In small bowl, melt milk chocolate morsels in microwave for 30 seconds, stir, and add by 15 second intervals until smooth. Pour chocolate in small ziploc bag, seal, and snip corner. Drizzle over Krispie bars. Refrigerate bars for best flavor. When set (about 1 hour), cut in squares and enjoy cold!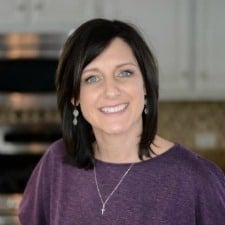 Aimee is a dessert lover (specifically rice krispie treats), workout enthusiast, self-taught foodie, and recipe creator. Her recipes have been featured in over 15 magazines, and her passion is to share her love of cooking with the everyday home cook! Learn more about Aimee.