Make No Knead Garlic Parmesan Dinner Rolls from scratch with this easy recipe! These light, fluffy rolls are the perfect side dish for any meal.
Hot fresh rolls, fresh from the oven. Is there anything better? I love adding homemade Dinner Rolls to my menu whenever I can!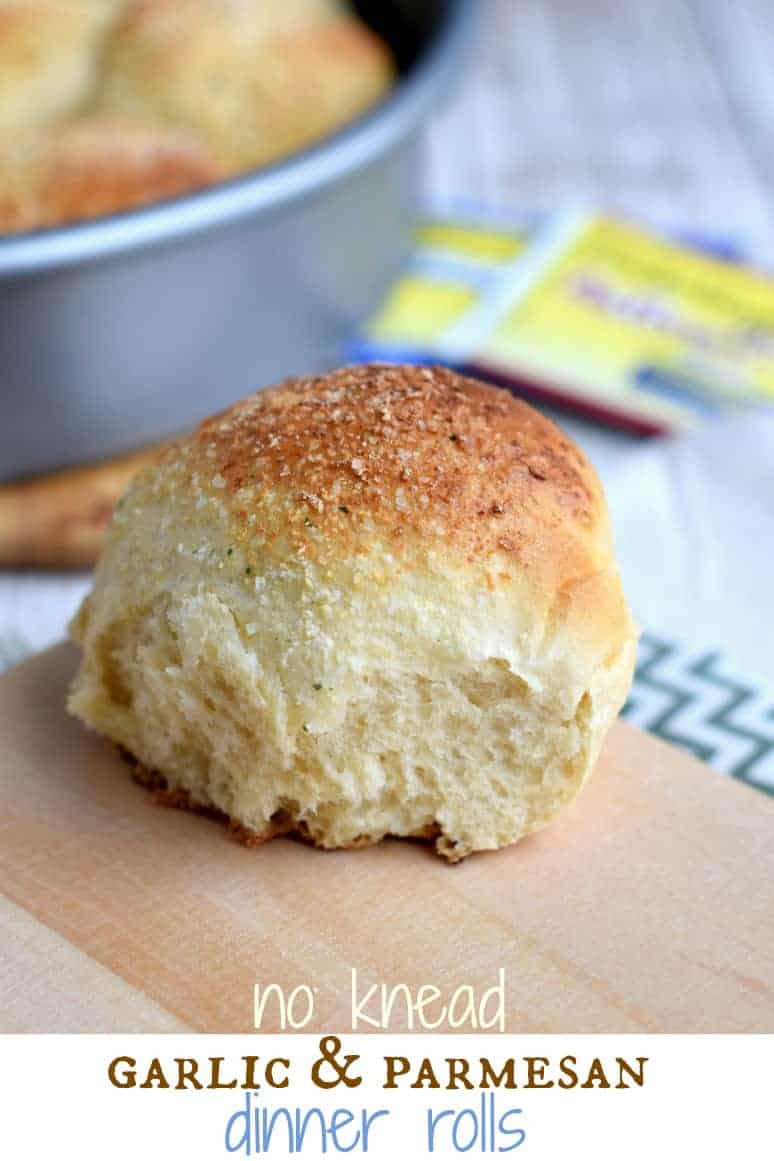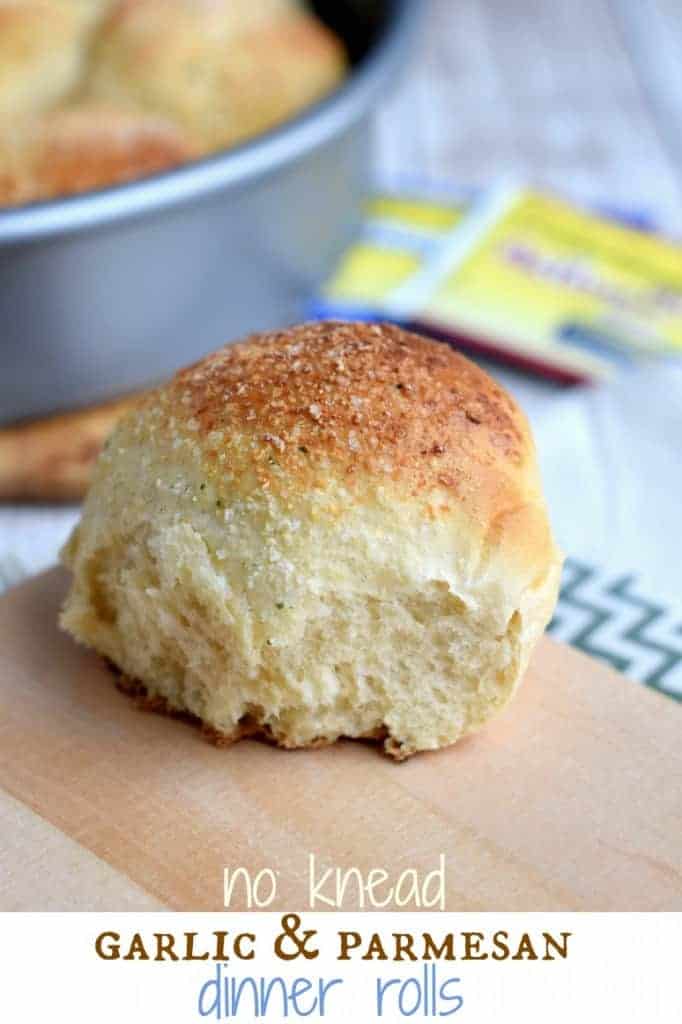 Why These Rolls are Best
I know many of you are going to scroll down to the recipe below to see if there is yeast in this recipe first, so I'll save you some time.
YES, there is yeast in this recipe. But this is not like so many of the time consuming yeast roll recipes out there.
Here's why these garlic parmesan rolls are so great:
There's no kneading or proofing yeast required!
You can prep the dough up to 24 hours ahead of time.
Soft and fluffy rolls with a perfect golden brown crust.
The garlic salt and Parmesan cheese make them impossible to stop eating once you start!
It's a side dish that pairs well with almost any main course.
Believe me. You're going to want to make these dinner rolls ALL the time!
Ingredient Notes
Along with flour, butter and eggs, you'll need these ingredients to make our no knead rolls.
Rapid rise yeast – This quick acting yeast allows the dough to rise in less time than active dry yeast.
Sugar – Adds a little bit of sweetness, but primarily serves to "feed" the yeast so it activates quickly.
Milk and water – Make sure both are very warm, but not scalding, to dissolve the yeast. The temperature of a warm bath is perfect.
Parmesan – Grate fresh cheese over the rolls before baking for best results!
Garlic salt – The fine texture and saltiness makes this a perfect topping for Parmesan rolls.
Easy Instructions
This no knead dinner roll recipe starts by mixing together together a soft dough. I use my electric stand mixer to combine all the ingredients.
Then cover and chill the dough for at least 2 hours. You can leave it in the refrigerator for up to 24 hours, if you want to make the rolls the next day!
When you're ready to bake your rolls, punch down the dough and divide it into equal sized balls. Let these rise in a warm place until they double in size.
Right before baking, brush the tops of your rolls with a beaten egg. This gives the rolls a gorgeous golden brown color as they bake!
Finally, sprinkle on your garlic salt and grated Parmesan.
Bake, eat warm and enjoy!
Tips and Tricks
Once you know how to make no knead rolls, you can make all kinds of flavors to go with the meal you're serving.
If you're having turkey, combine some sage and poultry seasoning (1/2 tsp of each) in a small dish. Sprinkle on the rolls in place of the garlic parmesan
If you're having roasted chicken, try using some coarse sea salt and fresh rosemary on the rolls.
Italian night? These rolls are perfect with the garlic & parmesan combo in this recipe!
I love to serve these rolls with spaghetti and a green salad tossed with Homemade Italian Dressing. They're delicious with a soup like my Roasted Tomato Soup and Sausage Tortellini Soup, too.
Recipe FAQs
Can I freeze these rolls?
Yes, these rolls hold up beautifully in the freezer. I double wrap them in foil and freezer bags with a sheet of wax paper between layers.
I don't have a stand mixer. Can I still make this recipe?
You sure can!
It just takes a little more "elbow grease" to mix by hand. Use a sturdy spoon and large mixing bowl and follow the steps in the recipe card as directed.
Why didn't my dough rise?
If your dough didn't rise, dead yeast is the most likely culprit.
Try the recipe again with a fresh pack of yeast.
Avoid the problem in the future by always checking the expiration date on your yeast. And that yeast that's been sitting open in your pantry for months? It's time to replace it!

If your yeast is new but your dough still didn't rise, you may have used water that is too hot. Boiling and very hot water will kill yeast, resulting in the disappointment of dough that fails to rise.
Can I make this with whole wheat flour?
Whole wheat flour will give the rolls a grainier flavor and denser texture. I prefer the taste of all purpose (white) flour in today's recipe, especially paired with the garlic and Parmesan.
No knead garlic parmesan dinner rolls turn even the simplest weeknight dinner into a mouthwatering feast!