Oreo Cheesecake Cookies. Cream cheese and white cake mix combine to create a soft, heavenly cookie. Fold in crushed Oreos and you have an incredible cookies and cream treat!
Once you learn how to make Cream Cheese Cookies, you won't be able to stop. They're perfect for adding all your favorite mix-ins–like in today's Oreo Cheesecake Cookie recipe. We also love these cream cheese sugar cookies for a fun and festive cut out cookie!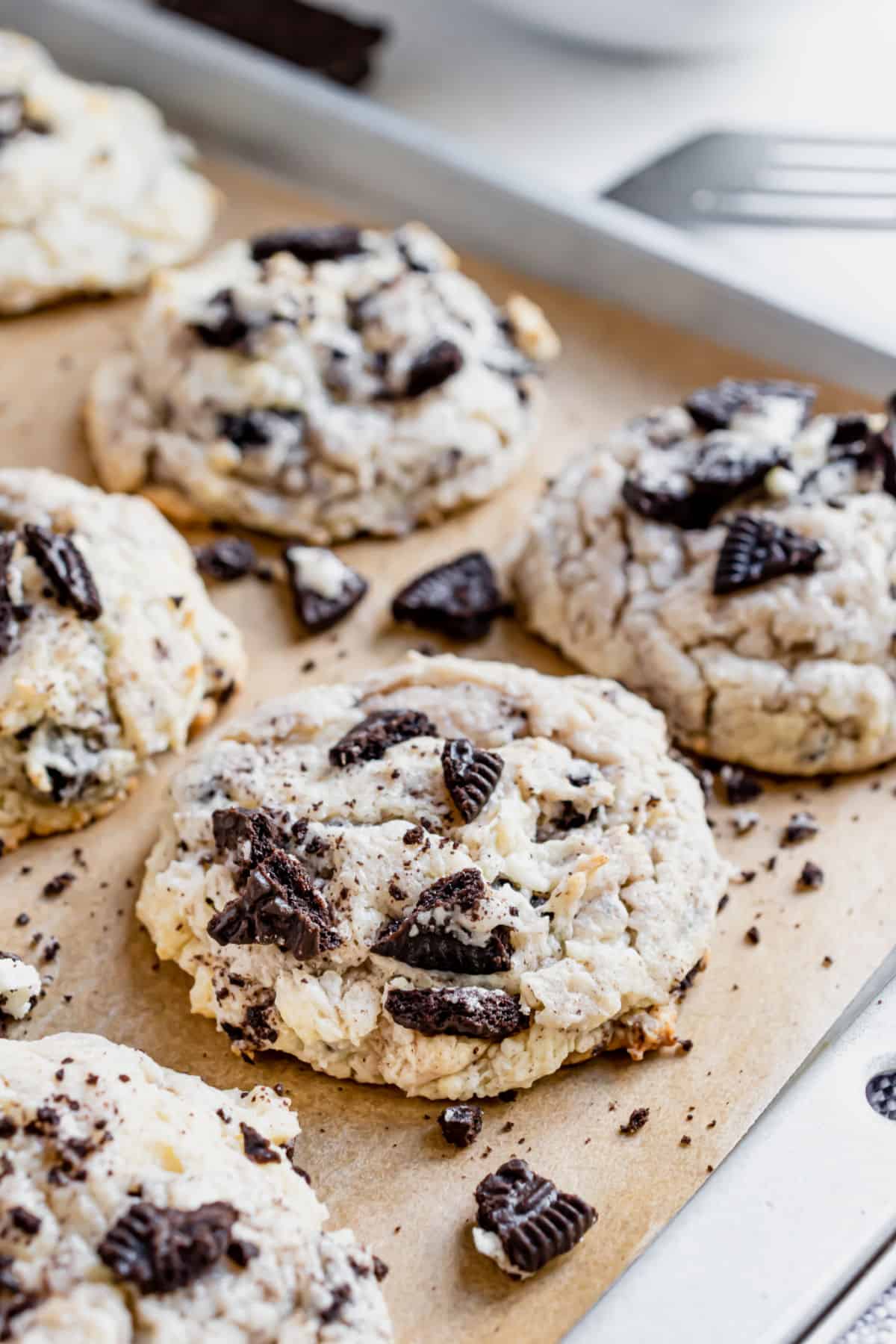 Why this Recipe Works
This recipe creates a tender and soft cookie that's flecked with Oreos!
The cream cheese helps balance the sweetness of the white cake and the Oreo cookies. Then, the egg whites hold everything together while keeping the cookies light, puffy and soft.
I've been making recipes that combine cheesecake with Oreos for years. These Oreo Cheesecake Bites and Oreo Cookies and Cream Cheese Ball are some all time favorite treats in my house.
Adding crushed Oreo cookie pieces to a basic cheesecake cookie was too tempting to pass up! You'll love the cookies and cream flavor in these impressively delicious cookies.
Ingredient Notes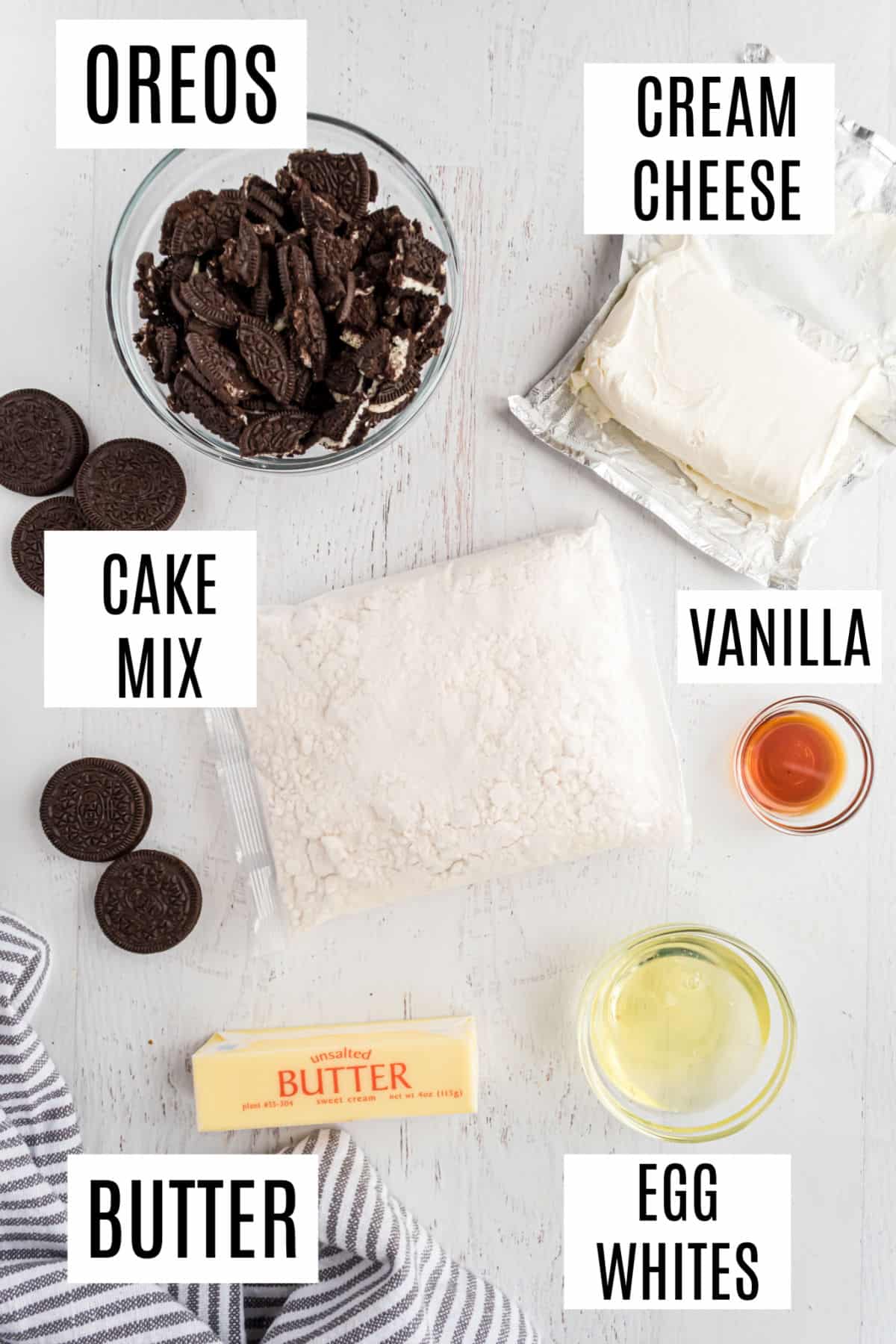 Cream cheese. Full fat cream cheese is best. Do not use spreadable cream cheese in this recipe.
Oreo cookies. I use original Oreos. Double stuffed Oreos or chocolate creme filled Oreos would be delicious too.
White cake mix. Any brand you like!
Egg whites. Save the yolks for making Easy Homemade Lemon Curd later.
Vanilla. Use my recipe for homemade Vanilla Extract for tastiest vanilla flavor.
Easy Instructions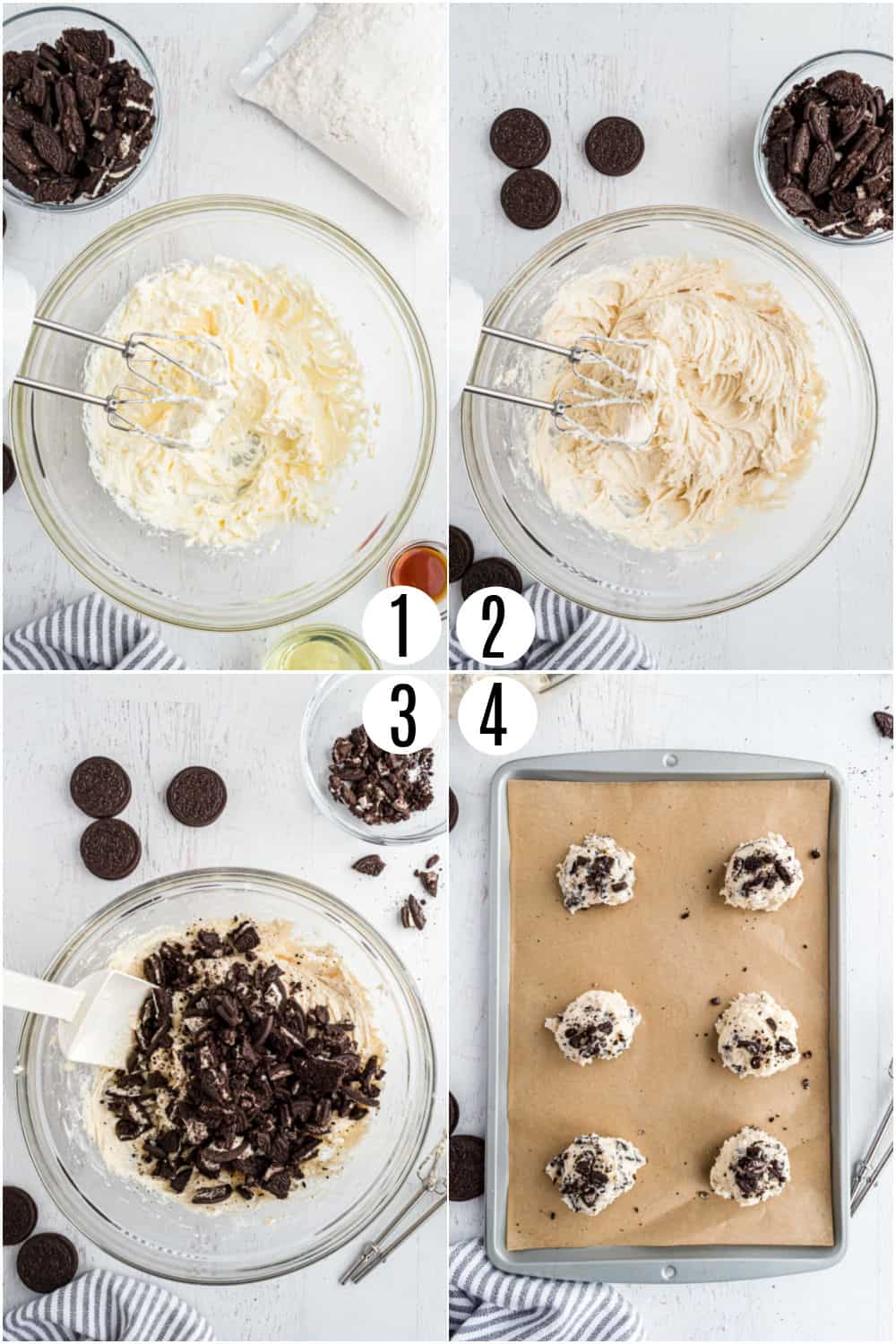 First, crush the Oreos. You don't need to make fine crumbs. Just place the cookies in a zipped plastic bag and use a mallet to smash them. One "smash" per cookie should do it!
Beat butter and cream cheese together, then mix in egg whites and vanilla. Beat in the cake mix until just combined.
Fold in crushed Oreos and scoop dough onto a baking sheet. Sprinkle the tops with a few more crushed Oreos.
Bake until the bottoms of the cookies are lightly browned, about 12 – 14 minutes. Transfer the Oreo Cheesecake Cookies to a wire rack to cool.
These taste delicious the same day but they keep their soft, melt-in-your mouth quality even the next day!
The texture of these cookies is similar to our Ricotta Cookie or our Gooey Butter Cookie. Soft and pillowy!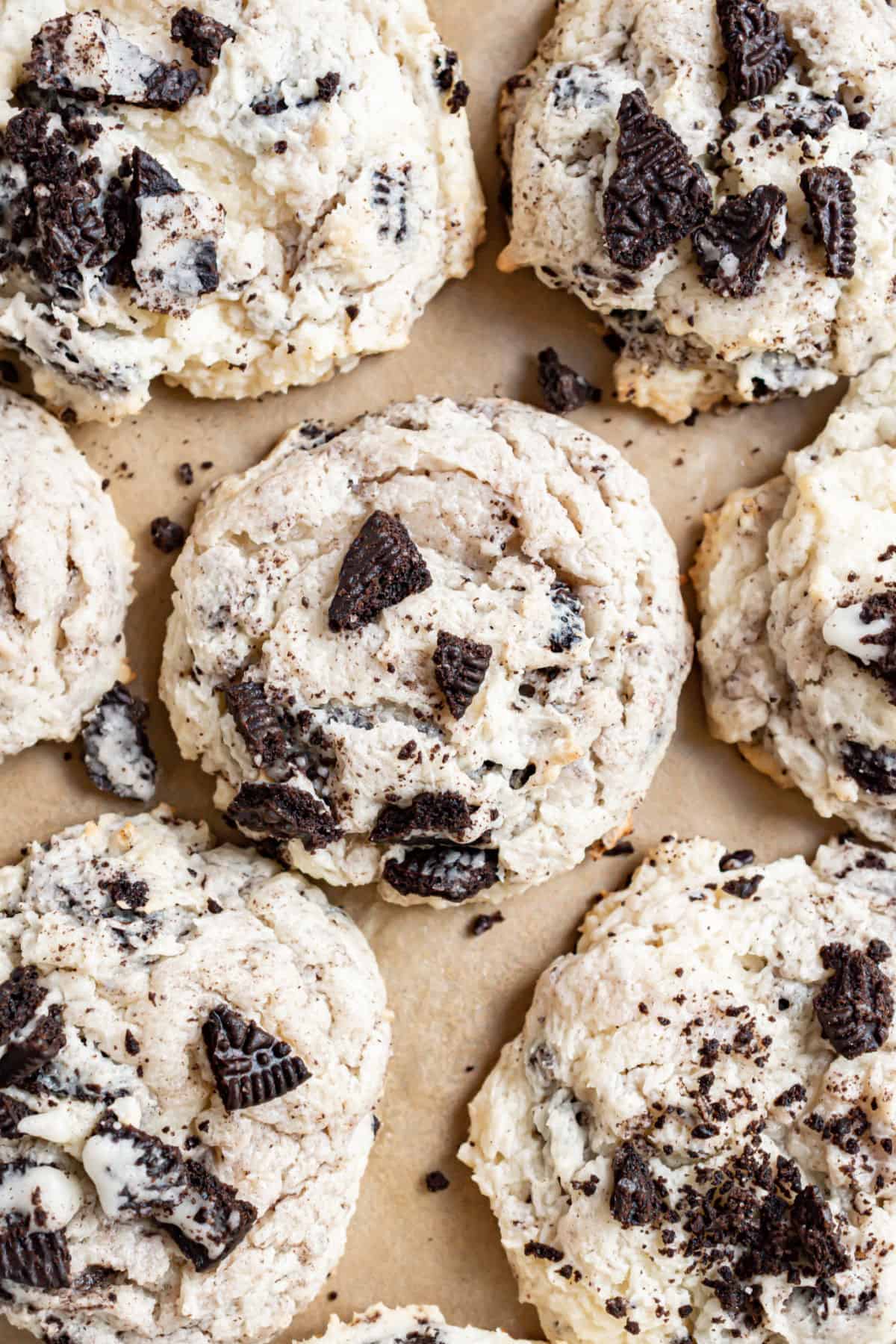 Tips and Tricks
Do not overmix. After adding the cake mix, stir the dough until all ingredients are just combined. Over mixing will result in dense cookies. You want them light and fluffy!
Do not over bake. When in doubt, err on the side of under baking for these cookies for best results. They will still look soft when you remove them from the oven.
Storing: Store cookies in an airtight container at room temperature and enjoy within 3 days.
Freezing: Oreo Cheesecake Cookies keep well in the freezer for about 3 months.
Love soft cookies? Try our copycat Lofthouse cookies next!
Recipe FAQs
Do these cookies taste like Oreo cheesecake?
Not exactly. They have a subtle cream cheese flavor and a soft consistency. But they are definitely cookies in taste and texture. For an Oreo Cheesecake recipe, try my No Bake Oreo Cheesecake!
Why is the center of my cheesecake cookies runny?
If the middle of the cookie is underbaked but the outside is golden brown, you may be using too much dough per cookie.
You can also flatten the tops just a bit with your hand right before baking. This will help the center cook through more evenly.
How many cookies does this recipe make?
This recipe yields about 3 dozen cookies.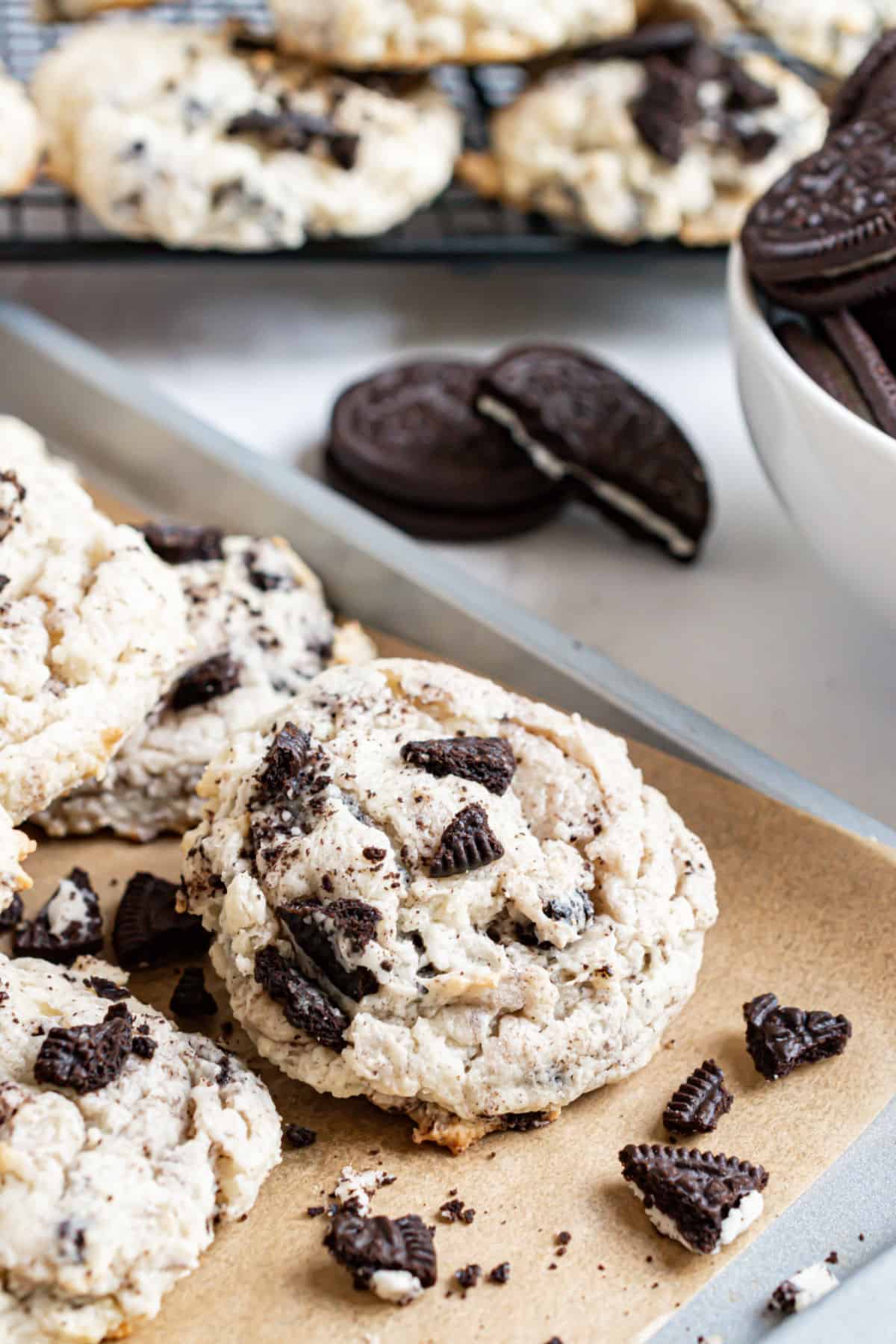 Cheesecake cookies are even better when you pack them with Oreo pieces! These bite sized treats are addictively good. You won't be able to stop at just one!