Everyone's favorite tropical beverage turned into a scrumptious and easy pound cake! Pina Colada Pound Cake is full of pineapple flavor and topped with a coconut glaze.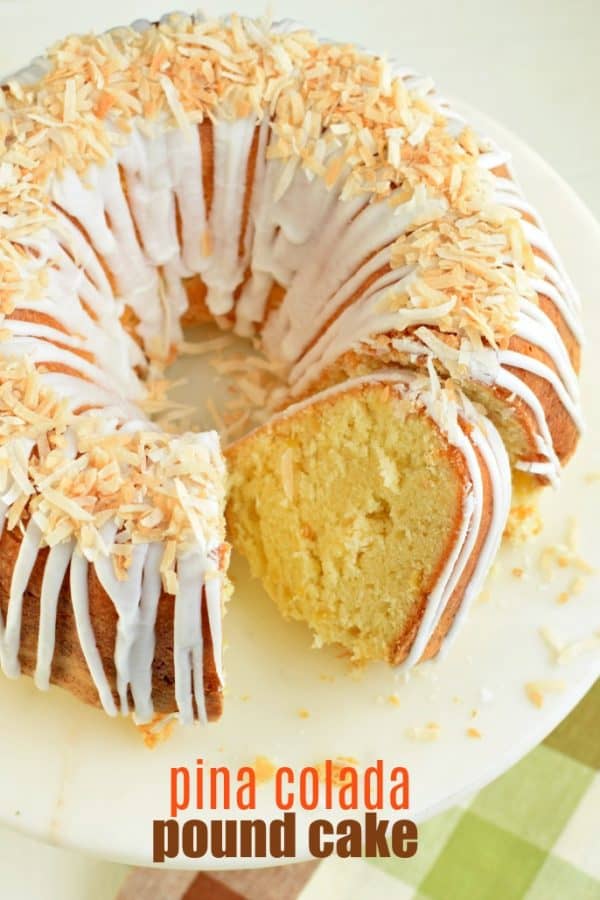 Pound Cake
This Pina Colada Pound Cake is moist, sweet and fruity. Are there any two fruits more suited for each other than pineapple and coconut? The flaked coconut on top makes this cake look super impressive, but you'll be happy to discover that this bundt cake is easy to make and decorate. 
We used our favorite pound cake recipe as a base. But, this is not your ordinary coconut pound cake.
Yes, I could have just thrown some crushed pineapple into a pound cake recipe, topped it with coconut and called it a "Pina Colada Cake" but I had to take things a step further.
A little rum flavoring added to the cake AND the glaze takes the Pina Colada theme to the next level. One bite and I felt like I could be sitting poolside sipping my favorite vacation cocktail. I might actually not be on vacation but at least I have delicious pound cake!
(That reminds me I also need to make myself a Pina Colada Smoothie later this week; I'm in a pineapple mood!)
This pineapple coconut pound cake is gorgeous. And huge. And if you can't eat it all? I understand. Invite someone over–I promise they'll be more than happy to help you out. It also stores well for later!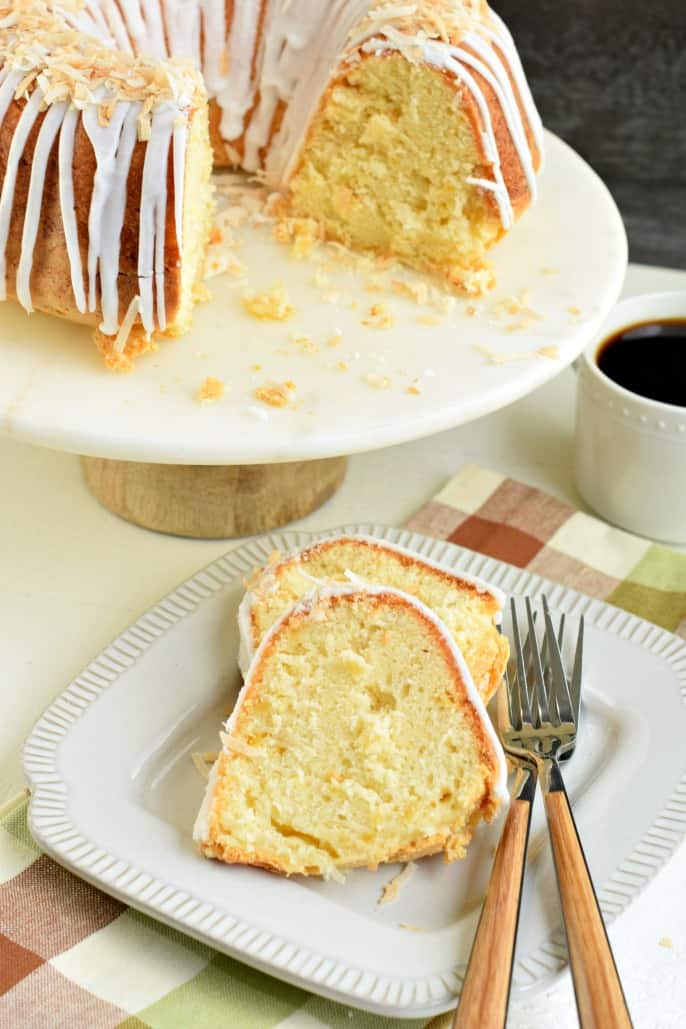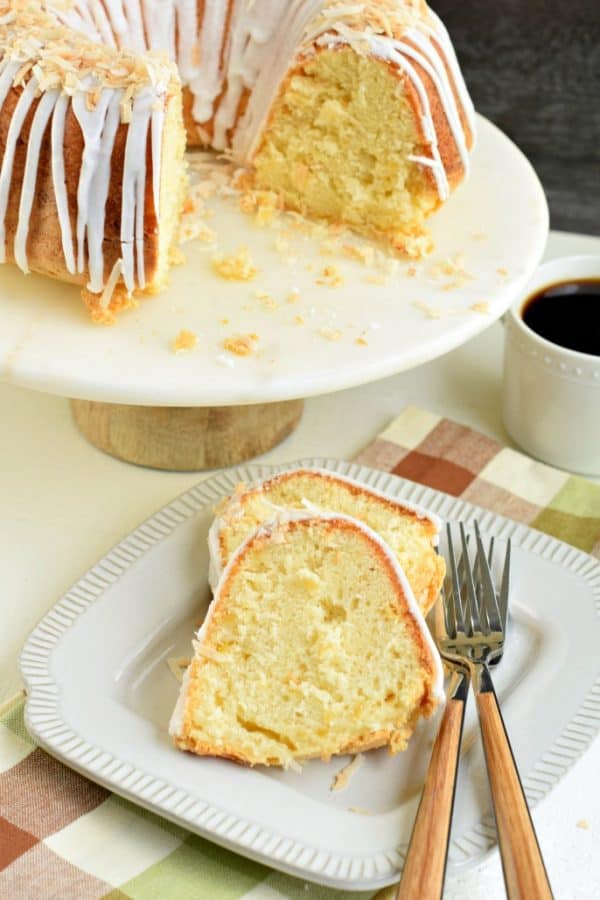 Can you make pound cake ahead of time?
Pound cake recipes are very forgiving desserts for making in advance. This Pina Colada Pound Cake can be made a day or two ahead of time and will stay moist and delicious as long as you store it covered. The glaze does a perfect job helping the cake keep from drying out.
The other secret to a moist pound cake?
Sour cream. Ever since I started using sour cream in my pound cake recipes, I've never been disappointed by a piece of dried out cake again.
Can you freeze pound cake?
This pound cake freezes beautifully, too. Make big slices, wrap them individually in wax paper (or parchment). Put the individually wrapped slices in a ziploc or air-tight container and freeze them. Bring them out of the freezer to thaw (about one hour) and enjoy.
My freezer is stocked right now with baked goods…who's coming over for coffee?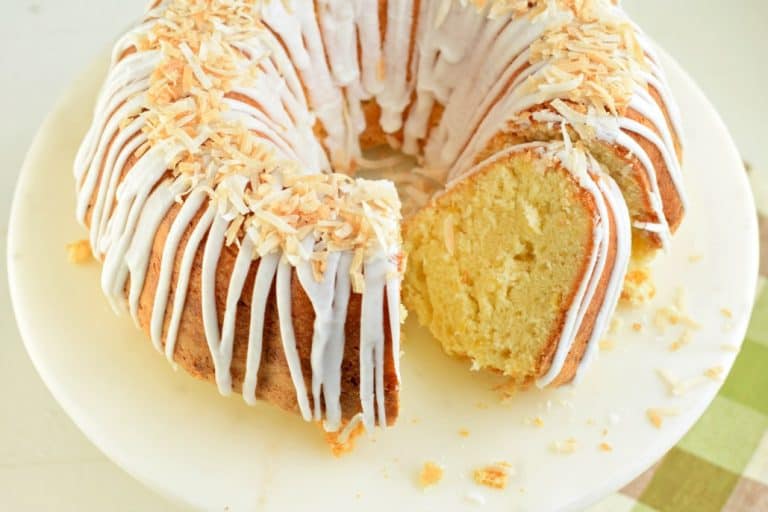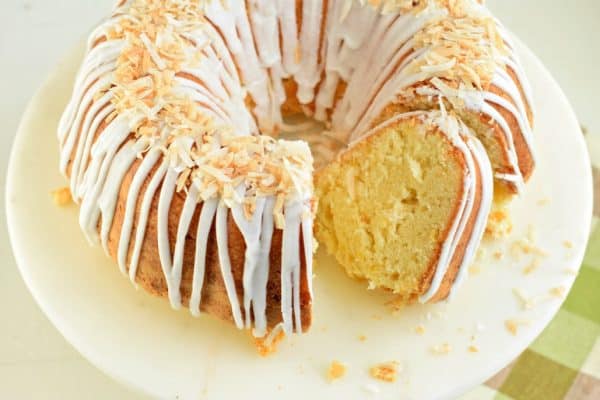 Pina Colada Pound Cake Recipe
You're going to love how easy it is to make a beautiful and delicious pineapple coconut pound cake.
STEP 1. Toast the Coconut
Use my easy recipe to make toasted coconut.
STEP 2. Make the Pound Cake Batter
In a large mixing bowl, beat butter until creamy. Add in sugar and rum flavoring, beating until fluffy. Add eggs, one at a time. In a small bowl, mix together flour, baking soda, baking powder and kosher salt. Slowly add flour mixtures to mixing bowl, alternating with sour cream until fully mixed. Fold in crushed pineapple.
STEP 3. Bake
Pour the cake batter into a well greased and floured bundt pan (or use my homemade cake release recipe). Bake in a 325 degree oven for 85-90 minutes. This makes a very big cake that will puff up over the top of your pan. It's okay. It's so pretty this way!
Remove from oven and allow to cool about 15 minutes in pan. Invert onto a wire rack and cool completely.
STEP 4. Make the Glaze
For the glaze, whisk together milk, rum and powdered sugar until smooth. Drizzle on cooled cake and immediately sprinkle with the toasted coconut. ENJOY!
Note: You can use either real rum or rum flavoring in both the cake batter and the glaze. This gives the cake an authentic Pina Colada flavor.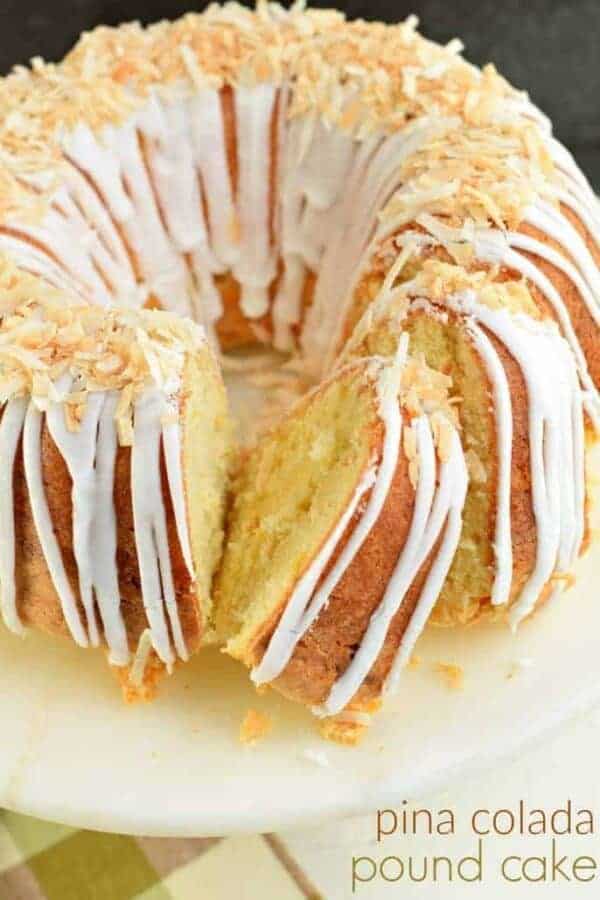 More Easy Desserts
With all the flavors of the tropical cocktail you love, Pina Colada Pound Cake is an easy dessert that'll wow you with its taste and appearance!