Bring the campfire experience indoors with these S'mores Cupcakes! Rich, fudgy chocolate cupcakes are topped with chocolate ganache, marshmallow frosting and graham cracker crumbs. Experience the summer time s'mores magic all year long!
S'mores fans also love these No Bake Indoor S'mores Bars and this incredible S'mores Dip. Or bake up a batch of these delicious S'mores Cookies!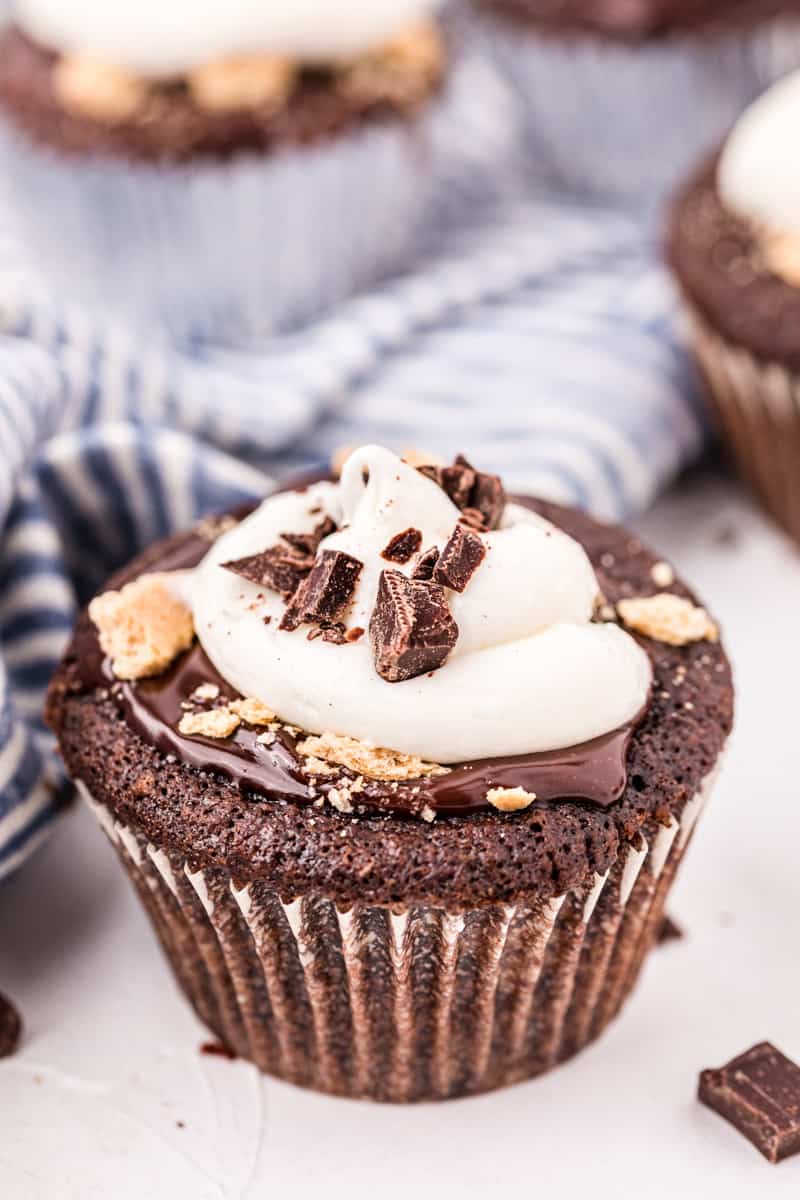 Why this Recipe Works
This cupcake recipe might look intense. But a impressive as these cupcakes look, they're not at all hard to make.
S'mores Cupcakes have all the essentials: chocolate, marshmallow and graham cracker!
The chocolate cupcake foundation is made with two kinds of chocolate for an ultra rich flavor.
Garnished with chocolate shavings for a beautiful presentation.
All the amazing taste of S'mores without the mess, the camp fire or the bug bites!
Everyone will "ooh" and "ahh" when you show up to the party with a tray of heavenly S'mores Cupcakes!
Ingredient Notes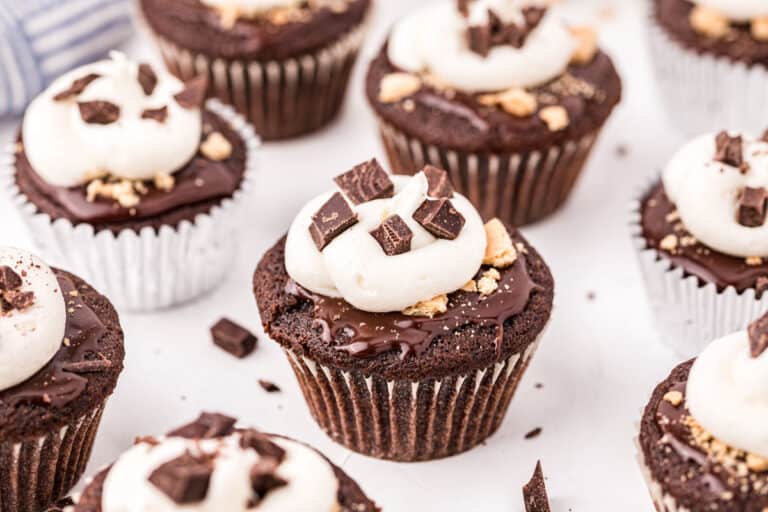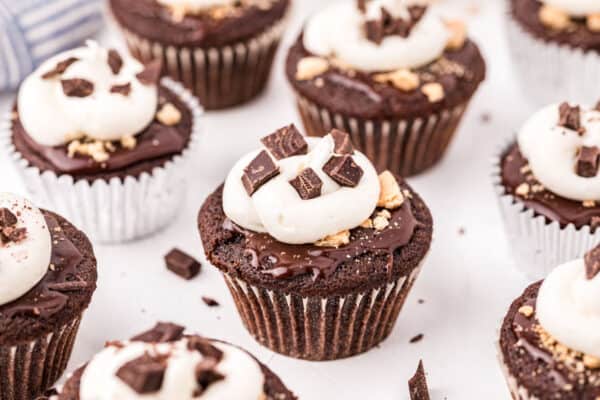 Brewed coffee. This does not make the cupcakes taste like coffee! Adding hot coffee deepens and enriches the chocolate flavor.
Buttermilk. Use store bought or homemade buttermilk to make the moistest, fudgiest cupcakes.
Marshmallow cream. Also called "fluff", it'll be blended with powdered sugar to create the marshmallow frosting.
Bittersweet chocolate squares. You will add these to the s'mores cupcake batter and use extra for grating over the finished cupcakes.
Easy Instructions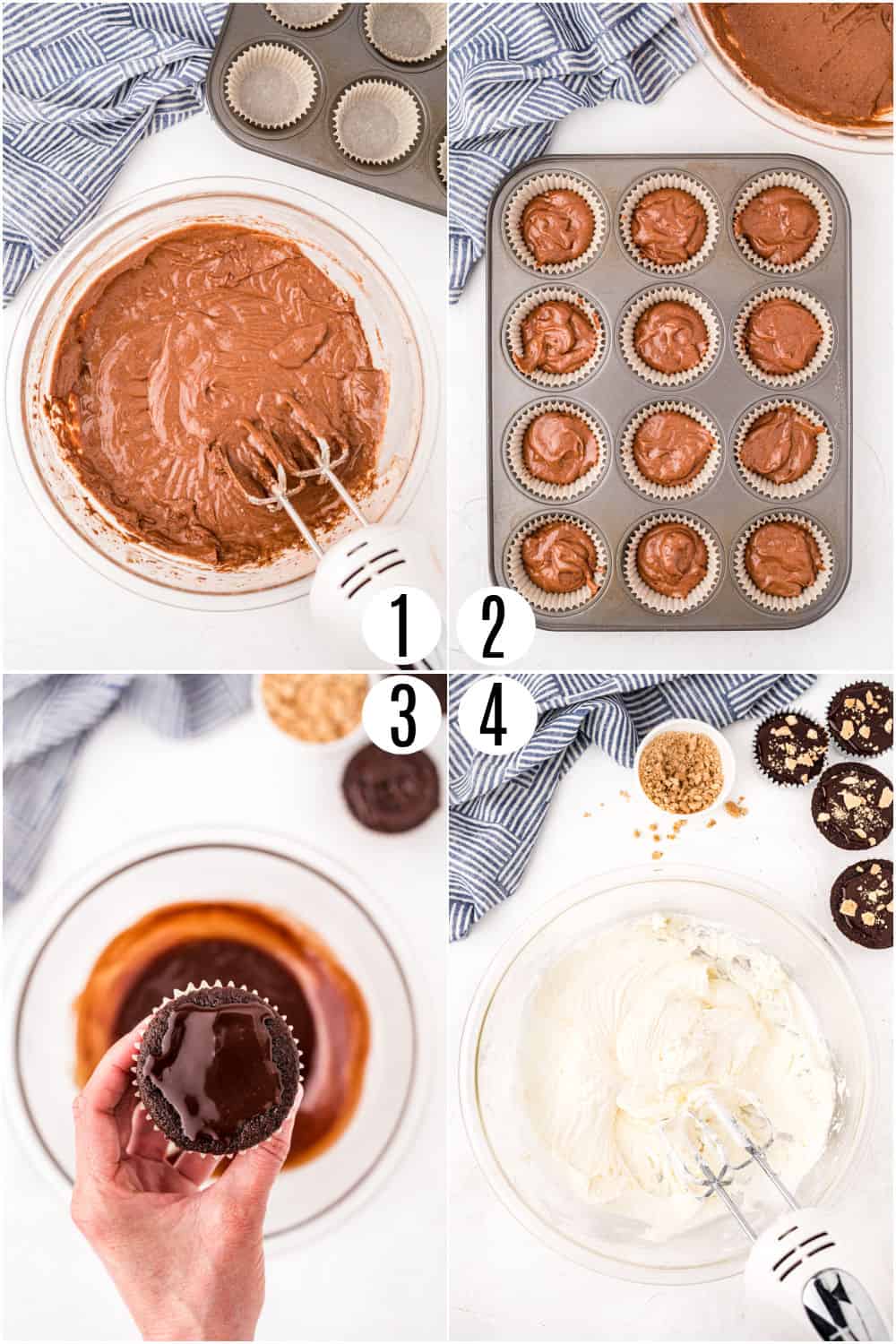 STEP 1. Make the cupcakes
Add chopped chocolate and cocoa powder to a bowl. Pour hot coffee over both ingredients, then stir until melted and combined.
Add the remaining cupcake ingredients, then beat to form a thin, smooth batter.
Scoop the batter into a lined cupcake tin. Bake for 18 – 20 minutes. Let cool completely.
STEP 2. Chocolate ganache
Melt milk chocolate morsels with heavy cream, stirring until smooth. Spoon the ganache over cooled cupcakes. Sprinkle with graham cracker crumbs.
STEP 3. Marshmallow frosting
While the ganache sets, beat together the marshmallow cream, powdered sugar, butter and heavy cream.
Pipe frosting onto cupcakes. Finish the S'mores Cupcakes by sprinkling them with chopped or grated chocolate.
Tips and Tricks
Use good quality chocolate. The higher quality, the better the finished cupcakes will taste. I use ghirardelli brand with delicious results.
Make sure your coffee is piping hot. The temperature helps melt the chocolate and "bloom" it with the cocoa.
Scrape down the sides of the bowl. As you beat the s'mores cupcake ingredients, use a wooden spoon to scrape down any batter that clings to the bottom or sides of the bowl. This prevents the chocolate from settling.
How to crush graham crackers. Place crackers in a ziploc bag. Use a rolling pin or mallet to crush into coarse crumbs.
Need something easier? Try our S'mores Pie for an easy 5 ingredient no bake treat!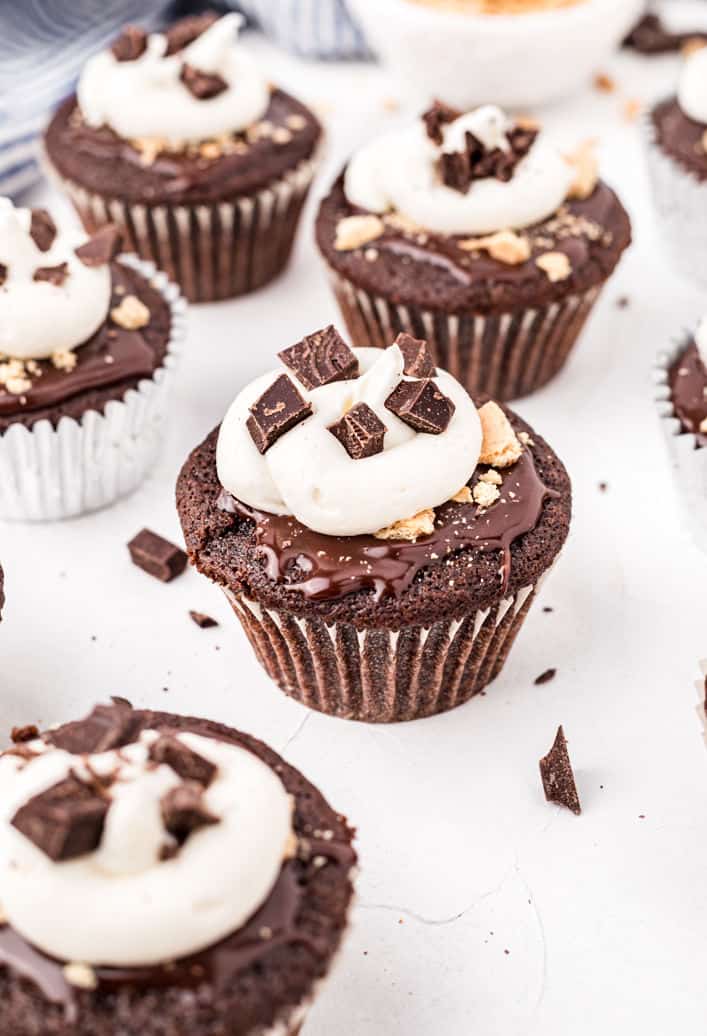 Recipe FAQs
How do you store S'mores Cupcakes?
Store these covered at room temperature for up to four days. You can also freeze these cupcakes for up to 3 months.
How can I tell when cupcakes are done?
To tell if your cupcakes are done, lightly press your finger to the top of a cupcake. If it springs back immediately, they are fully baked. If the top stays indented, they need more time. You can also use the toothpick test. Insert a toothpick to the center of a cupcake. If it comes out clean, the cupcakes are ready to come out of the oven.
Can I make these without the coffee?
You could use hot water instead of coffee, but the flavor won't be as rich. I promise you can't taste the coffee in the finished cupcakes. It just makes them taste more chocolatey.