Peach Pie Bars
I happen to love pie. However, I hate pie crust. LOATHE it.
Wait, scratch that. I love eating pie crust, but I can never get it to look pretty. I've followed all those fun tutorials on Pinterest, but no luck for me.
So making pie is not my thing. I'm okay with that. (sorta). But, making these pie bars was easy, and totally makes me feel better. PLUS, bonus, this recipe makes a 15×10 baking sheet. More pie, less work. Win-win.
For the filling I used Lucky Leaf Pie Filling. Have you tried this brand yet? I didn't think there would be a difference from the Kroger brand I usually use…but this was wonderful. The fruit was still so vibrant in color, and the filling was nice and thick (not runny at all)!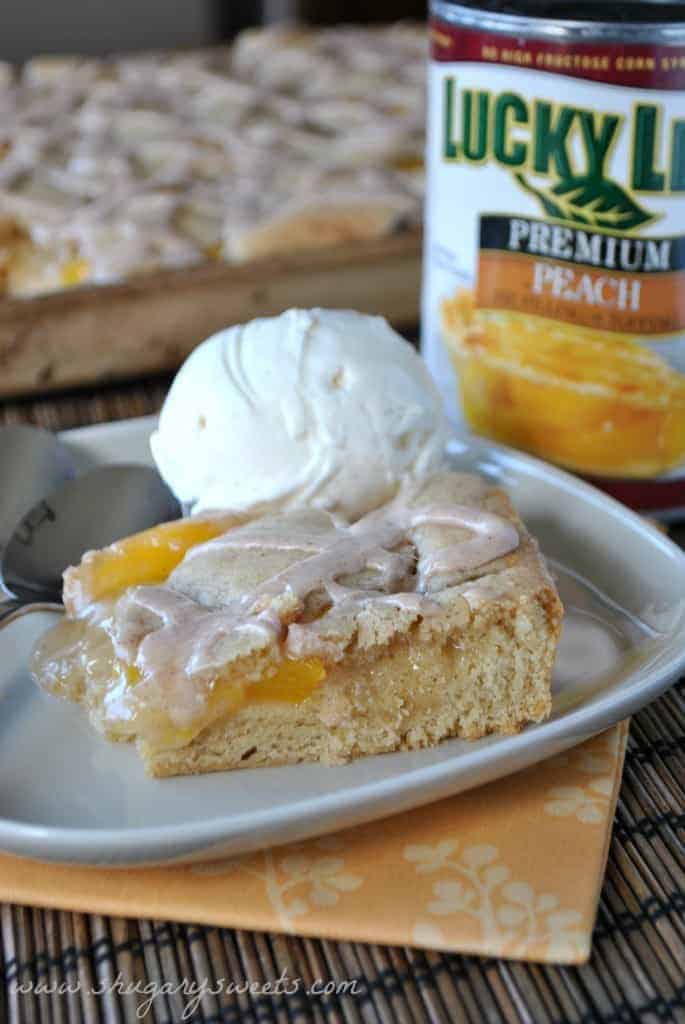 Love this Peach Pie Bar Recipe? You may also enjoy these recipes….
Rustic Peach Galette– easy rustic pie crust filled with fresh sliced peaches and seasoning! by Shugary Sweets
Rustic Peach Pie– a delicious pie filled with a gorgeous peach filling…pie shaping skills not necessary! by Hungry Couple
Fried Peach Pies– you got it, fried hand pies, filled with canned  peach pie filling! EASY. by Eatin on the Cheap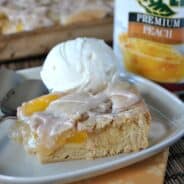 Peach Pie Bars
Ingredients:
For the Batter:
1 cup unsalted butter, softened
2 cup granulated sugar
4 eggs
3 cup all purpose flour
1/2 tsp kosher salt
1 tsp cinnamon
1 tsp baking powder
1 tsp allspice
1/4 tsp ground ginger
2 can (21oz each) Lucky Leaf Peach Pie Filling
For the Glaze:
1 cup powdered sugar
1 tsp cinnamon
3 Tbsp milk
Directions:
In large mixing bowl, beat butter and sugar until creamy. Add in eggs, one at a time, beating after each addition. Add in flour, cinnamon, salt, baking powder and spices.
In a large 15x10 baking sheet (with 1inch sides, or more), spread 2/3 of batter in bottom of pan. Top with 2 cans of pie filling, spreading evenly. Drop remaining batter in teaspoons on top of pie filling.
Bake in a 350 degree oven for 33-37 minutes, until done. Allow to cool slightly before applying glaze.
For glaze, whisk together the powdered sugar, cinnamon and milk until desired consistency. Drizzle onto warm pie bars. Eat and enjoy! Serve with vanilla bean ice cream, if desired. Store remaining bars in refrigerator.
MAKING THIS RECIPE? Share it with me on Instagram using the hashtag #ShugarySweets so I can see what you're cooking up in the kitchen!
**Lucky Leaf provided me with 4 cans of free pie filling. All opinions expressed are my own!