This Easy Homemade Hummus is creamy and the best recipe you'll find! No fancy tricks here, just easy, one bowl deliciousness!
Love easy snacks? Our grape jelly meatballs are the perfect appetizer for a crowd. Or give our buffalo chicken dip recipe a try next, readers love this one!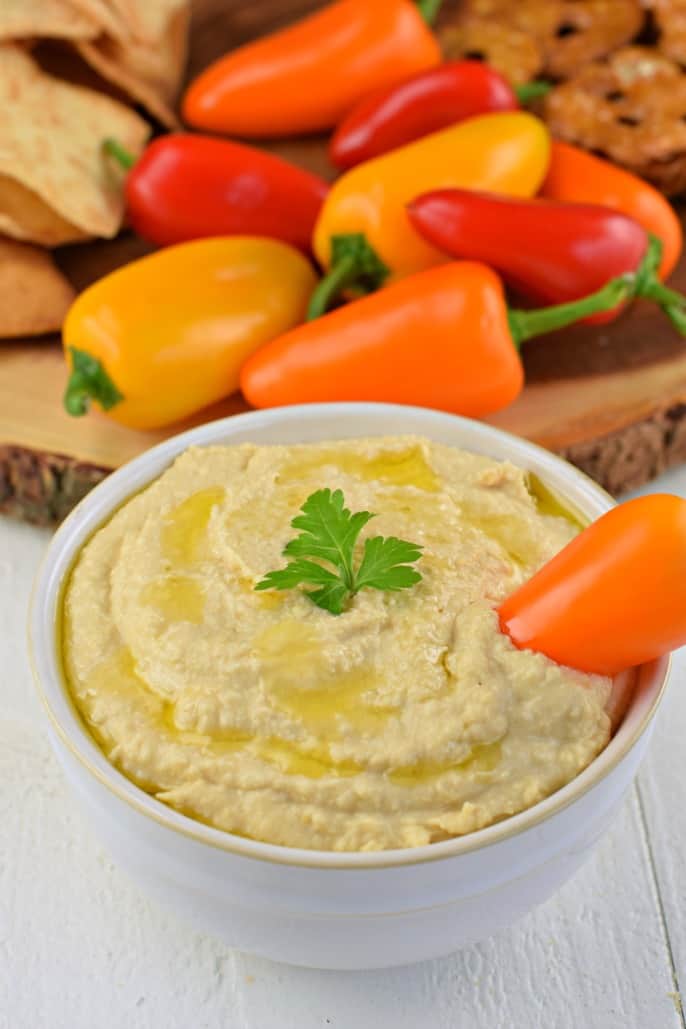 What is Hummus?
Hummus is a thick and creamy spread that can be enjoyed with a variety of foods. It is primarily made up of mashed garbanzo beans, as well as a few other ingredients. Hummus recipes originated in the Middle East and are now enjoyed widely throughout the world.
Wondering what the difference is between garbanzo beans and chickpeas? Even though they have two different names, they are the same bean.
Fun fact, the popularity of hummus is the reason we have two different names for the main ingredient in hummus.
Chickpea is the common english term for the bean.
Garbanzo is the Spanish term.
So, whether you like to call them chickpeas or garbanzo beans, I think you'll agree this is the best hummus recipe yet!
This easy hummus recipe is gluten free and can be made and served as an appetizer or a side dish to your main course. It's so handy to whip up a batch of this and keep it in your fridge.
Serve it up with our easy Instant Pot Gyros, along with some veggies and tzatziki sauce!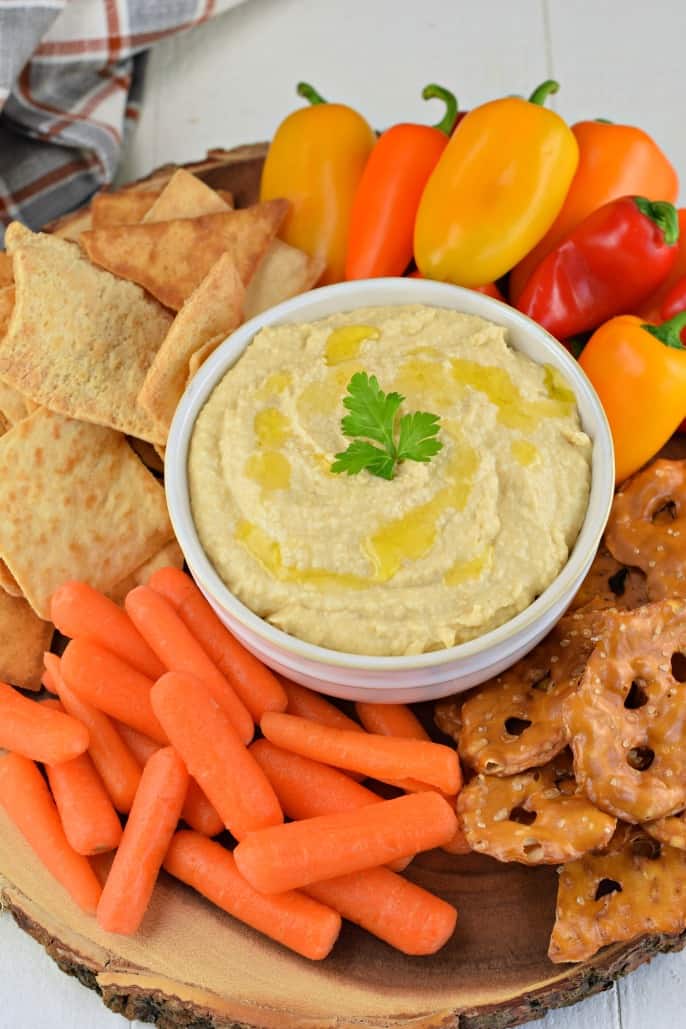 How to make Hummus
Step 1: Drain the can of garbanzo beans and remove the skins.
PRO TIP: If you want to skip peeling the skins, just be sure to process the beans in food processor a little extra longer to get them creamy!
Step 2: In a food processor add the garbanzo beans, tahini, lemon juice, salt, garlic, and 2 tbsp of olive oil. Blend for several minutes, adding a tablespoon of cold water at a time. You can also use the drained water from the beans.
Step 3: Add more or less water to get the consistency you want. To make your hummus more creamy, I added about 3-4 tbsp of water total.
Step 4: Spread hummus on a large plate or pie plate. Sprinkle it with paprika and then drizzle with the remaining olive oil. Serve with warm pita bread or pita chips. Or serve it up in a bowl with a side of vegetables and pita chips!
See how easy homemade hummus is to make?
Recipe FAQs
Should I use canned or fresh garbanzo beans for hummus?
You can use either canned garbanzo beans or fresh beans for this recipe. I use the canned cooked chickpeas because it's quicker and takes out a step. If you want to use dried beans, make sure to soak them in water first and then cook them.
Do I need to peel garbanzo beans for hummus?
I always recommend peeling the skins off the garbanzo beans, especially since this recipe is so easy with canned beans. If you really don't want to peel your beans, make sure you puree everything a little longer in the blender or food processor.
How do you make hummus smooth and creamy?
Peeling the skins off will result in a creamier hummus. Don't skip this step if you want your hummus smooth and creamy. If you use fresh beans, add a little bit of baking soda to your pot to help the beans break down. Also, be sure to blend them for several minutes in the food processor to get that creamy consistency.
More Hummus Flavors
The great thing about this hummus recipe is that you can customize it to your liking.
Garlic. Add more garlic flavor with fresh roasted garlic or by adding additional garlic cloves.
Lemon. You can add more lemon juice and paprika on top for more of a zest. I've got a delicious Lemon Hummus recipe on the blog!
You can even add in your own favorite seasonings like ground cumin or sesame seeds to make ths hummus completely your own.
Red Pepper Hummus. Want to make roasted red pepper hummus? Check out my yummy recipe for that too!
Spinach Artichoke. Yep, you read that right. Similar to our popular spinach artichoke dip recipe, this spinach artichoke hummus is packed with flavor!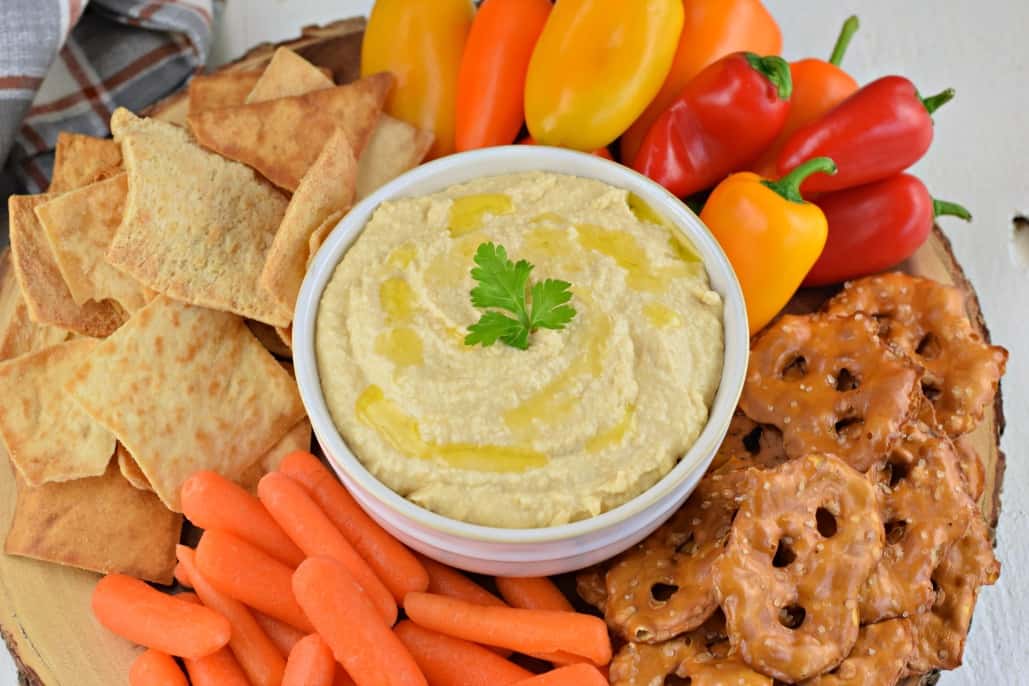 More Snack Recipes
Love dips and snacks that you can serve family and friends at a get-together? Here are some of my favorite recipes!
Classic Hummus Recipe with smooth, creamy consistency! Made with garbanzo beans (chick peas), tahini, garlic, and more! Won't disappoint.