This Pigs in a Blanket recipe takes just 3 ingredients and is ready in 30 minutes! Made with cocktail weiners and crescent rolls, they're a favorite party food, appetizer or kid friendly meal.
Need more great recipe ideas for your next get-together? Try our Chipped Beef Cheese Ball or these easy Crab Puffs.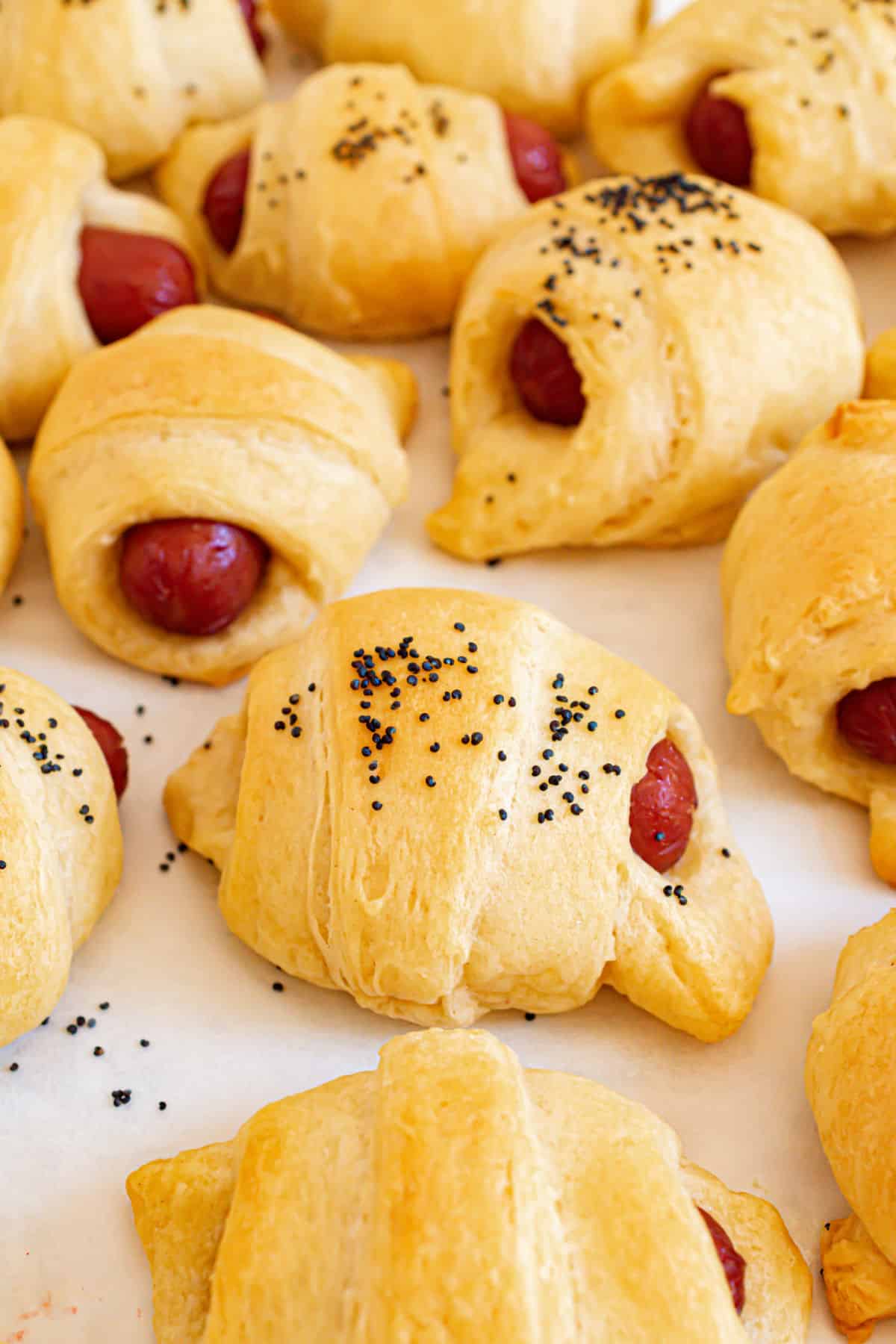 Why this Recipe Works
I don't know about you, but we grew up eating these for dinner! Mom would serve a big plate of crescent roll dogs with a bowl of coleslaw and some of our favorite hashbrown casserole.
Kids love these Pigs in a Blanket–but you'll have a hard time keeping adults away from them too!
This Pigs in a Blanket recipe uses convenient ingredients for consistent results and worry free cooking.
You can serve them on a platter as a party snack. Or plate them with side dishes for a casual family dinner.
Homemade Pigs in a Blanket are freezer friendly. This recipe includes instructions for baking ahead of time and freezing.
We have serve today's pigs in a blanket with another one of our favorite appetizers…slow cooker buffalo chicken dip. One bite and you can't stop!
Ingredient Notes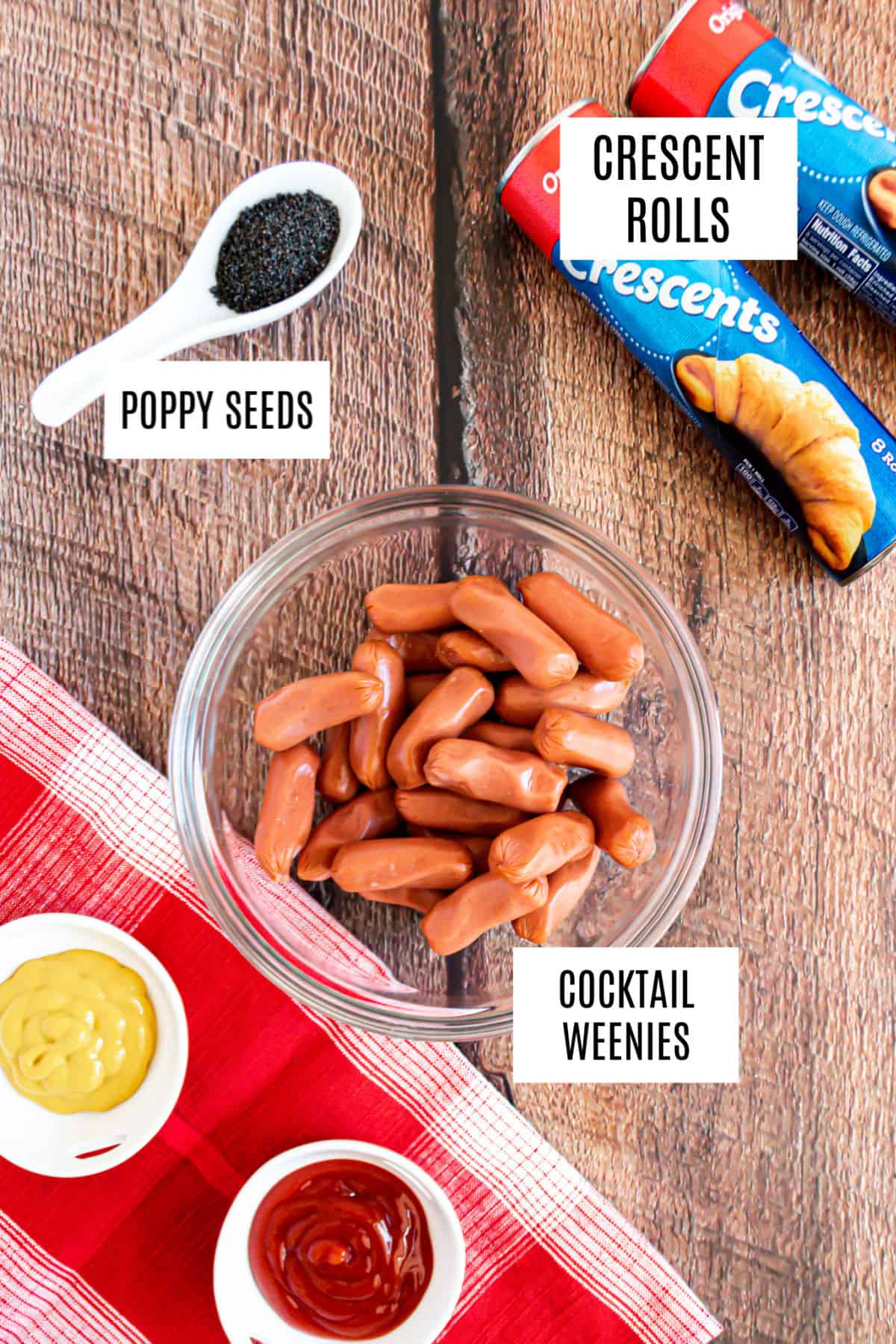 Cocktail weiners. These are also sometimes labeled as cocktail sausages or lil' smokies. You'll need a full 10 oz package to make Pigs in a Blanket. You can also make this recipe with full sized sausages or hot dogs for a full meal.
Crescent rolls. I use the standard crescent rolls with perforated triangles. You will unroll and separate the triangles before adding the sausages.
Poppy seeds. I sprinkle these over the wrapped Pigs in a Blanket before baking, but they are totally optional! The Chicago hot dog girl in me can't resist!
Cheese. A small slice of American cheese is another tasty (but optional) addition to this recipe.
Tips & Tricks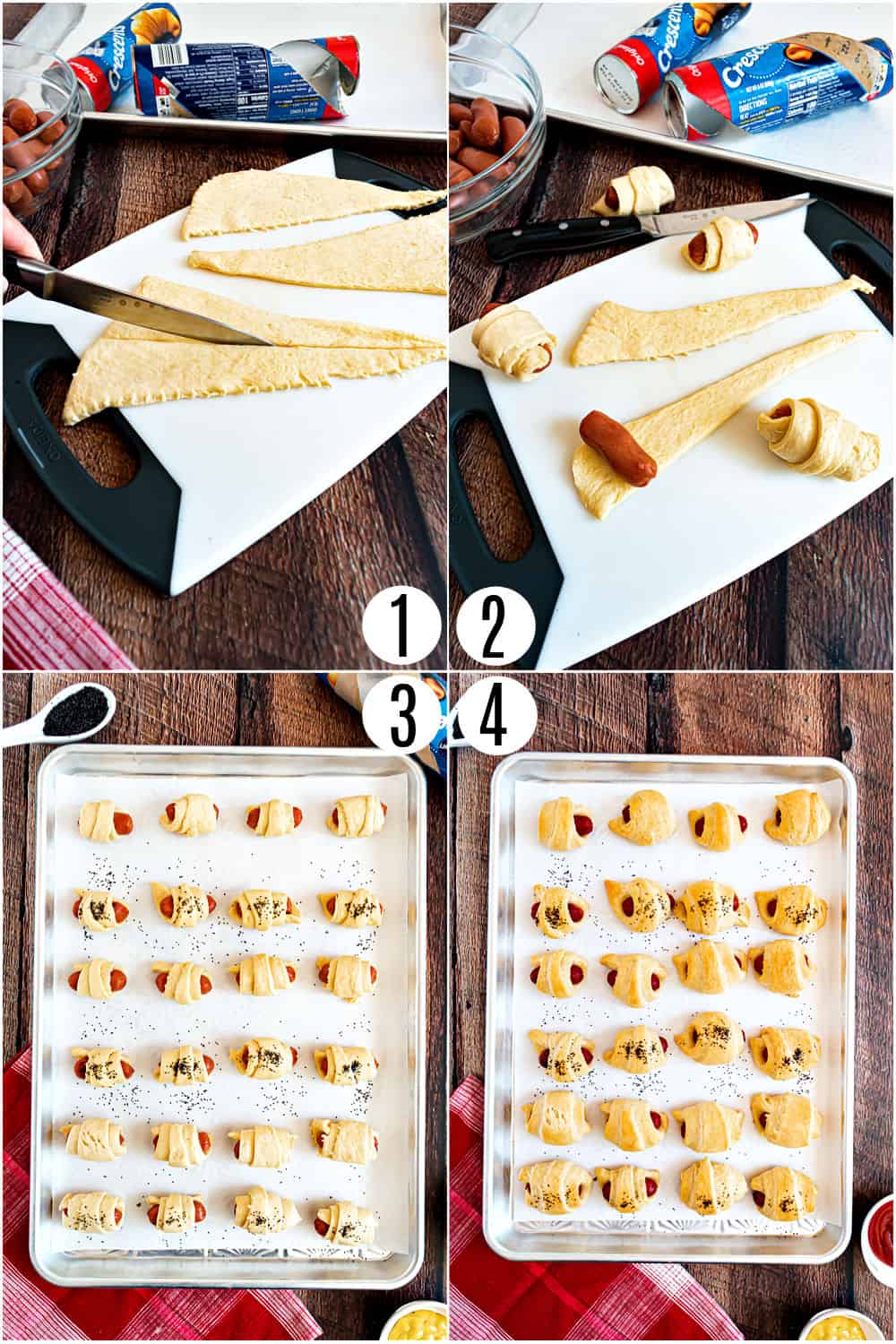 Assembly: Place each cocktail on the short end of the triangle (for the mini sausages, I cut each crescent roll in half). Roll the sausage toward the pointed end to wrap.
Cheesy pigs in a blanket: If adding cheese, place a slice on crescent triangle before adding the sausage.
Baking: Cook for 12 – 15 minutes in the oven. Serve warm fresh from the oven.
How to freeze: Let the baked pigs in a blanket cool completely. Then freeze in a single layer in a freezer bag. Thaw and reheat within one month.
Serving Suggestions
Serve Pigs in a Blanket with all your favorite condiments. They taste wonderful simply dipped in ketchup or mustard.
Looking for ways to make Pigs in a Blanket a full meal? Whip up an easy Cucumber Dill Salad or Broccoli Salad for a fresh veggie-filled side dish.
For dessert, you can't go wrong with Red Velvet Cupcakes or a pan of Fudgy Chocolate Walnut Brownies to slice and share! Of course our favorite Rice Krispie Treats are delicious too.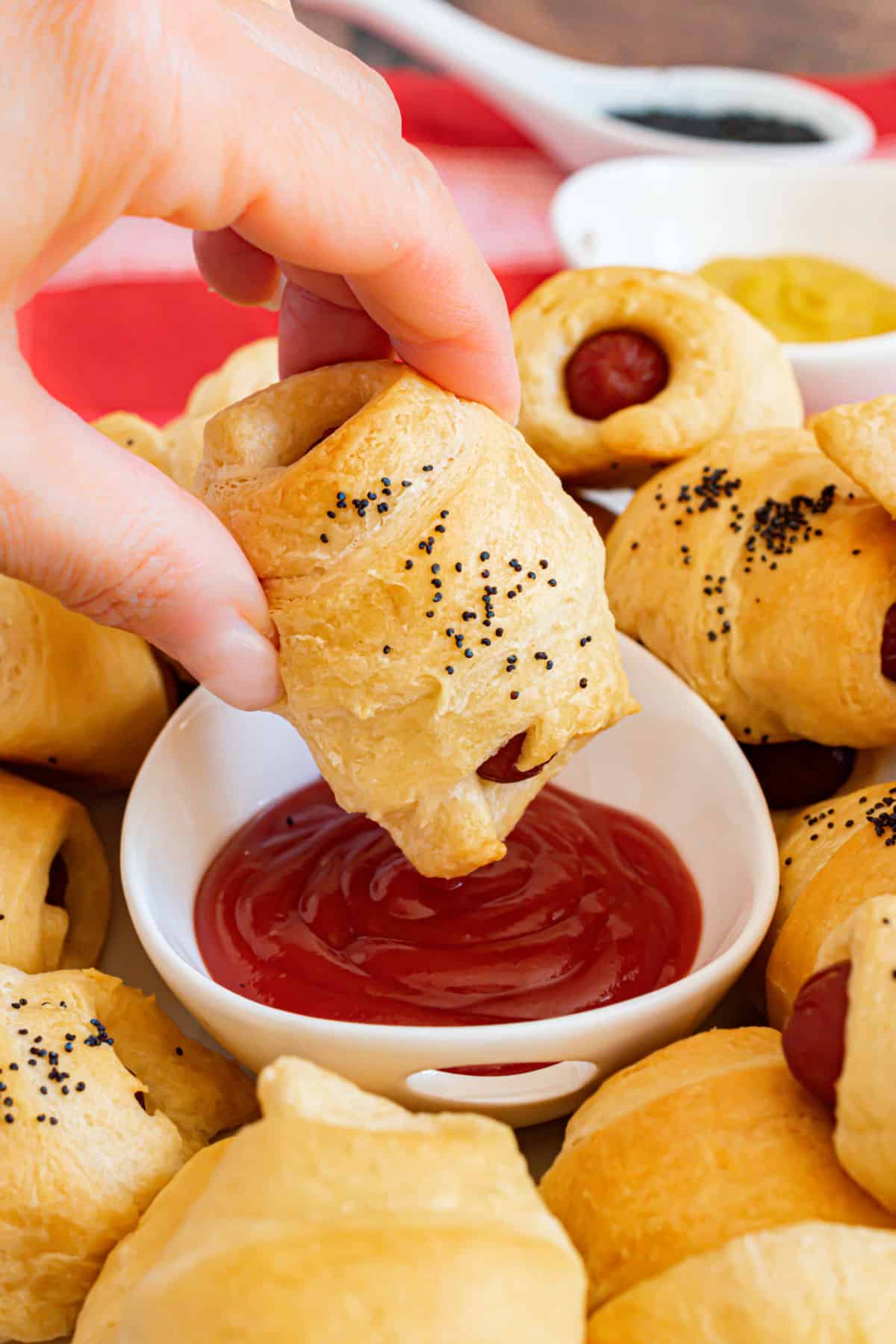 Recipe FAQs
I can't get crescent roll dough where I live. What can I use in this recipe instead?
If you can't get your hands on crescent roll dough, you can swap it for any refrigerated or homemade pie crust dough. You will need to slice the dough into triangles before wrapping it around the sausages.
Can I prep these ahead of time?
Yes, you can assemble the pigs in a blanket as far in advance as the night before and keep them covered in the fridge. They taste best if eaten soon after baking.
What kind of cheese is best to add to Pigs in a Blanket?
I use American cheese. But any cheese you like will work in these crescent wrapped sausages. Velveeta is a popular choice.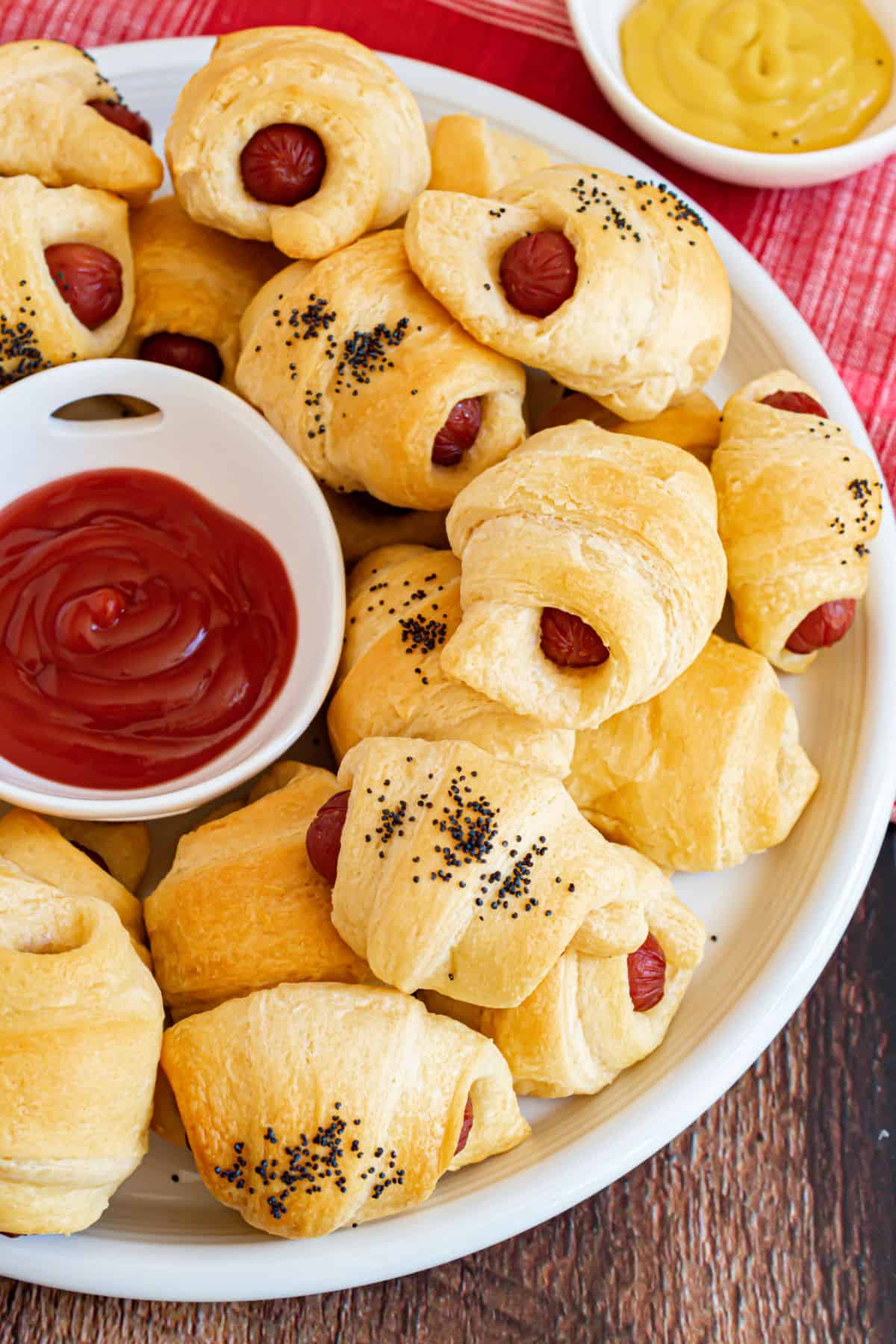 Quick and easy Pigs in a Blanket disappear as fast as you can make them! With or without cheese, it doesn't get much better than tiny sausages baked in a flaky crust.