Next time you're craving S'mores, try making these individual mini S'more Cheesecakes! Mini cheesecakes are easy to serve with all the flavor of a S'more. No campfire needed!
Love S'mores? Be sure to try our whole S'mores Cheesecake for an ultimate dessert idea. Or give our s'mores cookies a try for a grab and go treat.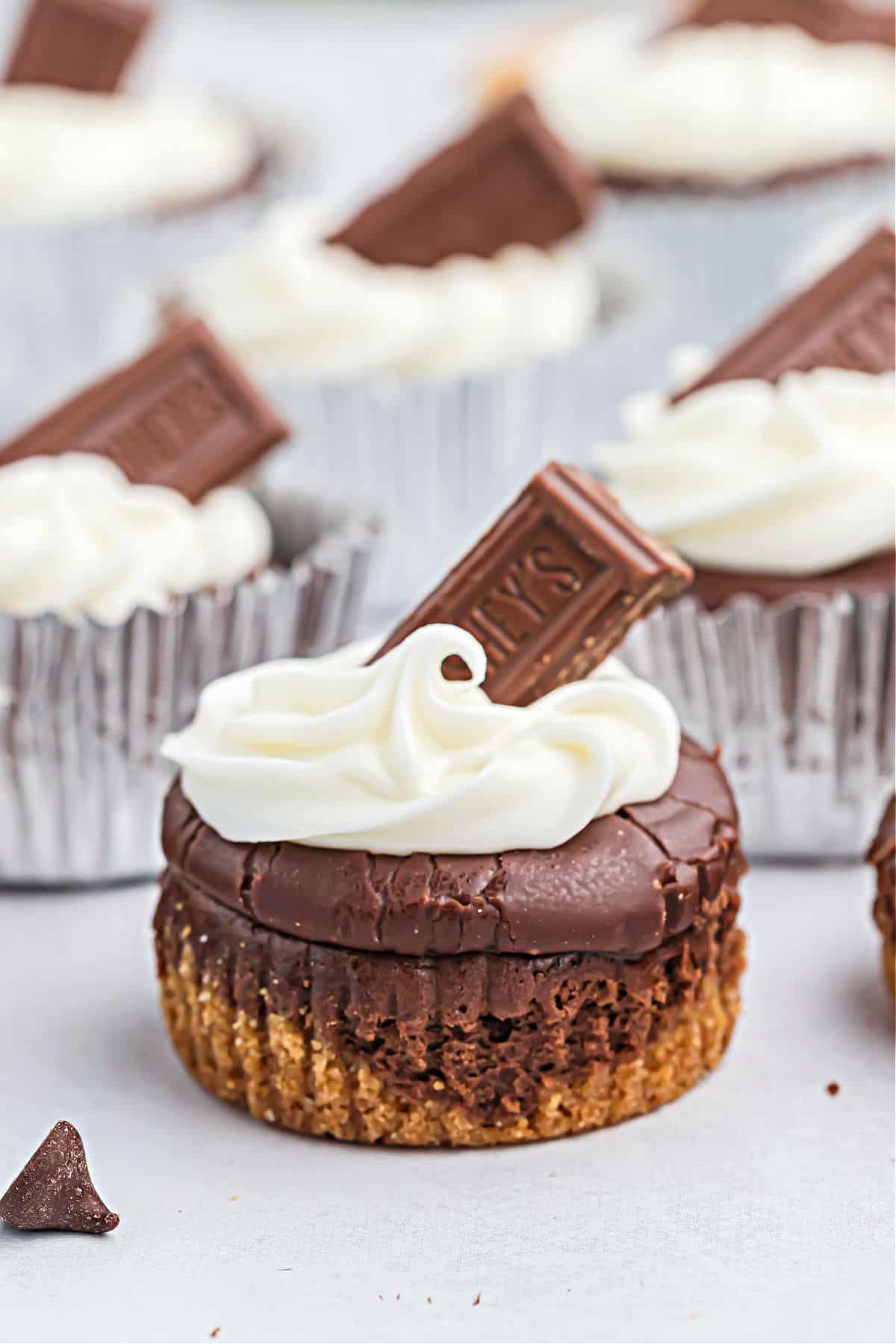 Why this Recipe Works
Baking cheesecake is something I love to do. Today's recipe is perfect when you're looking for that delicious S'mores flavor.
The chocolate ganache was gives that melty-gooey chocolate texture just like when eating a s'more!
Of course, I put an extra piece of Hershey's chocolate on top. You know. For garnish purposes.
If you're looking for a treat to bring to your next potluck, these cheesecakes are the answer! Made with muffin liners, S'mores Cheesecakes come out of the oven ready to serve and share.
Love S'mores? Try our easy s'mores cupcakes and our fun indoor s'mores for some tasty treats.
Ingredient Notes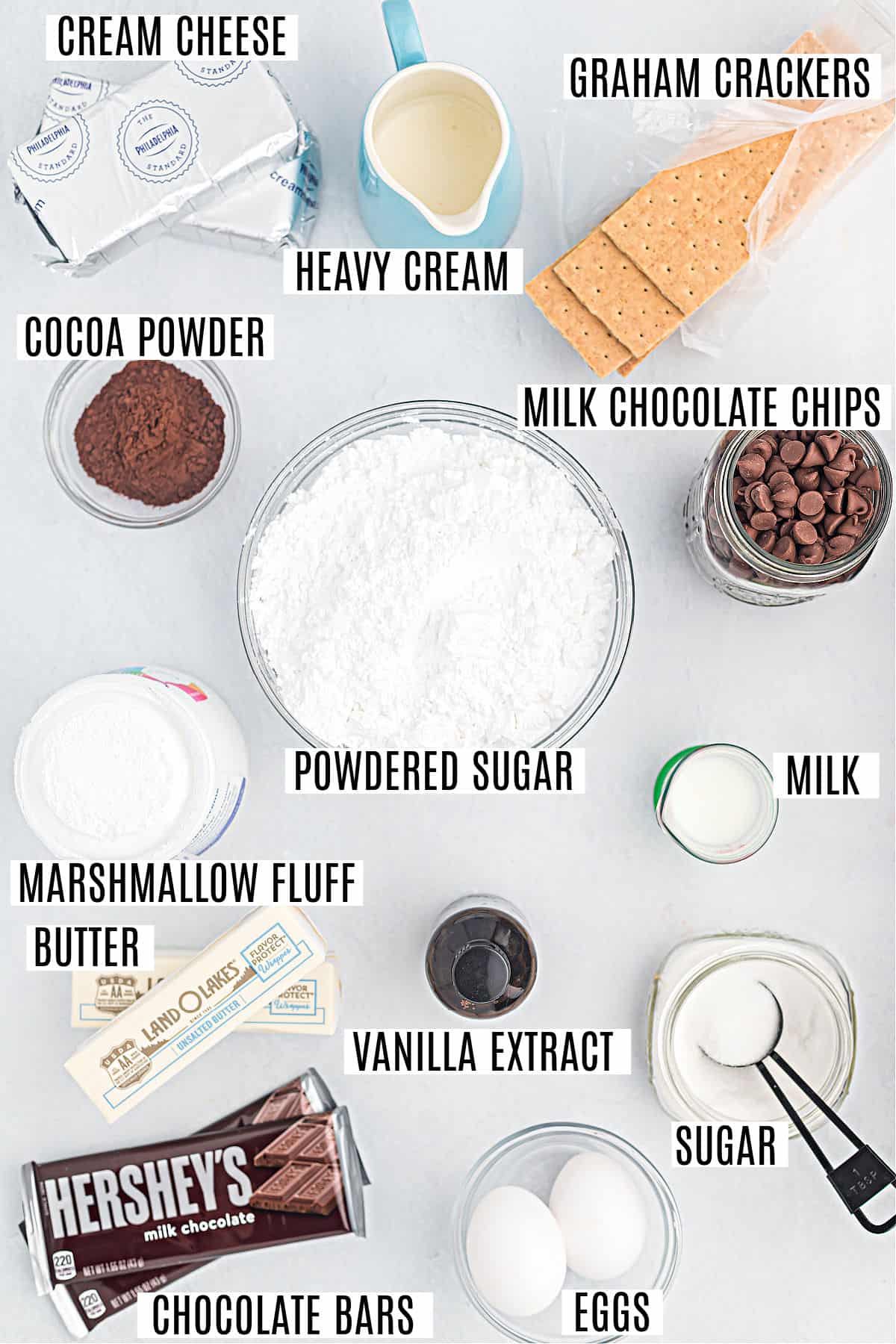 Cocoa powder – Use unsweetened dark chocolate cocoa powder for best flavor!
Milk chocolate morsels – You can swap the milk chocolate for semi-sweet, however the milk gives it a more authentic s'mores flavor.
Marshmallow fluff – Sometimes called "marshmallow cream", you'll use this in the light and fluffy frosting.
Chocolate bars – I like Hershey's bars, both for tradition's sake and because it's easy to break them into squares for garnishing the S'mores cheesecakes. You'll want to buy extra for our smores cookie bars!
Graham crackers – Or you can buy ready made graham cracker crumbs to make the crusts. Oreo crust would be amazing too.
Step by Step Instructions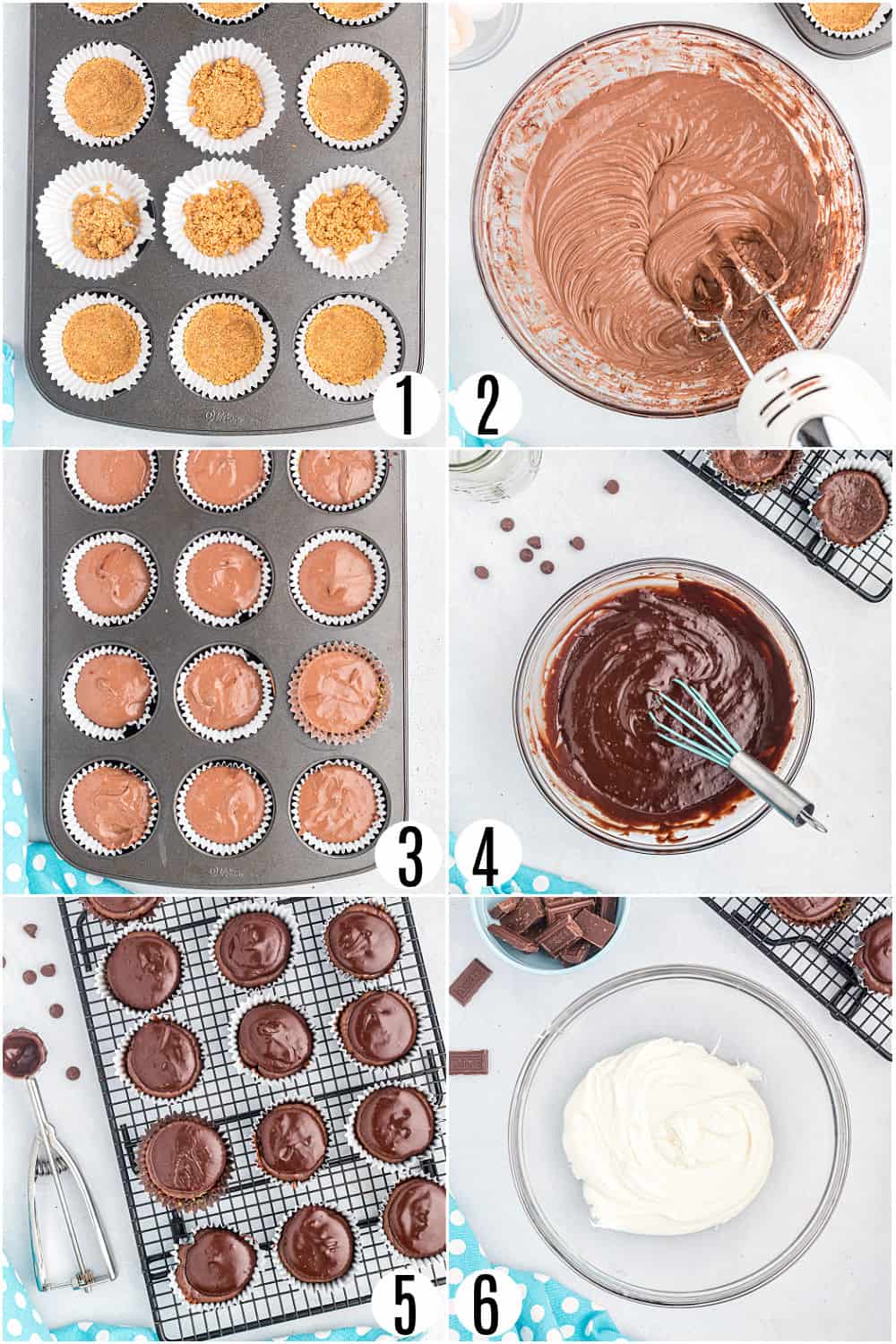 Make the graham cracker crust
Pulse the graham crackers in a food processor to make crumbs, then add in the sugar and melted butter. Put a spoonful of crust into the bottom of each muffin cup and press with the bottom of a glass or a tart shaper.
Make cheesecake filling
Beat cream cheese with sugar and vanilla, then add eggs and cocoa powder and mix well. Scoop filling into the muffin liners and bake for 25 to 30 minutes. Let them cool on a wire rack while you make the chocolate ganache and frosting.
Assemble
Top each cheesecake with ganache frosting and marshmallow frosting. Garnish with a Hershey's chocolate square and enjoy!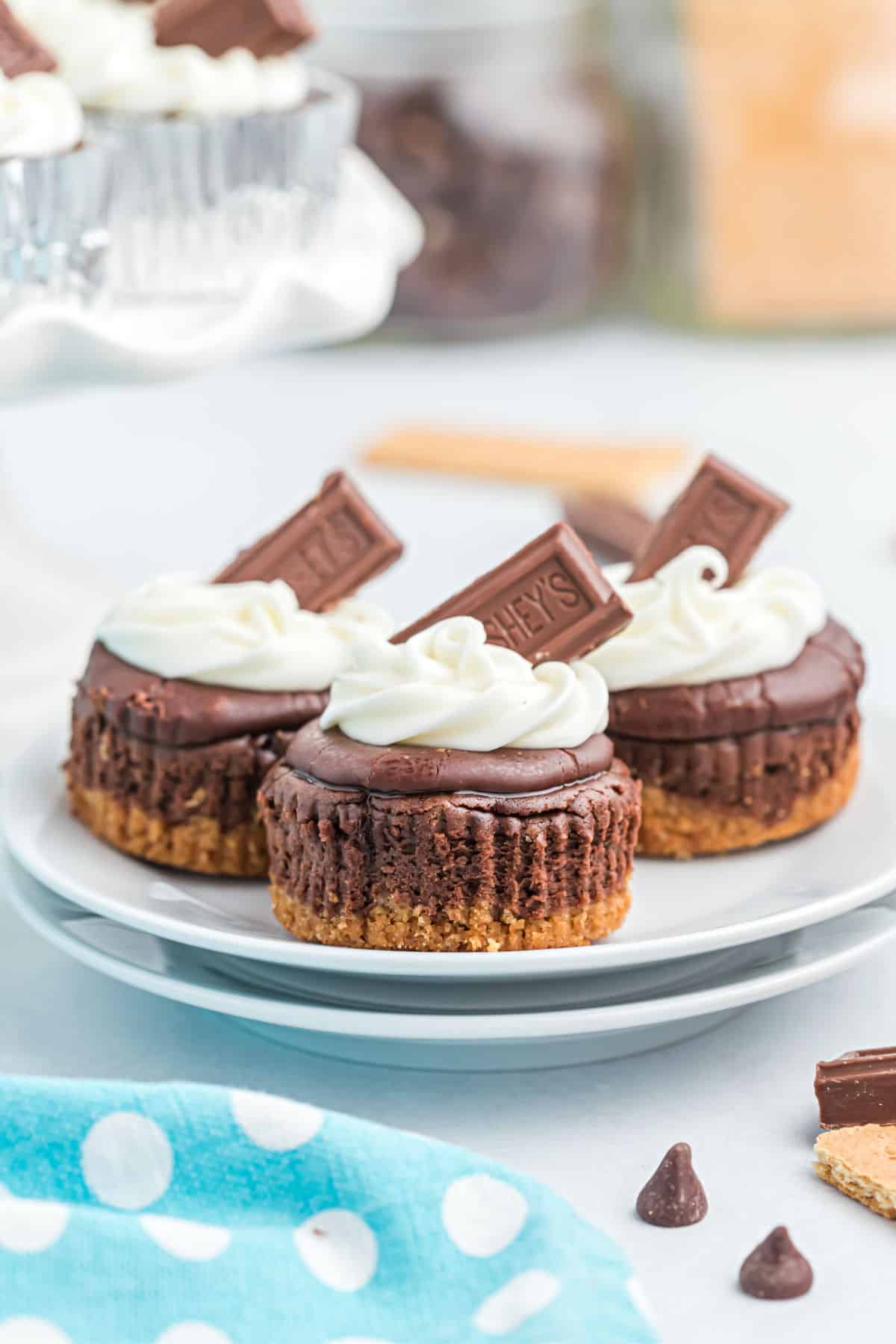 Recipe FAQs
How long will these cheesecakes keep?
The individual cheesecakes will stay good for up to 3 days in the fridge.
Can I make this with low fat cream cheese?
Yes, but I prefer the flavor and consistency of full fat cream cheese! If you're making cheesecake you might as well go all the way, right?
How many cheesecakes does this make?
The recipe should make enough filling and crust for at least 20 cheesecakes. The recipe doubles well to feed a crowd, too!
Can I use a different kind of chocolate in this recipe?
Yes. While, Hershey is the traditional chocolate for S'more, other milk chocolate bars are delicious in this recipe too. Dove chocolate squares would be a great choice!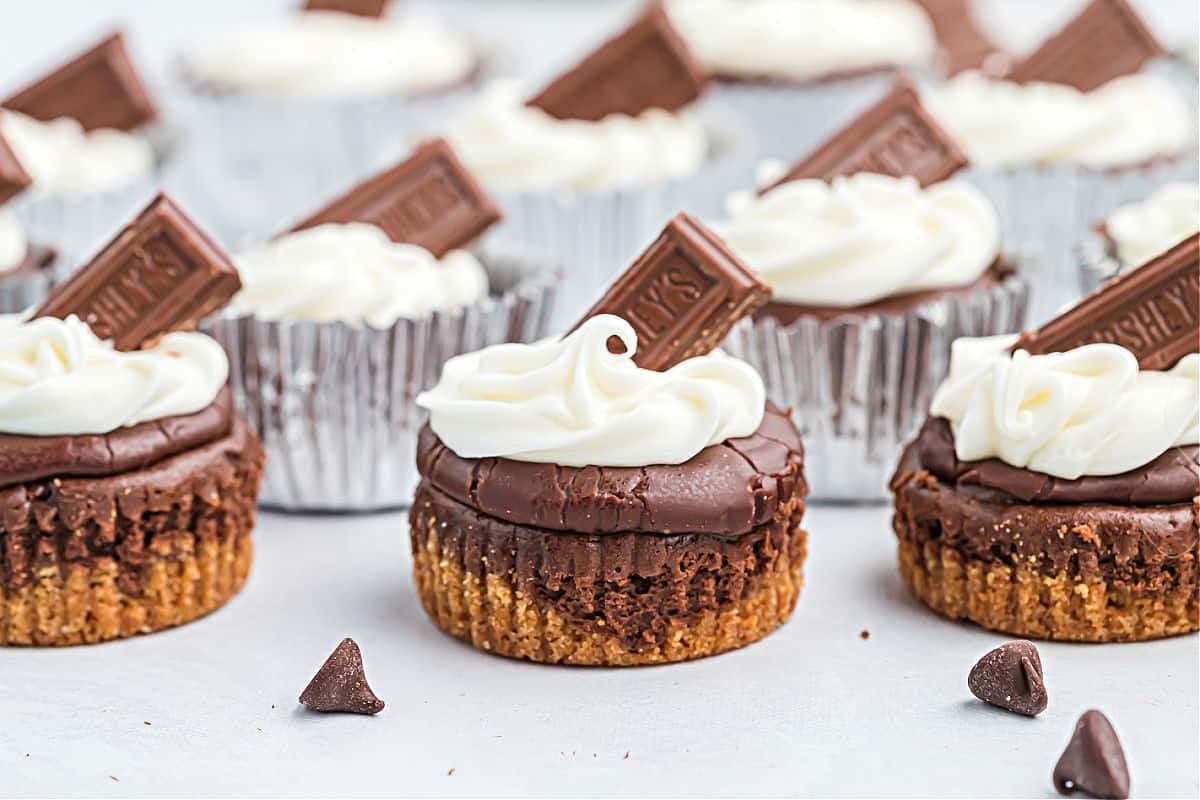 More Easy Dessert Recipes
Perfect chocolate cheesecakes made in individual portions! This S'mores Cheesecake recipe is guarantee to satisfy your sweet tooth!