Enjoy this light, refreshing Coconut Cream Poke Cake after dinner tonight! Perfect to bring to a potluck or BBQ this year!
Be sure to sign up for my email…new recipes in your inbox
**I've partnered with Pillsbury to bring you some great recipes! All opinions are 100% my own, of course!!**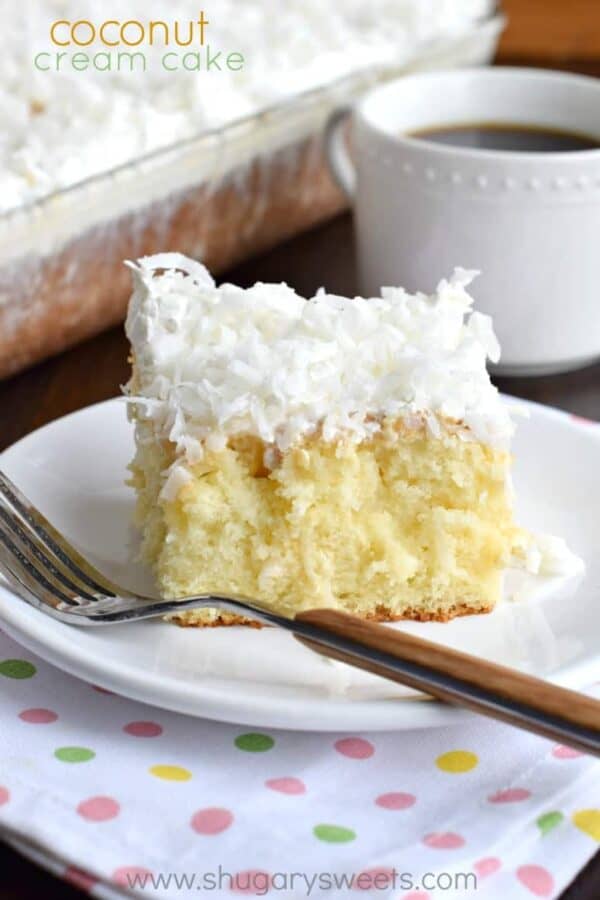 Hi, my name is Aimee and I love cake.
You can put a giant display of hundreds of different desserts in front of me, and 99% of the time, I will choose cake (krispie treats are the only other option I choose first). And if it's a poke cake. I'm sold.
Not to say I wouldn't try the other desserts, I mean, I have a sweet tooth like the rest of you. BUT, when it comes to cake? I get weak.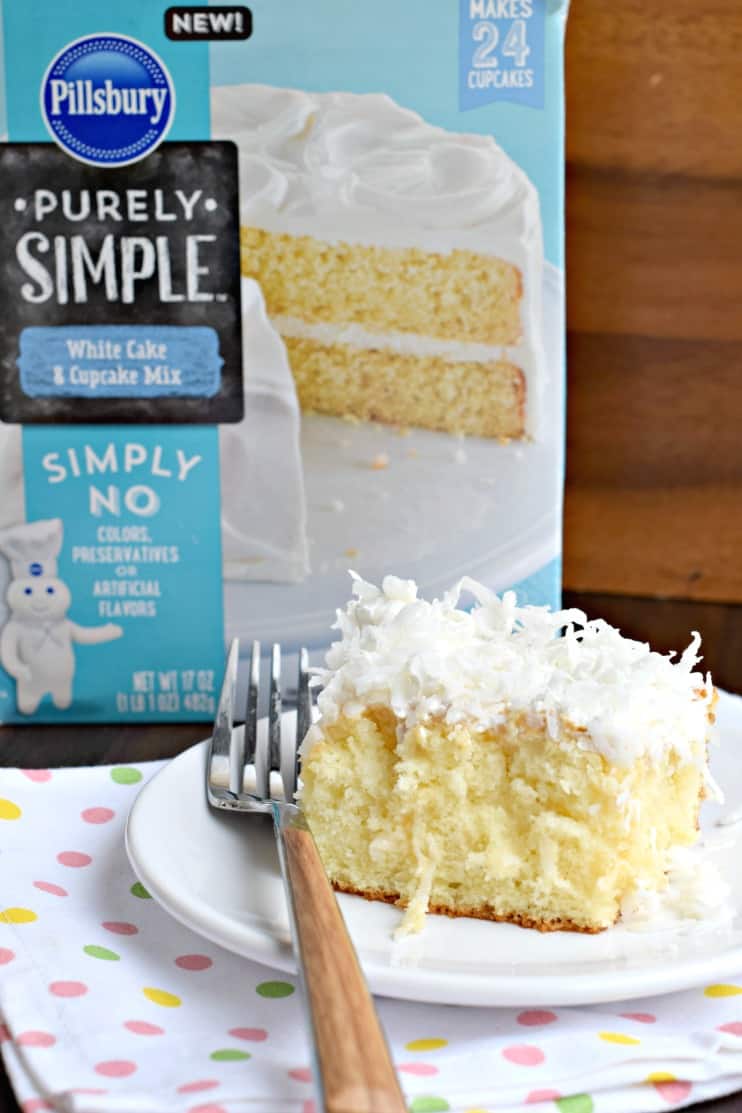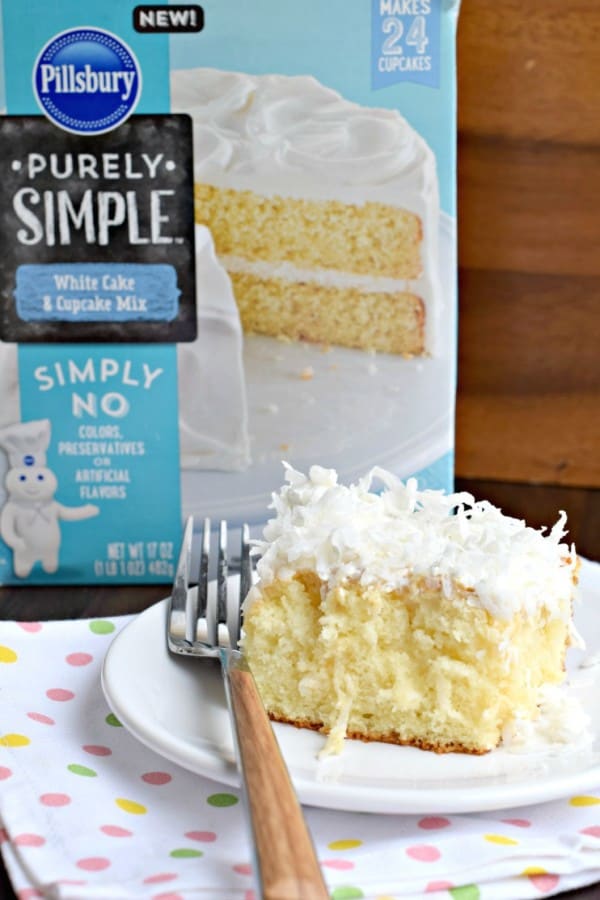 Today's recipe is a sweet Coconut Cream Poke Cake. I used Pillsbury's new Purely Simple White Cake Mix. And I have to tell you guys…this was GOOD. And by good, I totally mean, "I ate three pieces in one evening, good."
If you're not familiar with poke cakes, one scroll through my cake index and you will see nearly a dozen varieties! There are many thoughts on HOW to make a poke cake, but here are the main tips I have to share:
Use a clear, glass 13×9 baking dish. I love how pretty these cake look in a clear pan…you can see the beautiful crumb!
I prefer to use a cake mix instead of a from scratch recipe for all my poke cakes. I think they hold up better to the "poking" and filling! It's like they were made for it!
When you remove your poke cake from the oven, you want to immediately POKE it. I use a wooden skewer to poke about 50 holes all over the top! You can use a fork, the handle of a wooden spoon, or a meat thermometer (yes, I've done that)!
Poke cakes get their name from the poking….duh. But what makes them moist and delicious is what you POUR into those poked holes. For today's cake I used a can of sweetened condensed milk. But I have other varieties that use gelatin or pudding too! You can also your cream of coconut (not coconut milk). DELISH.
Allow your cake to cool before adding your whipped topping. Otherwise, it will melt right into those poked holes (not necessarily a bad thing though)!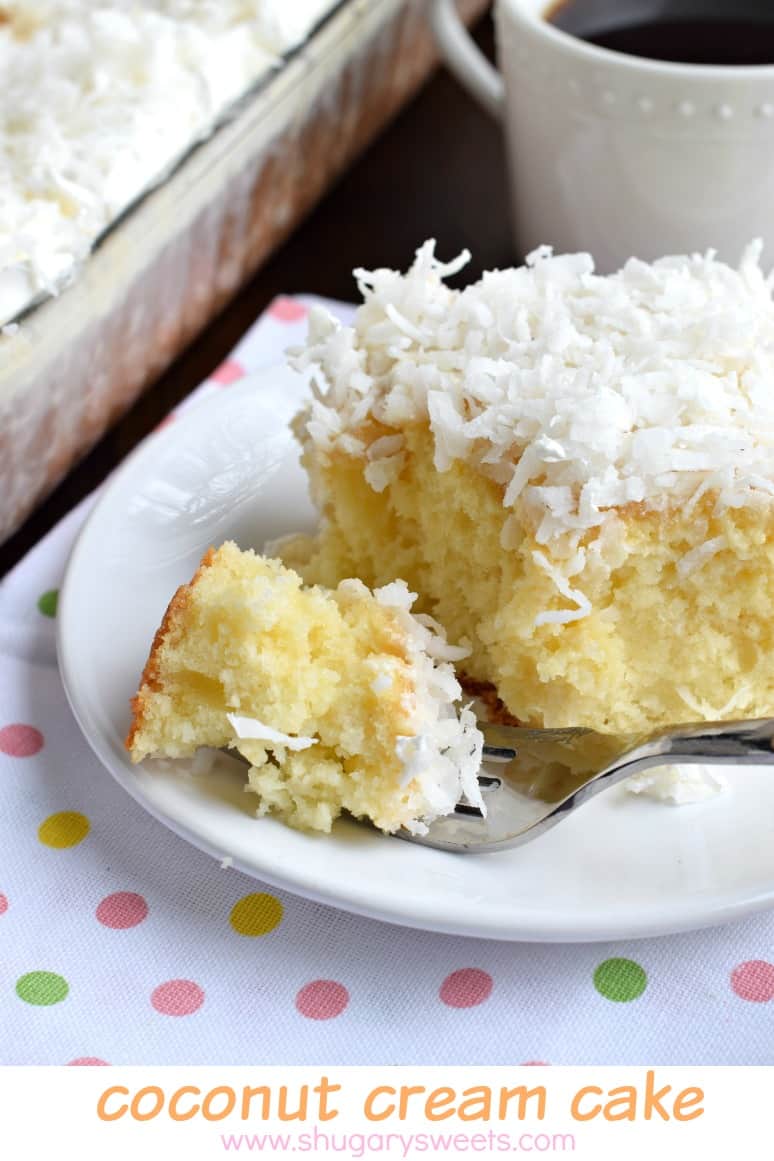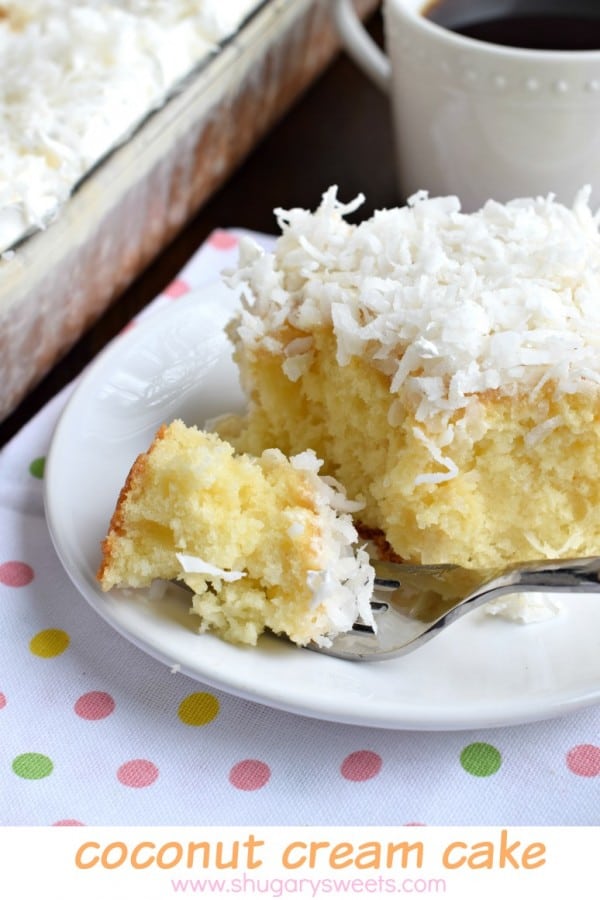 This is the season for Mother's Day brunches, graduations, and family potlucks! Pillsbury wants you to CELEBRATE MORE! I think this can certainly be achieved by making today's coconut cake, right? Here are a few more ideas:
Surprise mom with a Cupcake Bouquet of flowers this year! I'd totally rather have edible flowers given to me!
I love these Spring Sundae Cupcakes for dessert with the family! Great treat idea for a rainy day!
Make a cookie cake and decorate it with your graduates colors with frosting!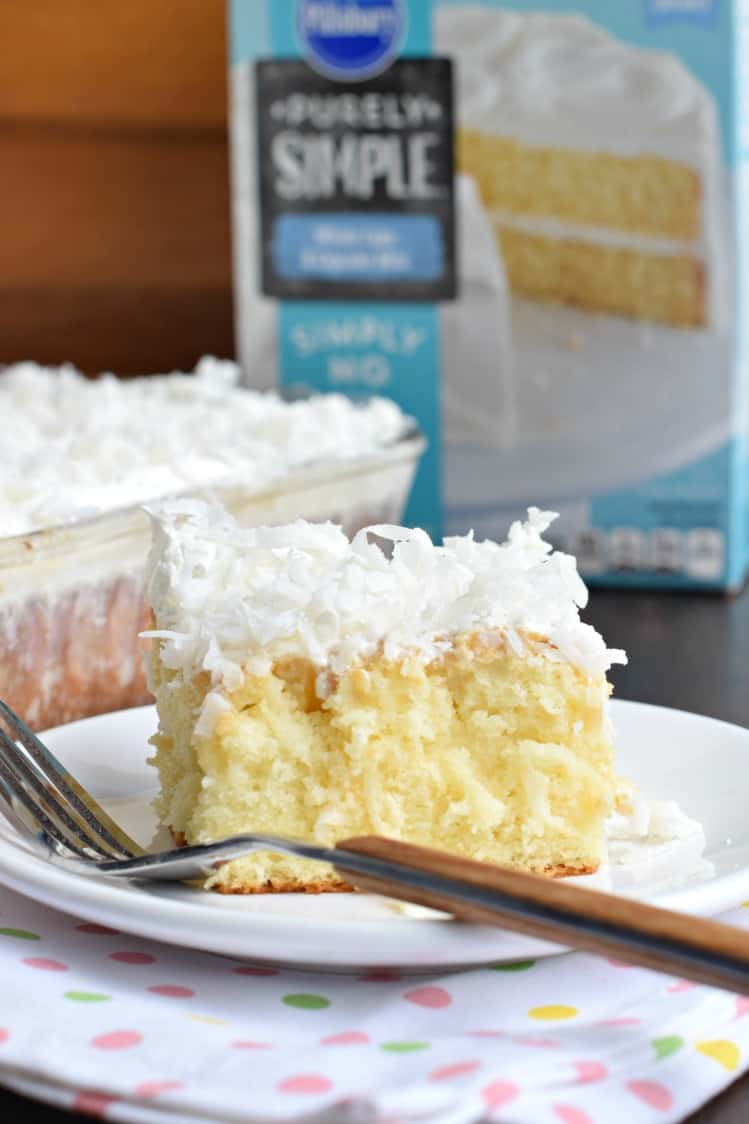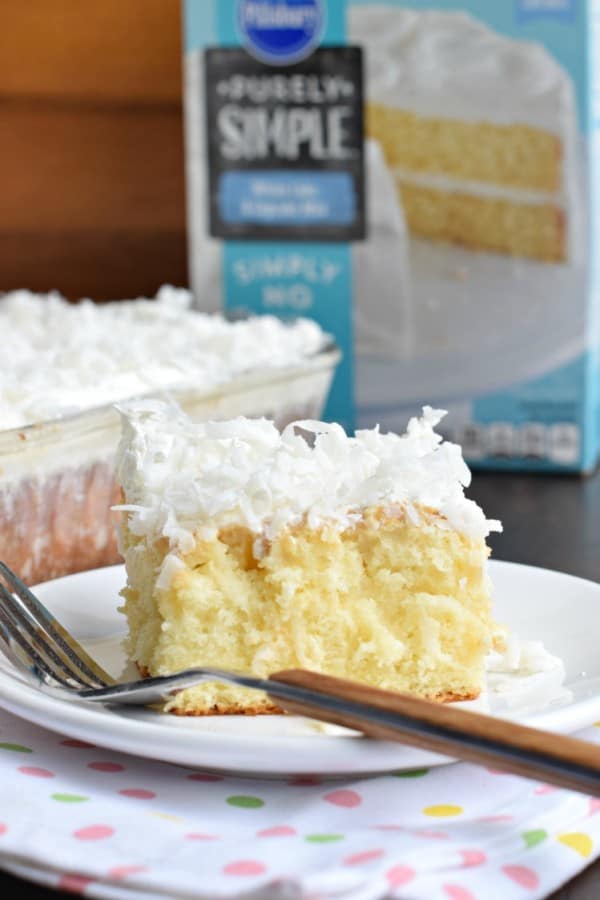 Still looking for more Poke Cake recipes? Here's a couple of my favorites!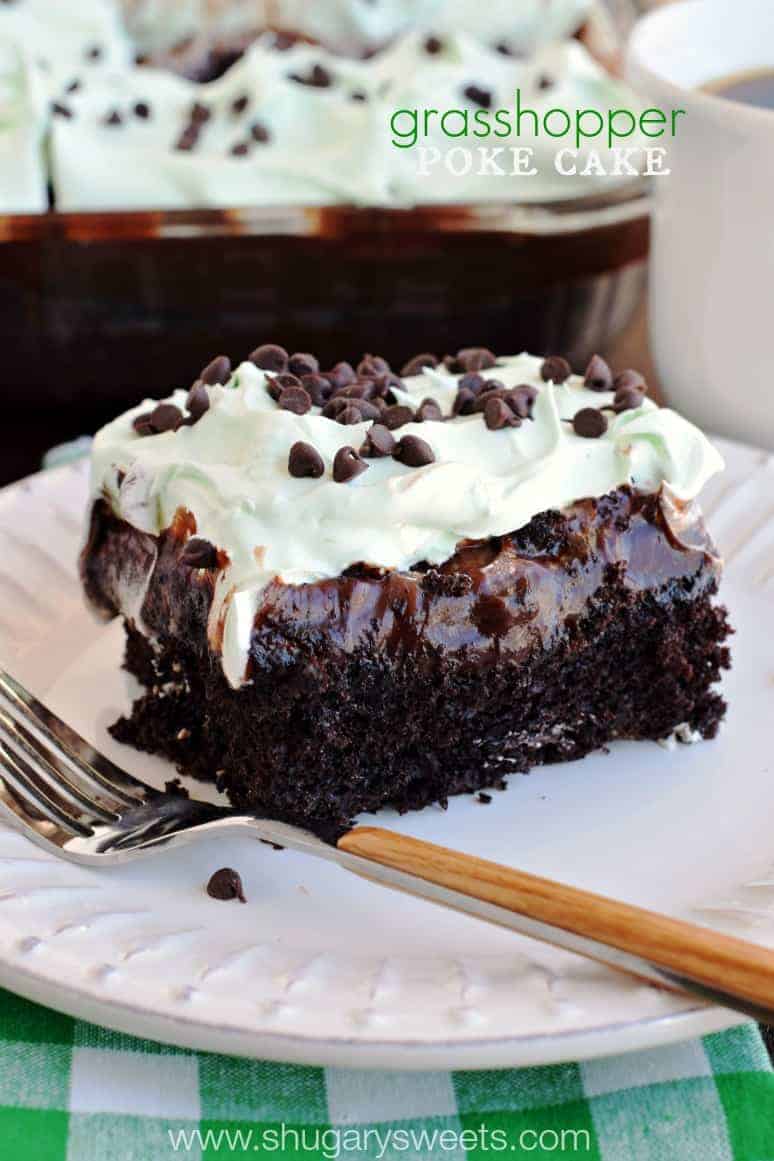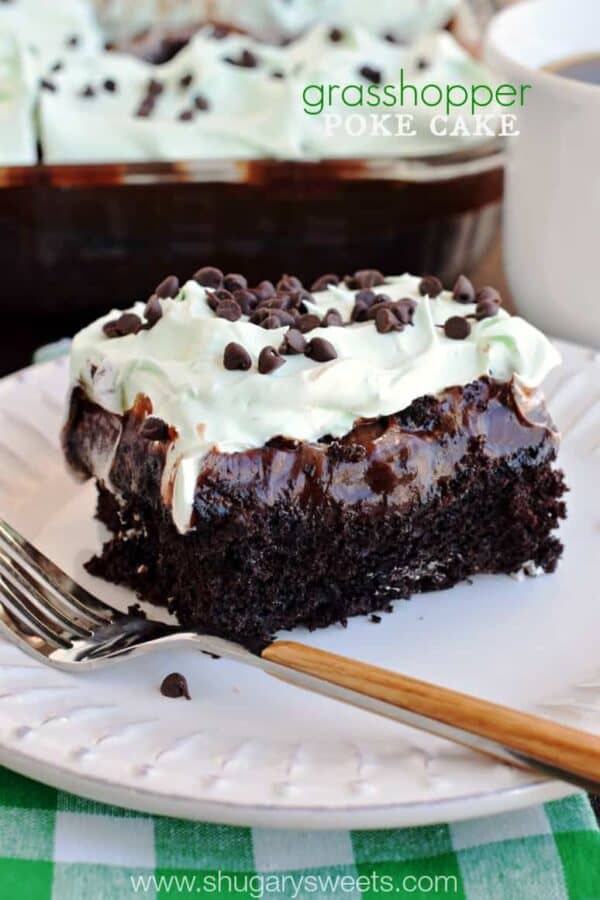 Grasshopper Poke Cake: come see why this chocolate mint cake is a family favorite!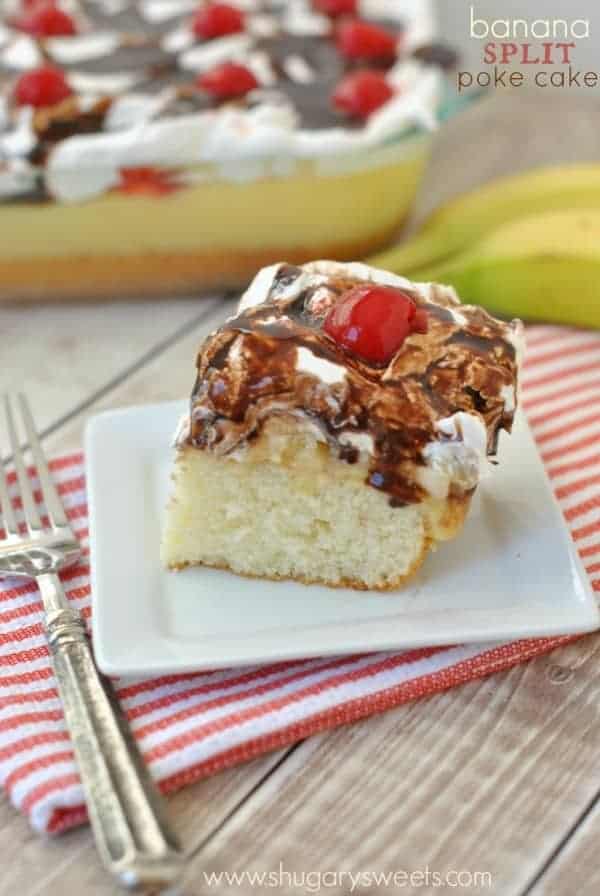 Banana Split Poke Cake: this is a fun recipe to bring to a summer potluck!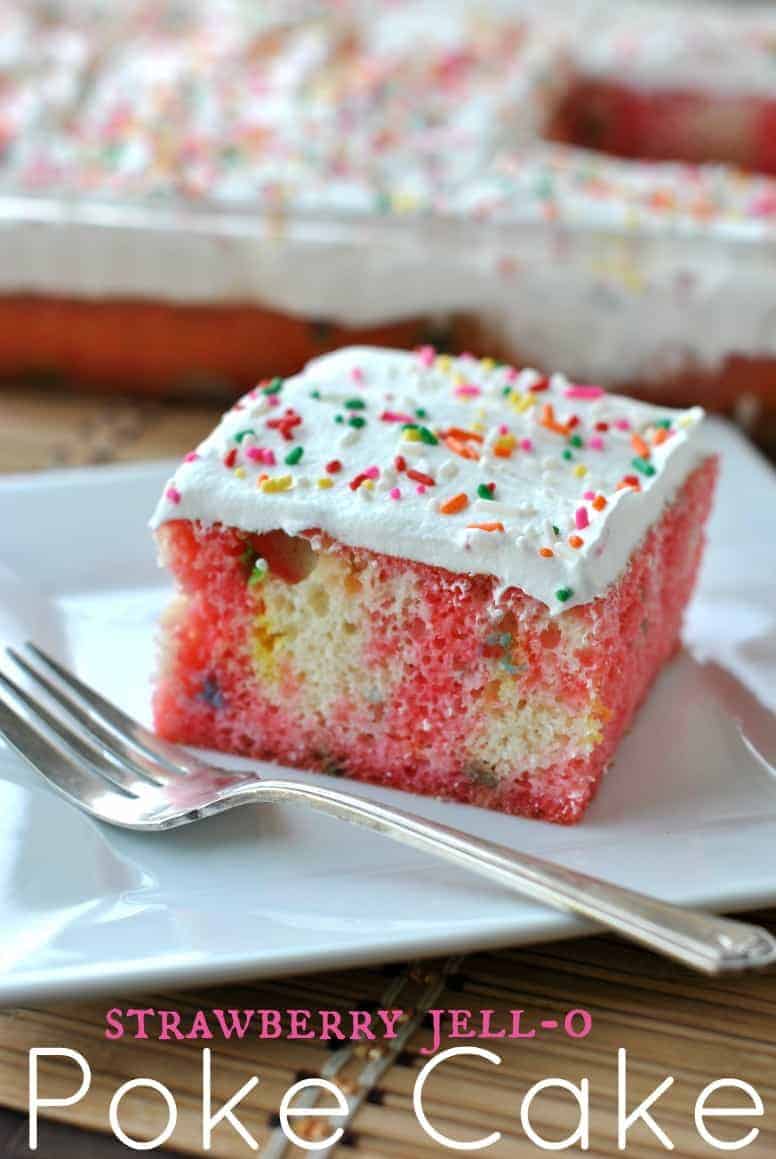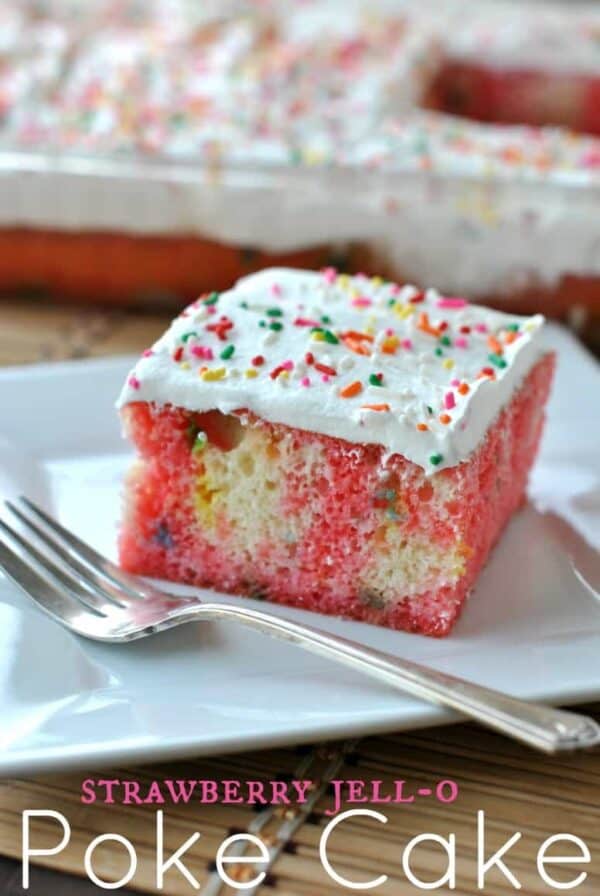 Strawberry JELL-O Poke Cake: a fun, moist strawberry gelatin cake!
Here are a few delicious POKE CAKE recipes from my friends:

  **I am part of the Pillsbury Celebrate More Blogger Ambassador program. The J.M. Smucker Company has sent me free product samples and compensated me to develop a spring recipe. All opinions are 100% my own. I'm so thankful to my sponsors who help keep my cost down, and the food on the table!**