Copycat Panera Broccoli Cheese Soup is ready in less than 30 minutes! The perfect bowl of comfort food without leaving your house!
Love easy soup recipes? Be sure to try our Chicken Taco Soup for a family favorite dinner. Or try our hearty Lasagna Soup recipe!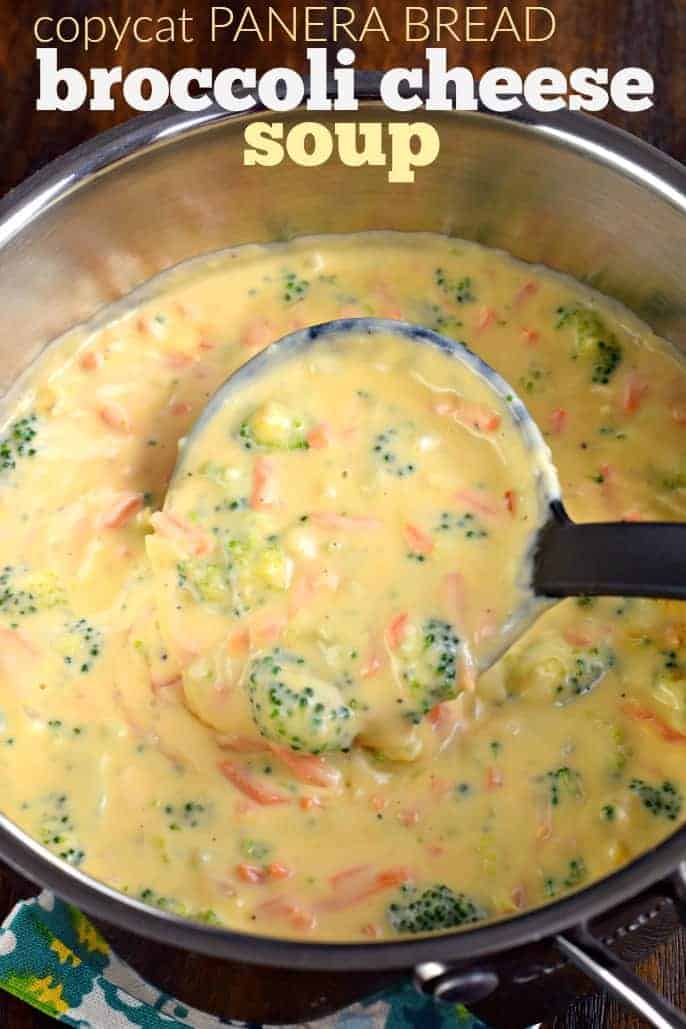 Copycat Panera Recipes
My family doesn't love traditional fast food. Which I suppose is a good thing, except when I'm looking to just pick up a quick, on the go meal I'm limited by their taste buds!
Fortunately (or not) for us, our Panera Bread has a drive through, and it's one of the "fast food" choices we all love. Except it's pricey. They don't have a dollar menu!
My goal with my blog has been to create a database of recipes that my family loves.
They scroll through often and say, "Hey, can you make Chicken Lime Enchiladas for dinner?" Or, "I'm craving some Chocolate Chip Cheesecakes for dessert."
I've also been adding to our collection of copycat recipes.
Things like Starbucks Lemon Loaf, Panera Mac and Cheese, and Hostess Cupcakes. If my kids are craving it, I can probably recreate it!
With today's Broccoli Cheese Soup recipe, we may never have to actually go to Panera again.
When I can make Panera Broccoli Cheddar Soup at home, I know I'm saving us some money and a trip out.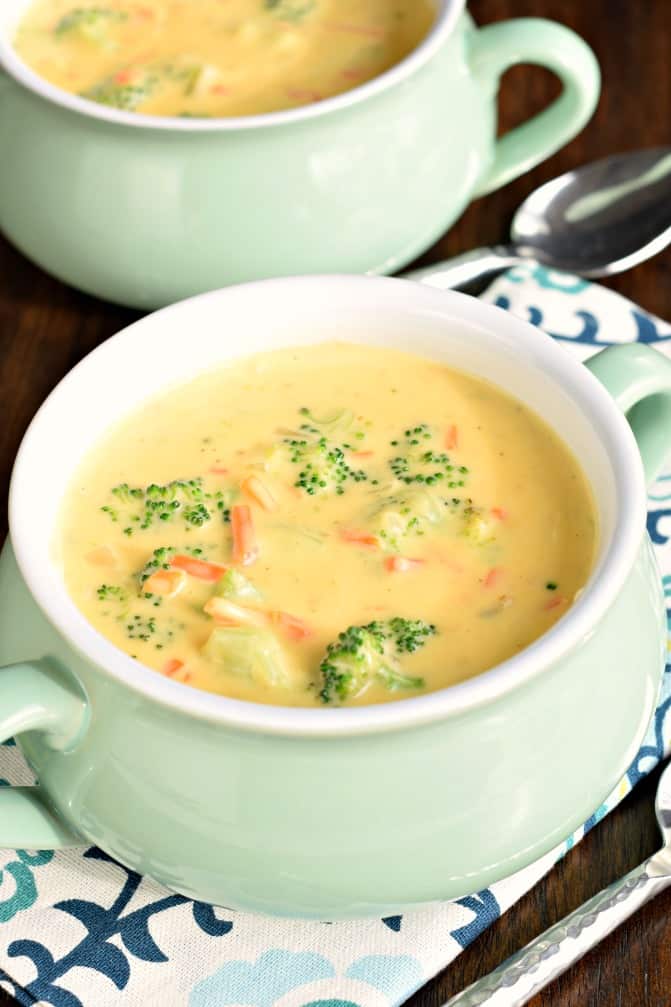 30 minute dinner
From start to finish, this Copycat Panera Broccoli Cheese Soup recipe takes less than 30 minutes.
Real talk: It will probably take less time to make this soup at home than it would to get everyone in the car and drive to Panera. Not to mention the drive back home!
You can always use fresh broccoli to make Panera Broccoli Cheese Soup, but it's ok if you want to reach into the freezer for a bag of frozen broccoli florets. We've all done it a time or two and they'll be just as delicious in this soup!
My Panera Broccoli Cheese Soup recipe makes 3-4 decent sized bowls of soup…but you can easily double the recipe if you have hungry eaters, and this is your main dish.
Keep this soup vegetarian by using vegetable broth in place of the chicken broth.
You could also serve this soup as a side alongside sandwiches. Try my Turkey Cheddar Sliders or, if you want to mix favorites from different restaurants, Copycat Chick-fil-A Chicken Salad Sandwiches.
Step by Step Instructions
Want less chunks in your soup? Use an immersion blender to smooth it out! Our family loved this soup, it's a great recipe for busy weeknights!
Today's Broccoli Cheddar Soup can also be made in the Instant Pot! Dinner in under 30 minutes! Loaded with vegetables and cheese, you'll love this easy, creamy Instant Pot Broccoli Cheddar Soup Recipe! It's the BEST!
More Copycat Panera Recipes
Does your family love Panera as much as mine does? Lucky for you, I have a whole list of recipes I've recreated from Panera.
In addition to the Broccoli Cheese Soup, our family loves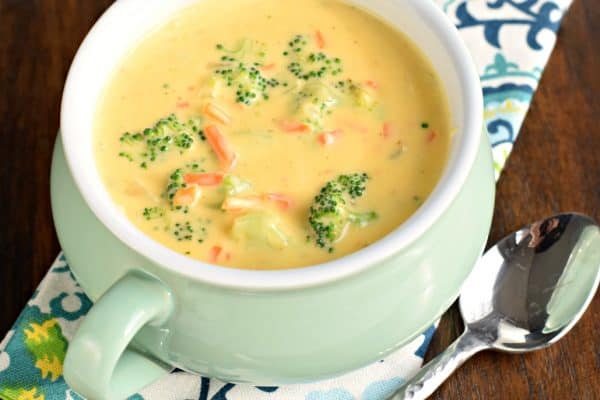 What to serve with Panera Broccoli Cheddar Soup
Easy, buttery Beer Bread goes perfect with this soup! Also great to cube into bite sized pieces and use for dips!
Are you looking for a fluffy, delicious Dinner Roll? These No Knead Garlic Parmesan Dinner Rolls will please the whole family!
Easiest side dish ever. Whip up a batch of these Puff Pastry Bread Sticks to dunk in your soup!
You can also go to most bakery sections in the grocery store and find a great homemade bread bowl!
Copycat Panera Broccoli Cheese Soup is ready in less than 30 minutes! The perfect bowl of comfort food without leaving your house!