A classic Guacamole recipe perfect for scooping, dipping and topping. With creamy avocado and the bite of red onion, this Guacamole makes a perfect appetizer or accompaniment to any Mexican meal.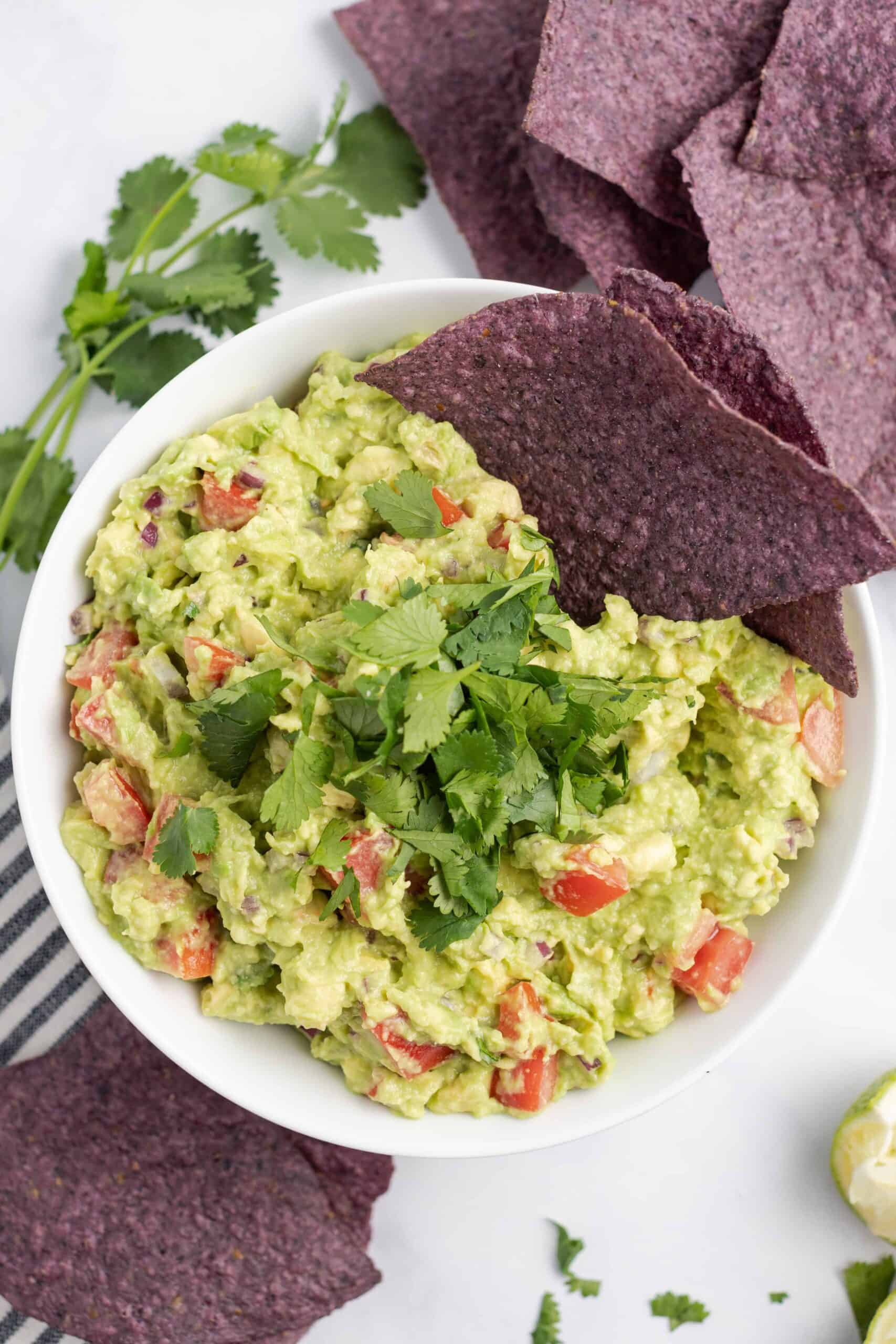 Why this Recipe is Best
Are you a guacamole lover?
I know everyone who has an affinity for this avocado dip probably has a favorite recipe. Or a preference over creamy guacamole vs. chunky guacamole?
I say, the chunkier the better!
For me, the perfect bowl of guacamole is packed with chunks of juicy tomato and crisp red onions. It also needs plenty of tangy lime!
I love this scooped with chips for a snack or appetizer and it's also delicious on tacos, enchiladas, barbacoa, carne asada, and Taco Chili.
Homemade guacamole is so much tastier than the prepared ones you find at the grocery store. Once you learn how to make guacamole you'll never want the store bought stuff again!
This guacamole recipe is super adaptable, too! Easy and delicious, it's perfect for company or for snacking on all by yourself.
Traditional guacamole typically has a good amount of cilantro in it. I love a bit of cilantro flavor in my guac but I know others are adverse to it. If you're not a fan of cilantro, you can certainly omit it.
Wondering how to keep guacamole from getting brown? A generous squeeze of lime juice in the recipe does the trick. The acid preserves the color of the guacamole while adding a tart flavor that compliments the creamy avocado.
Easy Instructions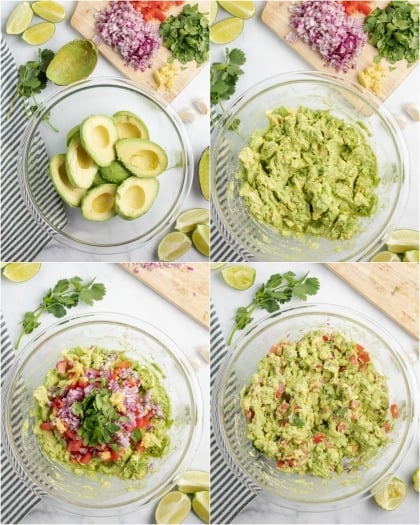 STEP 1. Mash the Avocado
In a large bowl, mash avocados with potato masher until desired consistency. I like to leave lots of chunks in my guacamole. Feel free to mash as smooth as you like to suit your preference.
STEP 1. Add the Vegetables
Add diced tomatoes, diced onion, lime juice, cilantro, salt and garlic to the bowl with the mashed avocado. Mix completely.
STEP 3. Chill
Cover the guac and refrigerate for an hour to allow flavors to blend. Serve with tortilla chips and enjoy (I love the blue corn tortilla chips)!
Whenever I make guacamole, I rarely have leftovers! But if you do, keep them covered in the fridge, adding an extra squeeze of lime juice on top if you like.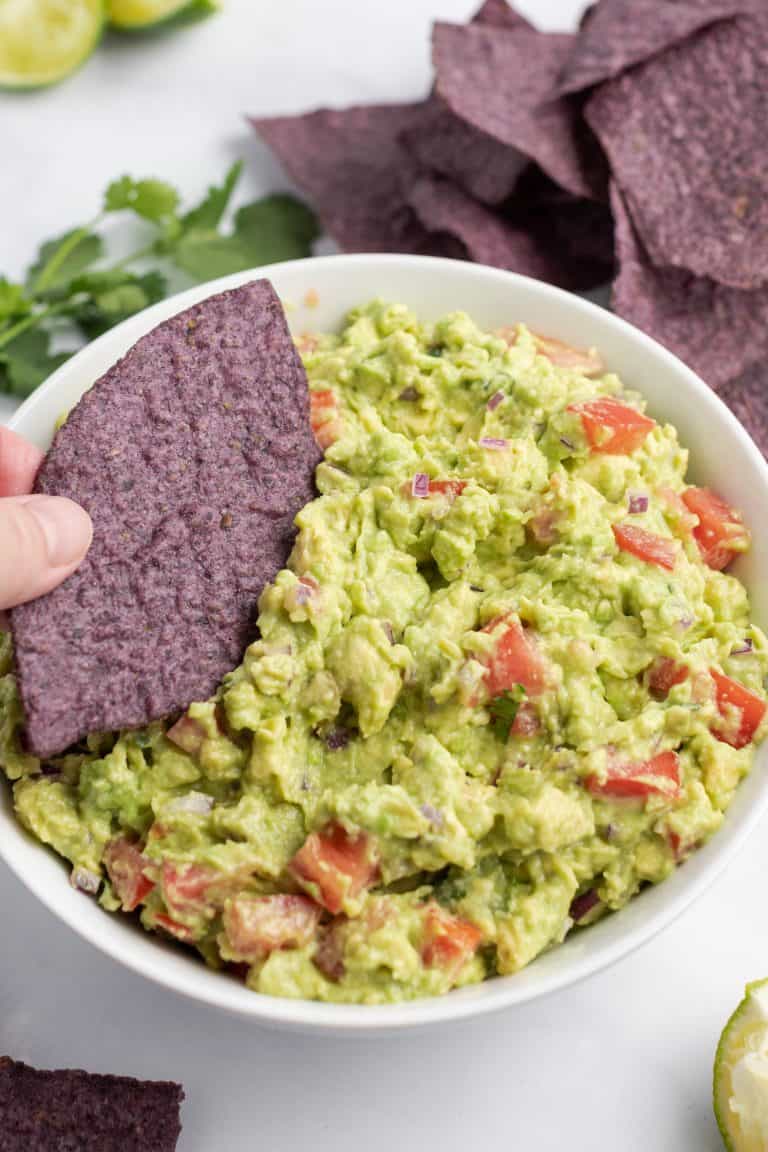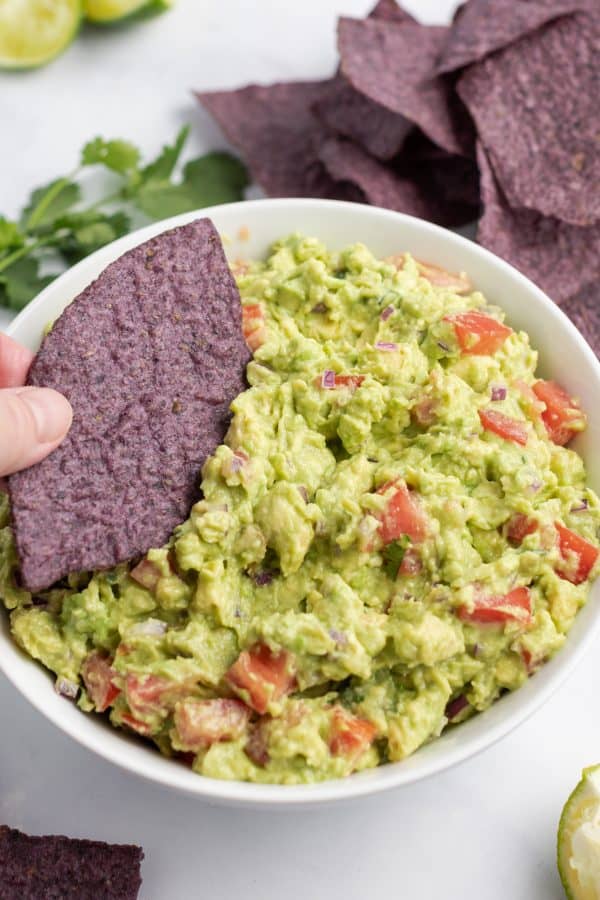 Tips and Tricks
The key to excellent guacamole is choosing fresh, ripe ingredients. Look for tomatoes that are bright red and firm to the touch. Avocados should be ripe and never hard!
Also, make sure you're using California avocados (Hass avocados), not the big Florida avocados. The flavor and texture are totally different.
The proportions of avocado to the other ingredients is important as well. I personally hate when a guac is too dominated by tomato and onion or other add-ins. This recipe is based on many years of trying out different combinations and proportions.
Everyone I've served this too agrees–this is the perfect guacamole.
Just the right amount of juicy tomato and spicy onions in balance with the fresh avocado. Completely delicious each and every time!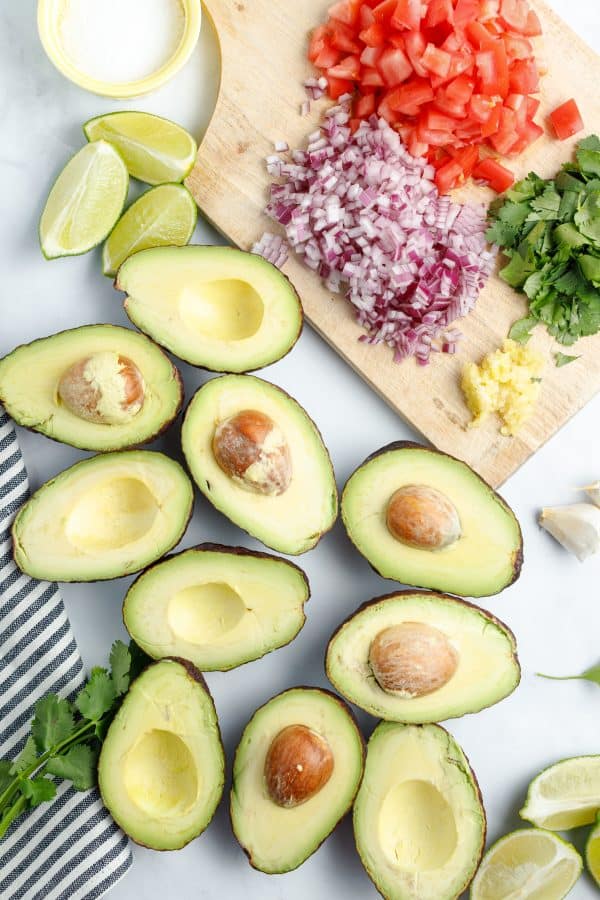 How to tell if an avocado is ripe
One of the trickiest things about buying avocados for guacamole is deciding which ones are at the right level of ripeness! If you'll be making your guacamole right away, or within the next day, pick fully ripe avocados.
A perfect ripe avocado will give just a bit when squeezed. If it's hard and doesn't give at all it's not yet ripe; if it feels mushy when touched it's overripe.
Ripe avocados should be used right away for peak flavor and color.
If you're shopping more than a day before you plan to make guacamole, buy an avocado that still feels firm. Like bananas, avocados can ripen very quickly so be sure to check your avocados daily and use them as soon as they reach ripeness.
Avocados also tend to darken with ripeness. You'll often notice an avocado change from bright green to deep green as it ripens. However, this isn't always the case so the "squeeze test" is best!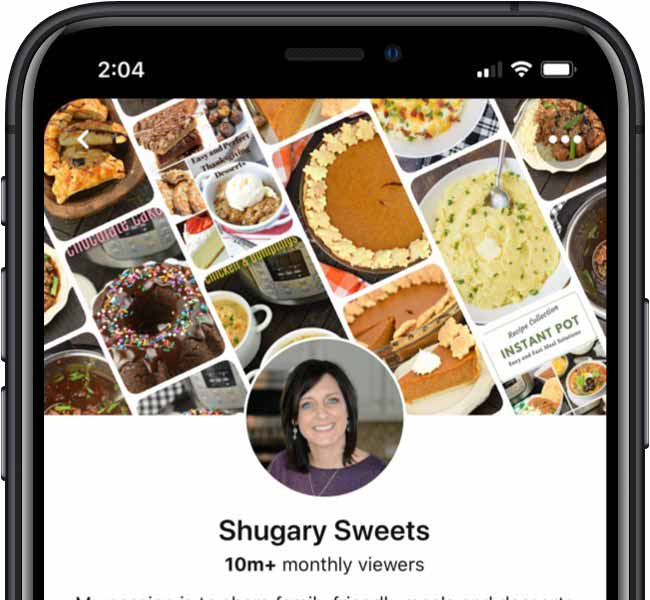 How can you get avocados to ripen faster?
Every now and then I'll buy some under ripe avocados, planning to make a batch of guacamole in a few days. Then, I invariably get a craving for this chunky guac the next day and just can't wait.
When this happens to you, there's a way to make your avocados ripen faster!
Place the unripe avocado in a brown paper bag to speed up the process. Adding a banana or apple to the bag will help the avocado ripen even faster. The gases released by the fruits in the bag help activate the ripening!
I love scooping this guacamole with sturdy tortilla chips or corn chips. It also makes a delicious topping for tacos, burritos, chilies and salads.
Next time you're headed to a party, bring a bowl of guac and a bag of chips and everyone will become you're new best friend.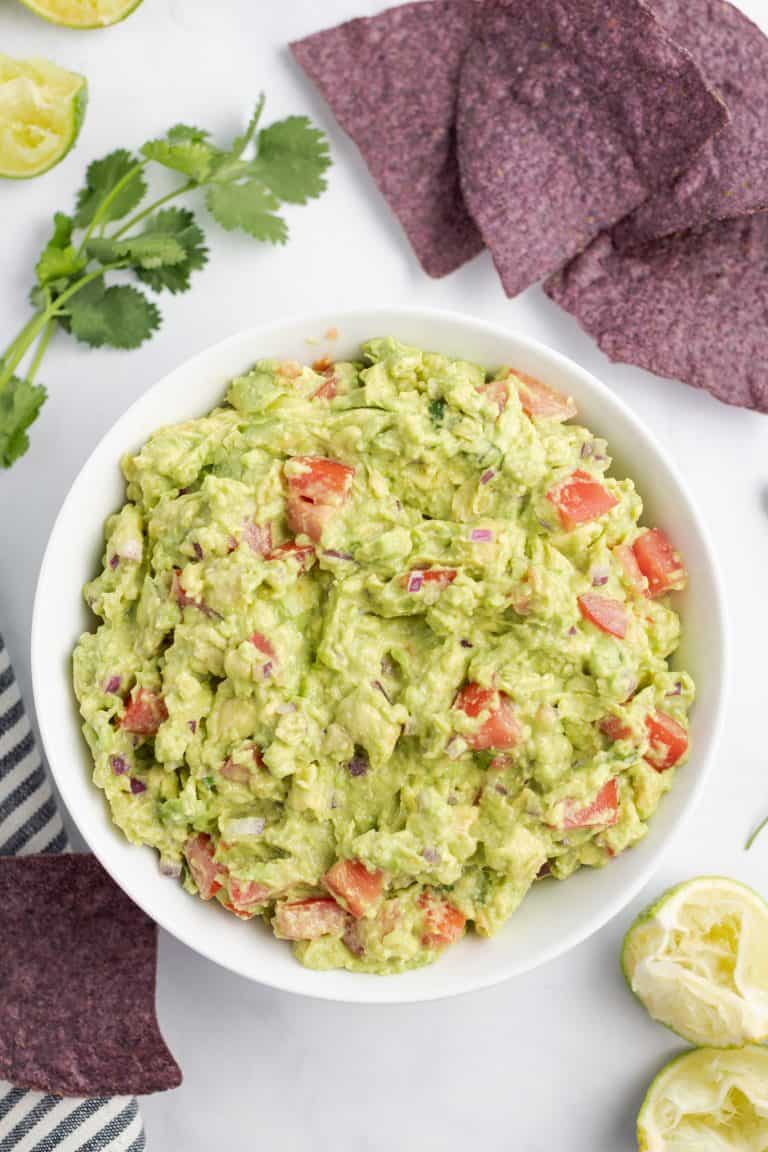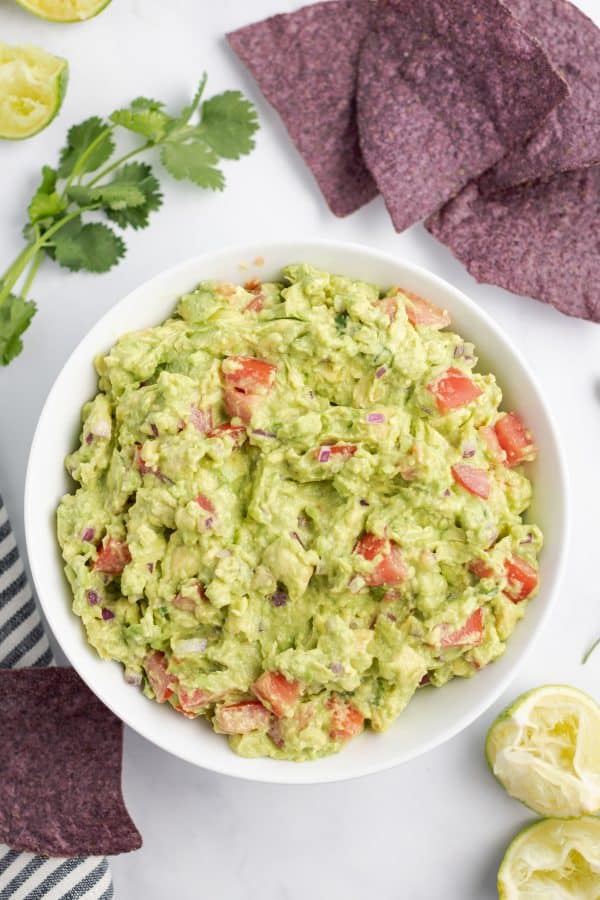 Halloween Idea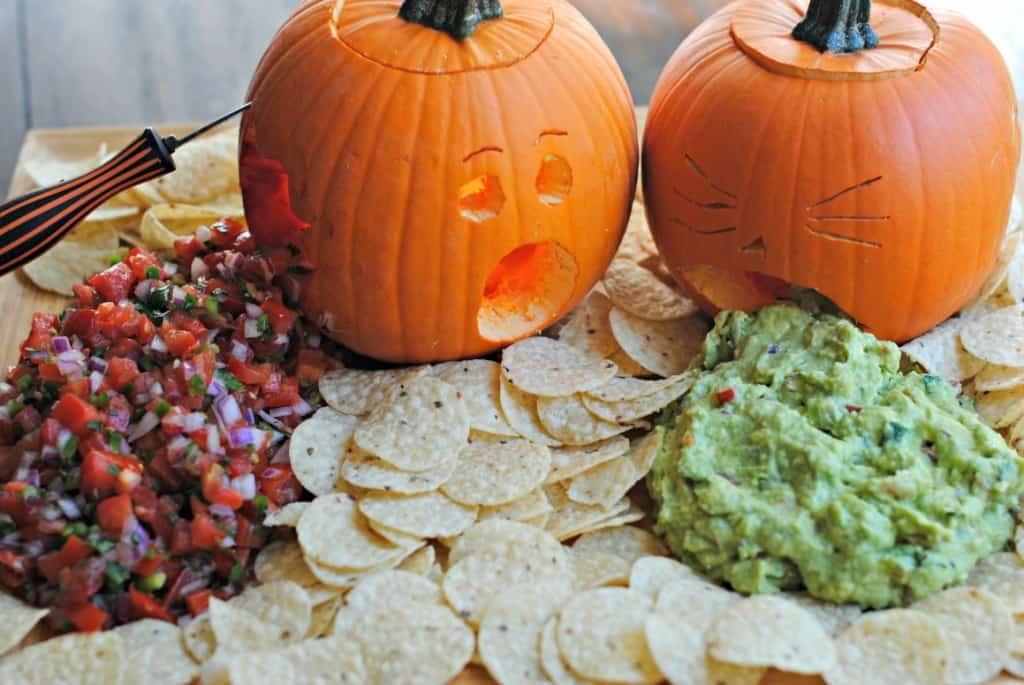 Want a fun halloween inspired dessert?
We carved our pumpkins and served them with our two favorite dips!
Pico de Gallo- if you look closely one poor pumpkin was stabbed.
Guacamole- meanwhile the other pumpkin is "puking."
More Mexican Inspired Dinners
A classic Guacamole recipe perfect for scooping, dipping and topping. With creamy avocado and the bite of red onion, this Guacamole makes a perfect appetizer or accompaniment to any Mexican meal.