This Mango Salsa is tropical, refreshing, and totally delicious! Scoop it up with tortilla chips or add it to your favorite tacos for a sweet and spicy kick.
Love this easy salsa recipe? Try our Mango Guacamole for another fruity, savory twist. Or serve up a bowl of Pico de Gallo with chips on Taco Tuesday.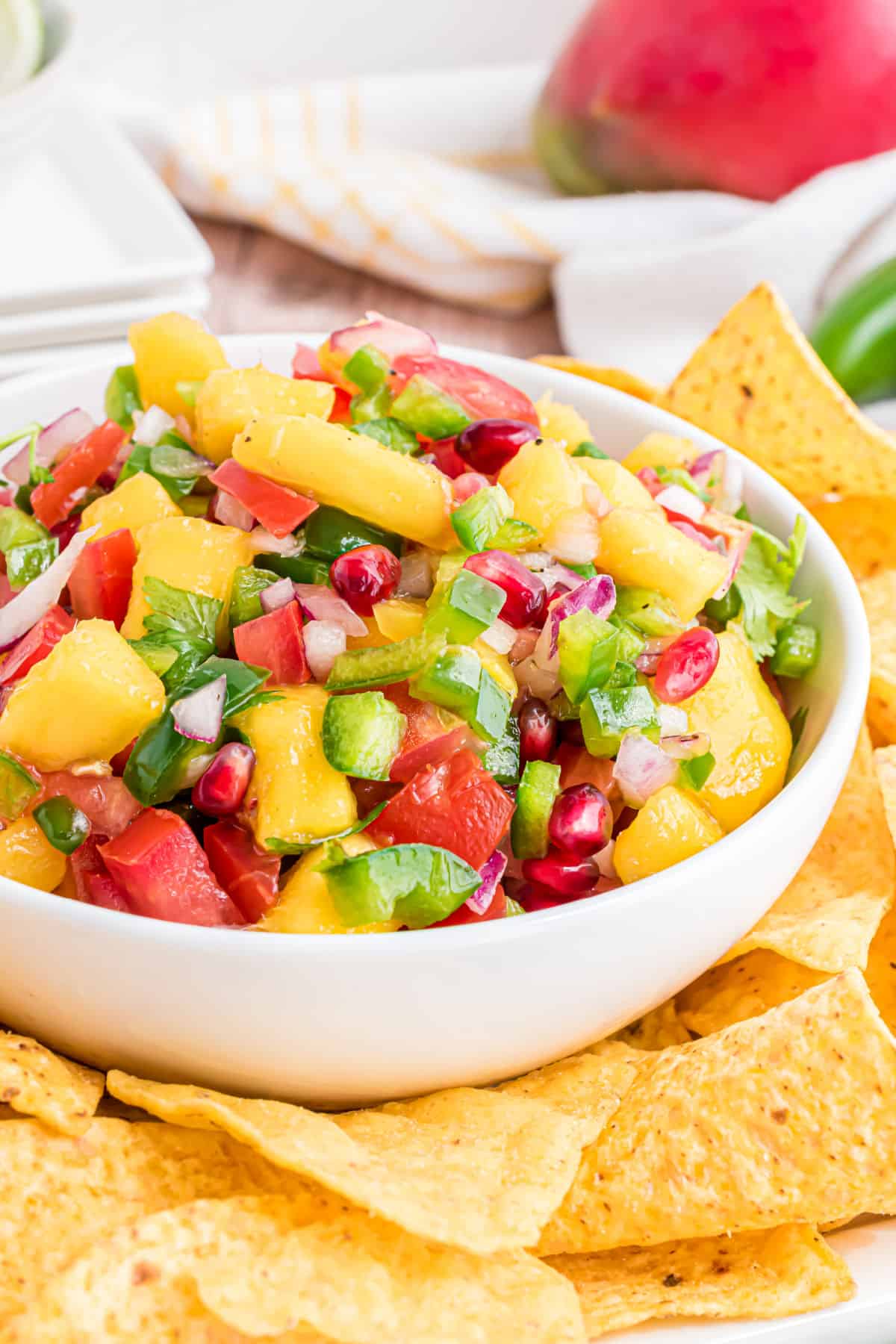 Why the Recipe Works
Any other salsa addicts out there? Today's recipe is an absolute MUST TRY!
When it comes to fruit salsas, I'm a little particular. Too many recipes (or store bought mango salsas) are either too heavy on the fruit or too stingy with the spice.
Salsa should have some kick and some tang to it and when fruit is involved it's so easy for that flavor to totally take over, leaving you wondering if what you just ate was really a salsa or just a fruity dip.
This Mango Salsa is not like that at all. It blows all other mango salsa recipes I've tried clear out of the water!
Made with fresh tomatoes, jalapenos and lime juice (plus a little cilantro), it's the perfect blend of sweet, spicy, tangy and fresh!
There's one other reason this recipe works so well . . .the pomegranate seeds! Those little pods of juicy sweetness add color, texture and fruity flavor that makes the salsa good enough to eat with a spoon.
Try to resist gobbling it all up that way though because I PROMISE it's even better enjoyed with a bag of your favorite crunchy tortilla chips!
Ingredient Notes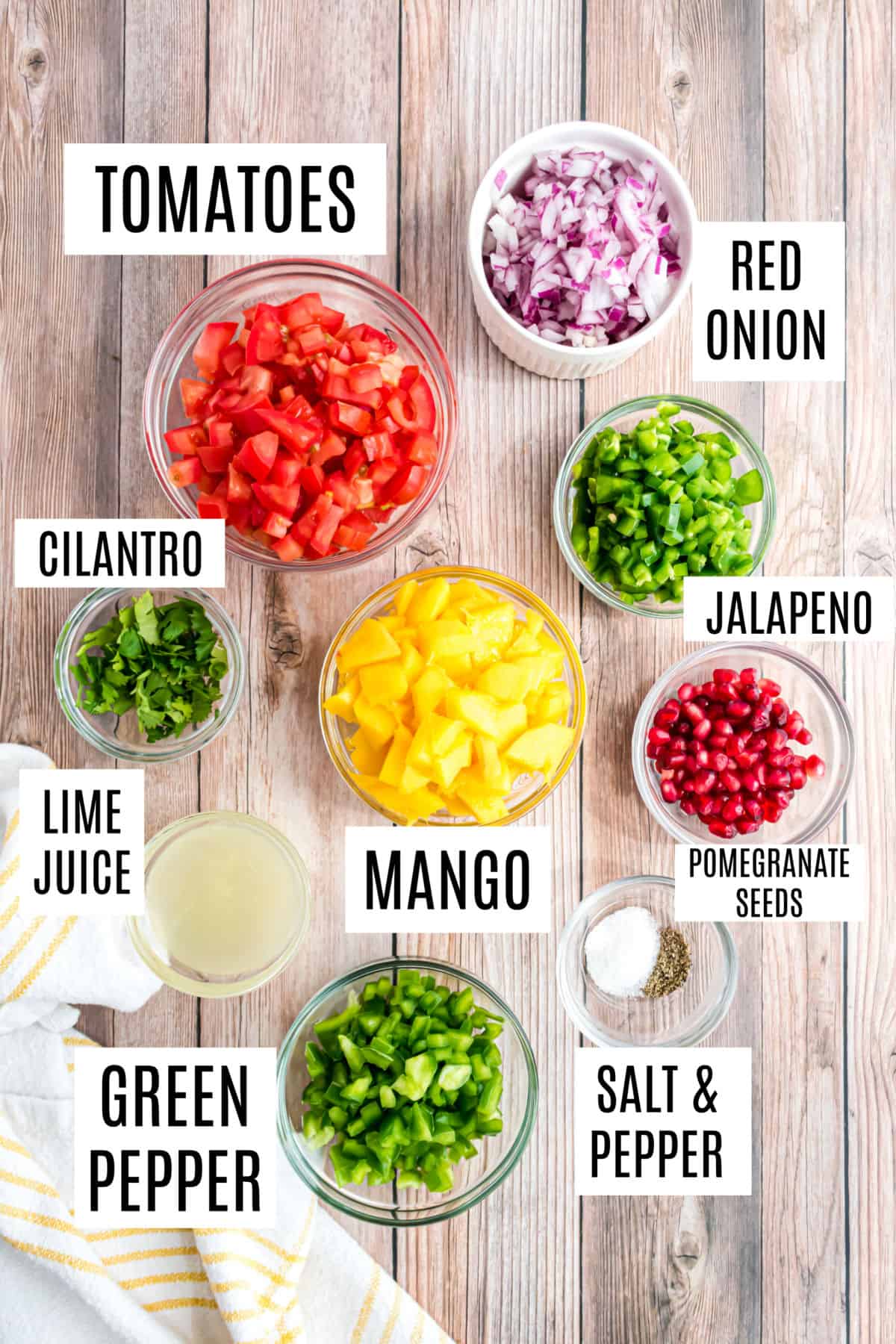 Peppers – The recipe uses both sweet green peppers and jalapenos. Seed and dice the peppers first to control the level of heat in the salsa.
Mango – You need a fresh mango peeled and diced. Buy peeled and cut mango to make this recipe more convenient!
Tomatoes – Roma tomatoes have the best flavor and plumpness.
Cilantro – Not a fan? You can leave it out and the Mango salsa will still turn out delicious, but I love how the freshness ties everything together.
Pomegranate Seeds – Buy the seeds on their own or learn how to remove the seeds from a whole pomegranate in one minute.
Limes – Using juice from freshly squeezed limes is best!
Step by Step Instructions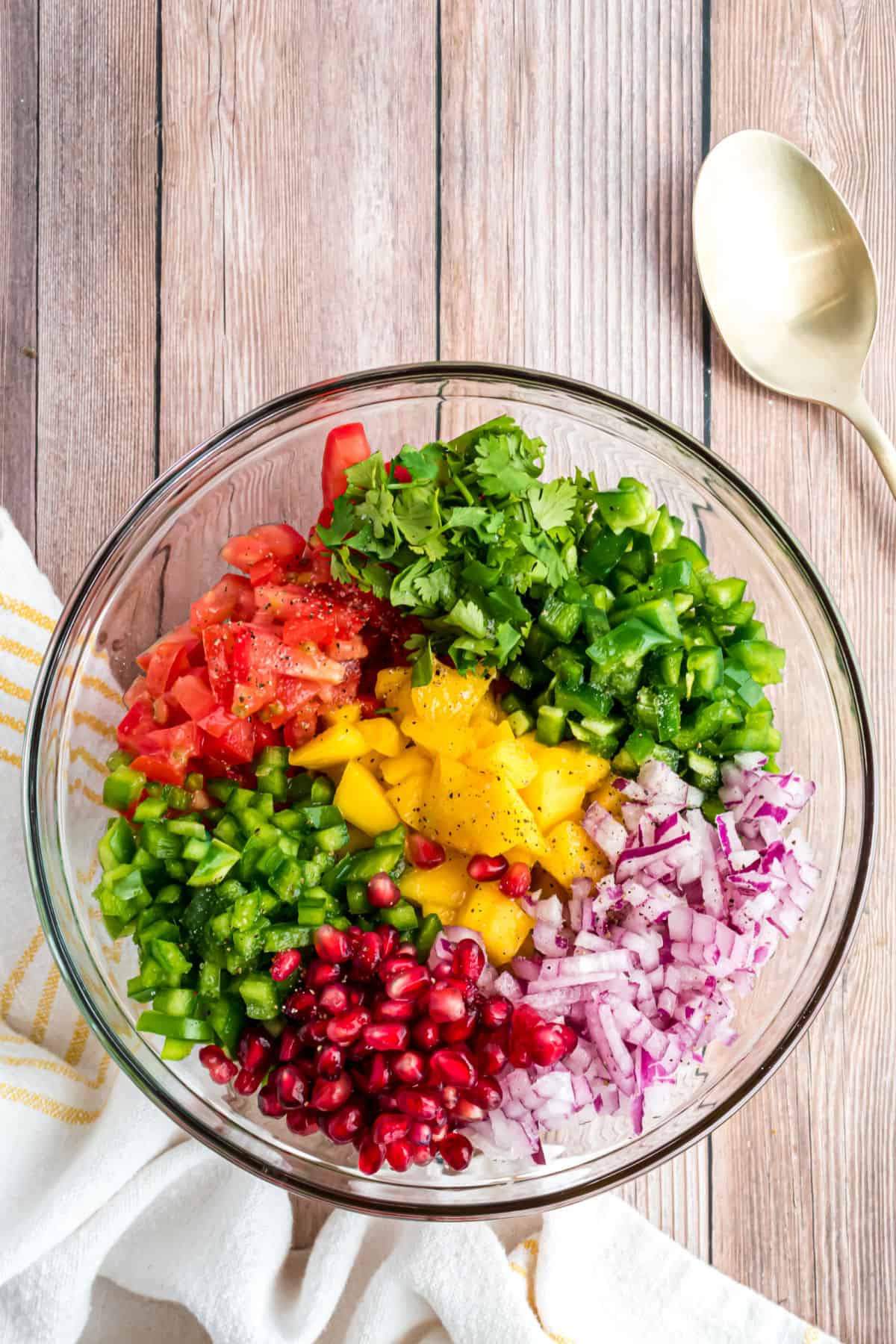 The most time consuming part of making your own Mango Salsa is chopping and prepping all the ingredients. To make this easier I love to use shortcuts like buying packaged pomegranate seeds and pre-cut mango.
Once everything is ready, just add all the ingredients to a large bowl and combine. Serve immediately or store in the fridge until ready to use.
I recommend enjoying your mango salsa the same day you make it for ideal freshness!
Serve this delicious salsa on your favorite grilled fish or chicken taco recipe.
Makes a great addition to baked tacos or served with enchiladas.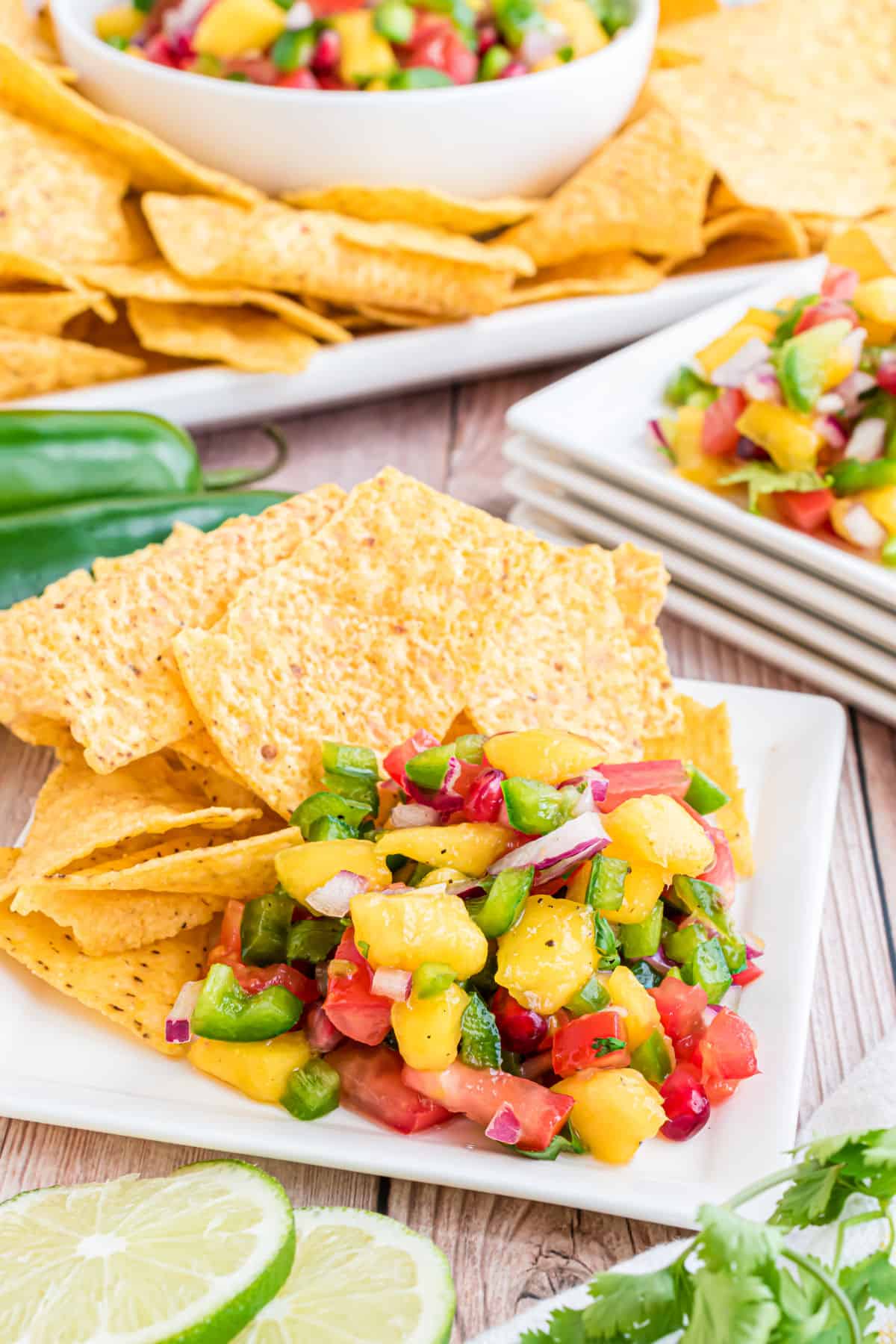 Recipe FAQs
What goes well with Mango Salsa?
My family loves this as a snack or appetizer served with corn tortilla chips. It's also delicious added to Mexican inspired salads, fish tacos and burritos.
How do you make this spicier?
To make this spicier, you could leave a few of the seeds in from the jalapenos. To reduce the level of spice, use less jalapeno or substitute with a less spicy pepper.
Can salsa be made with frozen or jarred mango?
I don't recommend it. Fresh mango is the key flavor here and both frozen and canned mango will be much less firm and make the salsa watery.
Dancing with flavor and just the right amount of spice, this Mango Salsa is out of this world delicious!