Cinnamon Apple Coffee Cake has the texture of cinnamon rolls without all the work! It's topped with a layer of spiced apples and crisp cinnamon streusel. Enjoy this as a perfect breakfast pastry or mid-day snack.
Love breakfast pastries? Try our easy cheese danish recipe next. Or give our sopapilla cheesecake a whirl for breakfast or dessert.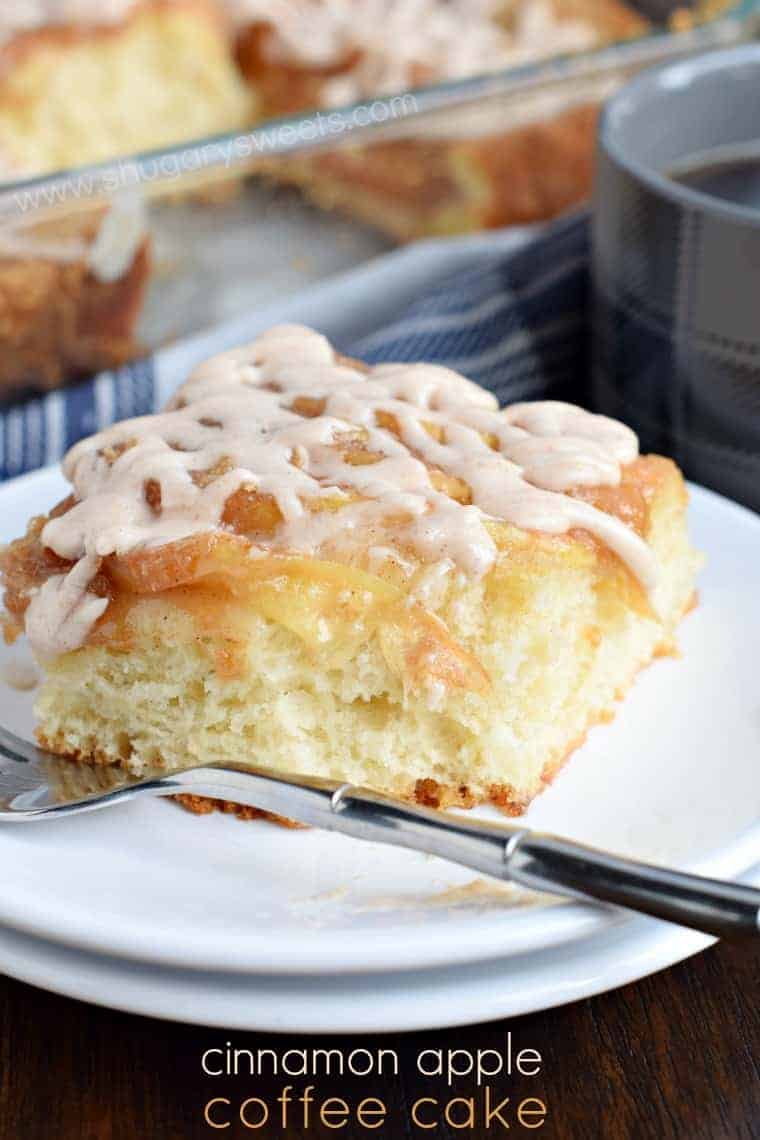 Why You'll Love It
The texture of this cake batter is akin to a yeasted sweet dough or homemade bread. It's stretchy and pliable, but you don't have to knead or shape it.
Easy preparation. No need to bloom the yeast in water, and peeling the apples is optional! 
The best blend of textures. A crumbly cinnamon streusel tops off baked apples and soft coffee cake. 
Fruity, sweet, and comforting. A layer of fresh apple slices over the cake gets doused with melted butter and cinnamon sugar. 
Beautiful and decadent! A generous drizzle of cinnamon glaze serves as the finishing touch.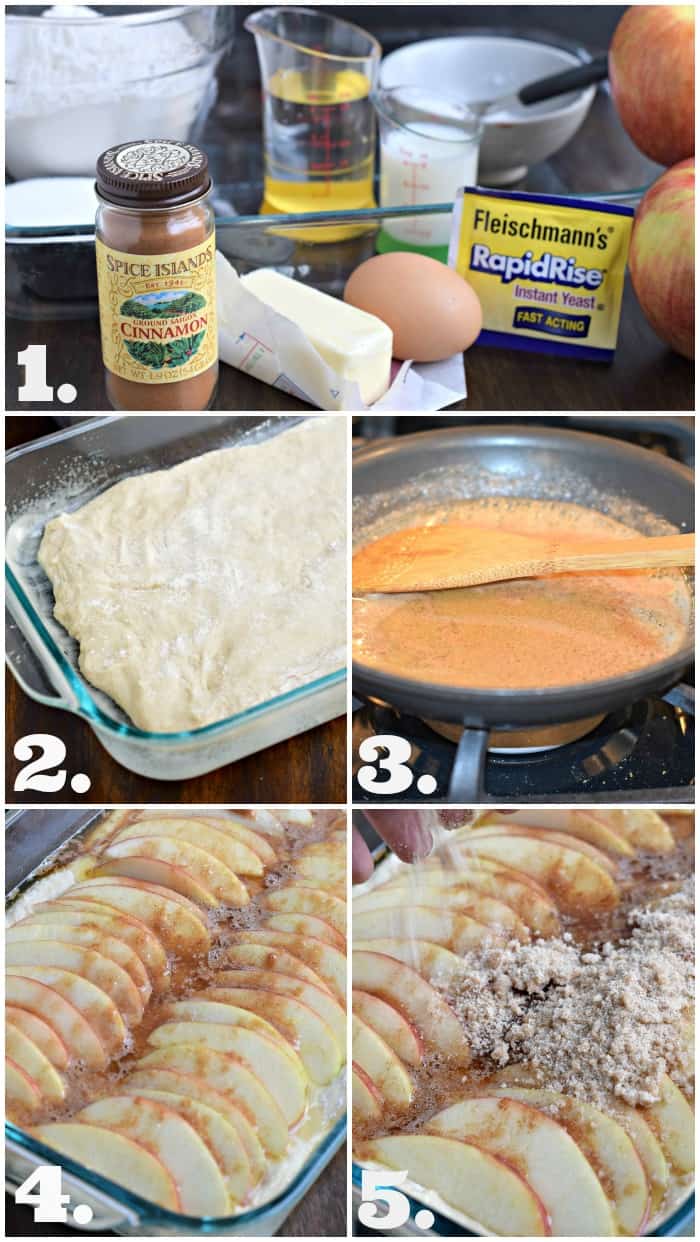 Ingredient Notes
Flour – All-purpose flour is the base of the cake batter, which is a yeasted dough. Use our easy tips and tricks on how to measure flour so you don't end up with a dense or dry cake.
RapidRise™ Yeast – Also known as "instant yeast." This type of yeast gets added to the flour instead of water. It's used in bread baking and doesn't require pre-mixing or blooming!
Cinnamon – Adds warming, comforting spice to the apples and the streusel. 
Unsalted butter – Butter adds that rich, buttery taste we all know and love. It's in the bread dough, the sauce that goes over the apples, and the streusel.
Egg – An egg helps bind the dough together and adds richness. 
Milk – A bit of milk adds flavor and moisture to the batter.
Apples – Use your favorite baking apple. Be sure to slice the apples thin so they'll bake to a soft texture. 
Brown sugar – Brown sugar adds a delicious flavor to the streusel topping, and goes great with cinnamon.
Powdered sugar – Otherwise known as icing sugar, powdered sugar is the base for the cinnamon glaze.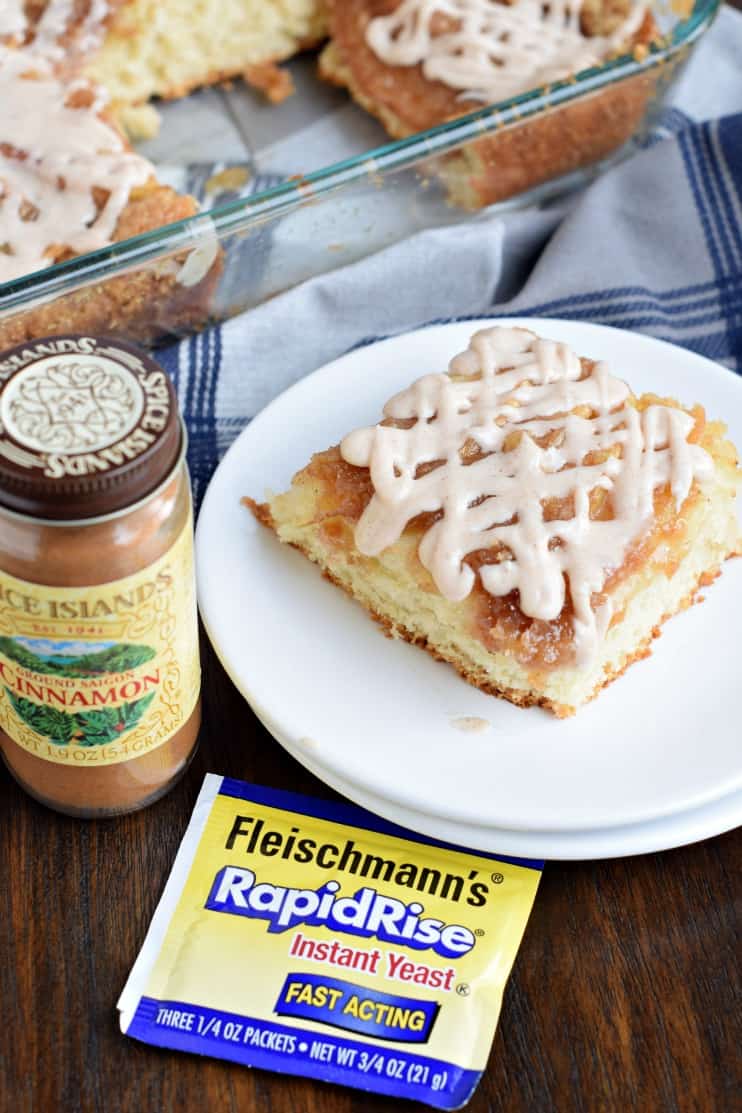 Easy Instructions
Be sure to scroll to the end of the blog post to print the recipe card with full instructions and ingredients.
Make the dough:
In a large mixing bowl, combine ¾ cup of flour, sugar, yeast, and salt.
Combine the water, milk, and butter in a small saucepan on medium heat. Heat until very warm, about 120°F.
Add the hot liquids to the flour mixture. Using an electric mixer, beat for 2 minutes at medium speed. Scrape the bowl as needed.
Add the egg and 1 more cup of flour. Beat on high for 2 more minutes.
Add in the last ½ cup of flour, and continue beating until a stiff batter forms.
Turn the dough into a greased 13×9 baking dish. Sprinkle with a touch of flour. Then press the dough out evenly with your fingertips.
Make the apple streusel topping:
Lay the sliced apples over the dough.
Melt the butter, sugar, and cinnamon in a small saucepan. Once bubbly, pour it over the apples.
Combine the streusel ingredients in a small bowl. It should have a crumbly texture. Sprinkle over the apples.
Let it rise, then bake:
Cover the pan with a clean, dry towel. Let the cake rise in a warm place for about an hour, or until doubled in size.
Bake the uncovered cake in a 375°F oven for 25-30 minutes. Cool the cake on a wire rack.
Cool, glaze, and slice:
Make the glaze by whisking together the sugar, heavy cream, and cinnamon until smooth. Drizzle it over the cooled cake.
Slice and enjoy!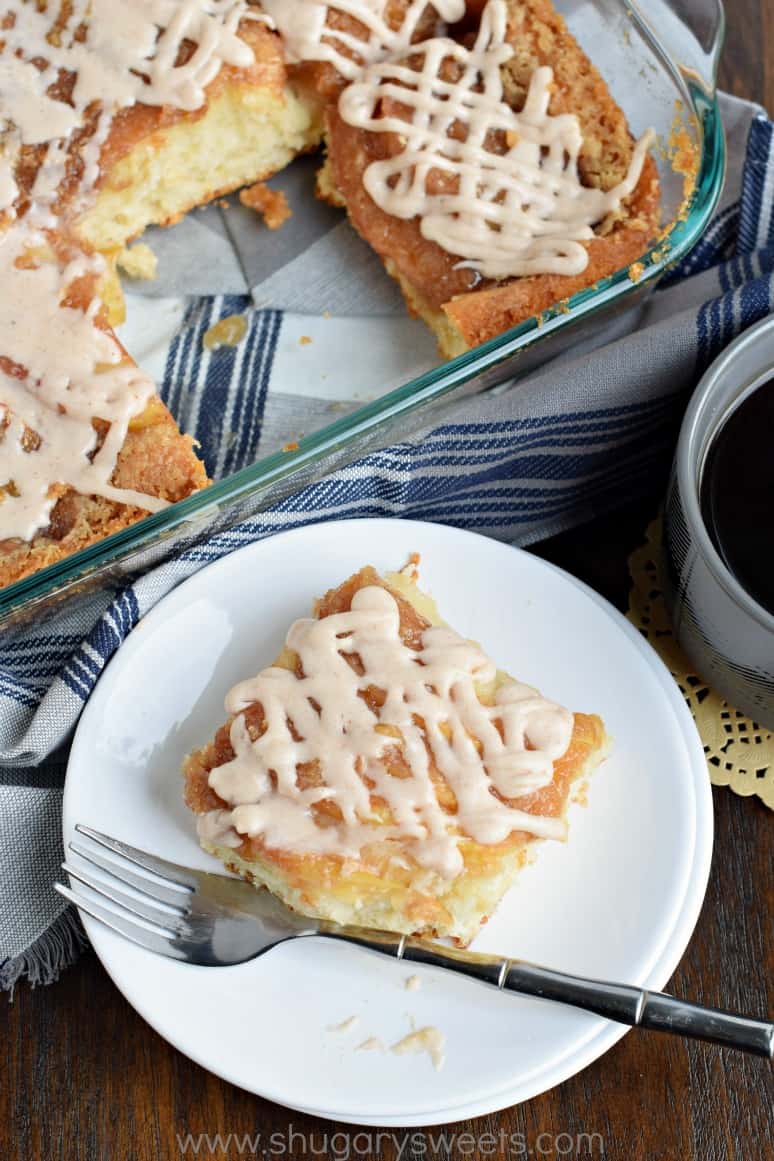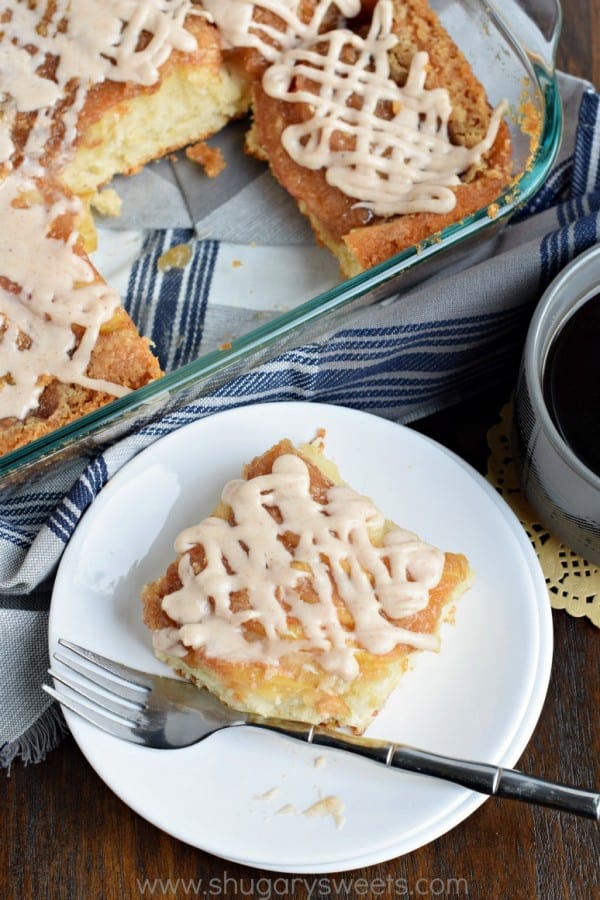 Tips & Tricks
Gather and measure out all your ingredients for the cake ahead of time. Not only will it save time, but you'll be less likely to forget an important ingredient.
Feel free to keep the skin on your sliced apples for added visual appeal!
To prevent your apples from browning once they're sliced, toss them with a teaspoon of lemon juice.
Keep an eye on your rising dough. Depending on how warm it is in your kitchen, it may rise faster or slower than indicated.
Serving Suggestions
To enjoy this coffee cake with a coffee drink, try my Brown Sugar Latte. Or if chocolate is more your jam, my Mocha Latte will hit the spot.
Craving more savory breakfast pairings? Prepare for the busiest of mornings with my School Morning Quiche or easy Instant Pot Egg Bites. 
If you're prepping for a big weekend brunch, a coffee cake looks great alongside a Spinach and Sausage Quiche or Ham and Cheese Quiche. Don't want meat in your quiche? No worries. My Veggie Quiche brings all the flavor and none of the meat.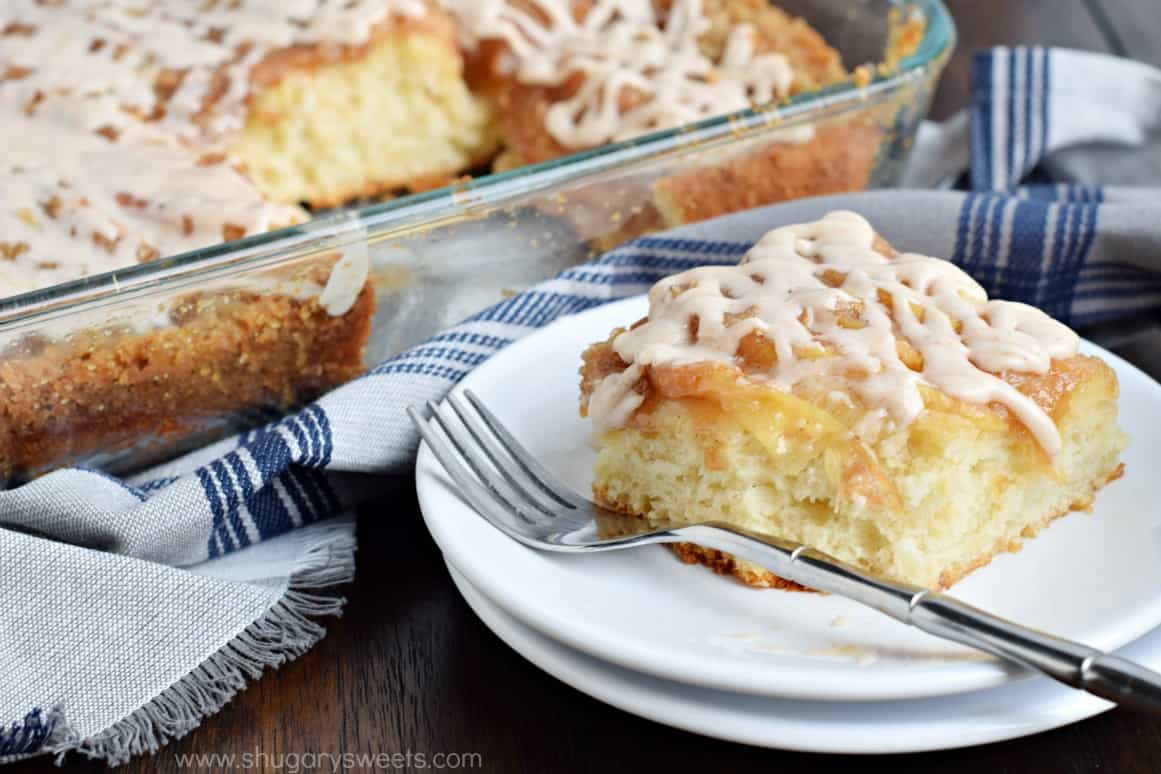 Recipe FAQs
Can I use active dry yeast instead of Rapid Rise yeast in this recipe?
For best results, use Rapid Rise yeast. If you only have active dry yeast, you'll need to use more. Use 1¼ tsp. active dry yeast for every teaspoon of instant yeast. Be sure to mix it in with the warm liquids before adding it to your dough, ideally at 110-115°F.
How should I store Cinnamon Apple Coffee Cake?
Store this cooled cake in an airtight container at room temperature. It will last for at least 3 days. Or store it in the refrigerator in the same container to extend its shelf life, but it may lose some flavor.
What's the best way to reheat this cake?
To reheat this coffee cake, microwave it for about 30 seconds. Or you can wrap it lightly in foil and heat it in a 250°F toaster oven until warm.
Can I use any fruit other than apples for this cake?
Yes, to replace the apples, you could use thinly sliced pears, peaches, or even plums. 
More Easy Breakfast Recipes