Light and refreshing, this Lemon Whipped Cream Frosting recipe is the perfect addition to homemade lemon cupcakes. So quick and easy to make!
If you like these lemon-frosted cupcakes, try my Lemon Pudding Cake Recipe next. Pink Lemonade Cupcakes are another favorite!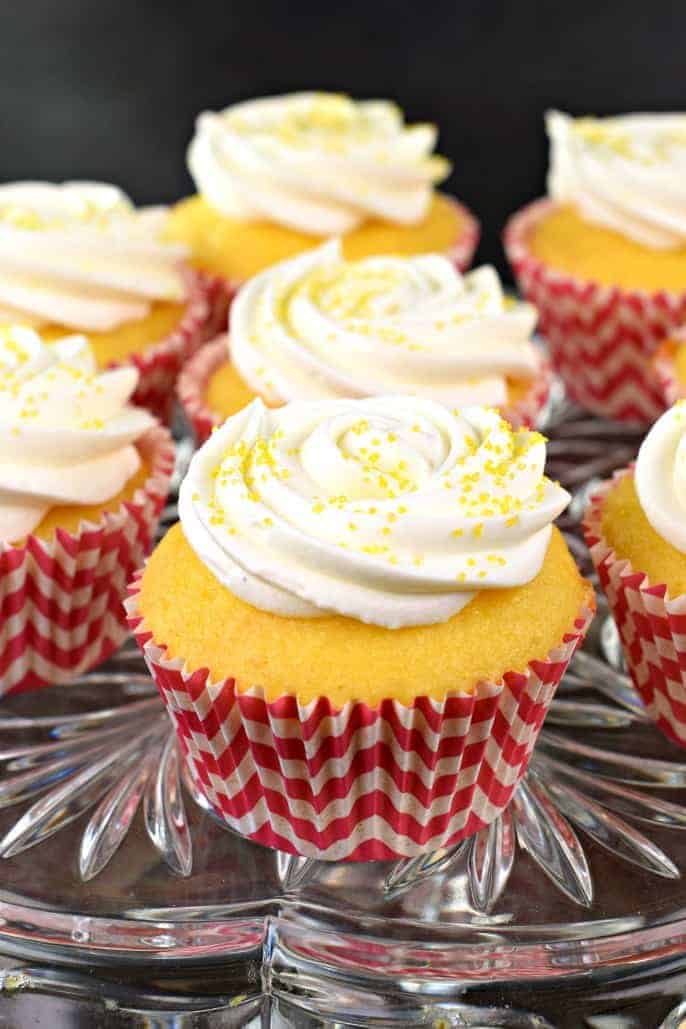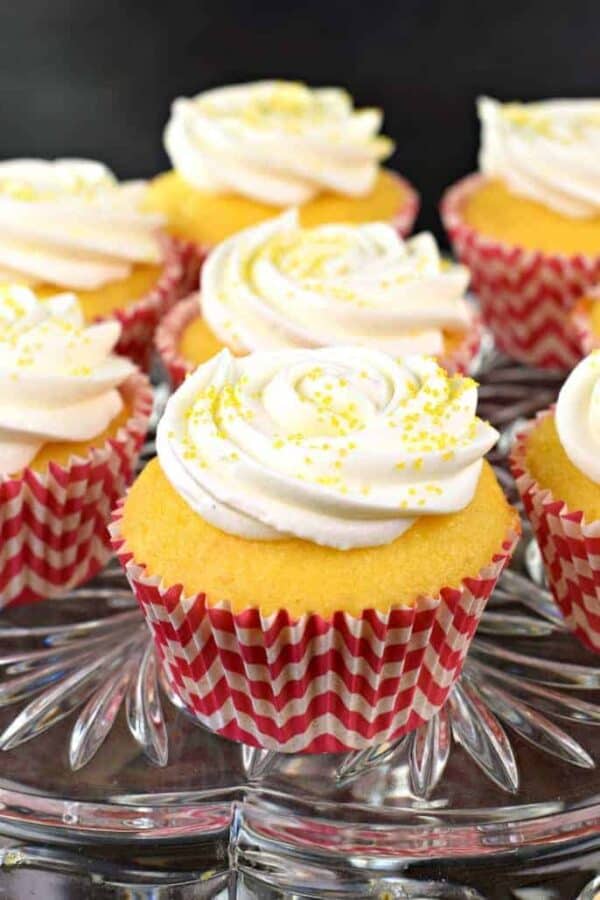 Why This Frosting is Best
When it comes to cupcakes, we can all agree: the frosting is the best part.
I love all kinds of frosting, from tried-and-true butter cream to chocolate ganache. It's impossible to pick a favorite–they all have their place.
While I've made lemon cakes and cupcakes with lemon buttercream frosting in the past, today I was in the mood for something different. Something light, creamy and refreshing!
You're going to love this Lemon Whipped Cream Frosting.
It's homemade whipped cream flavored with real lemon!
The perfect thickness for piping onto cupcakes.
Holds its shape like cool whip!
A balance of tangy, sweet and creamy flavors to tickle your tastebuds.
Easy to make in minutes!
Ingredient Notes
To make this lemon whipped cream frosting, you'll need these ingredients:
Heavy whipping cream – for creaminess and thickness.
Powdered sugar – for sweetness.
Lemon extract – A highly concentrated extract made from real lemons.
Lemon zest – The colorful outer layer of lemon peel adds color and more "zesty" flavor to the frosting.
Instant clear jel – A flavorless , odorless thickening agent that makes the frosting easy to pipe with a frosting bag.

Serving Suggestions
I used this frosting on a batch of homemade Lemon Cupcakes.
It would also be a delicious alternative to the Cool Whip in these Lemon Pudding Cupcakes. Or try it on these Lemon Coconut Cupcakes instead!
I love lemon on lemon on lemon, but I realize not everyone is that citrus obsessed. Balance out the lemon flavor by piping this frosting onto Vanilla Cupcakes instead.
Lemon Whipped Cream frosting is a delicious topping for a White Cake and Lemon Coconut Cake, too. You can't go wrong with a frosting this good!
Recipe FAQs
Does this frosting need to be refrigerated?
YES! After topping your cupcakes, keep them in the refrigerator until ready to serve. The cold preserves the consistency and structure of the piped frosting.
Can I use lemon juice instead of extract?
No, lemon juice will not work the same. Juice is far less concentrated than the extract and won't add much flavor to the whipped cream. The extract gives this whipped cream frosting a bright, lemony taste without adding excess liquid.
How can I make this whipped cream frosting without the lemon flavor?
Substitute vanilla extract for the lemon extract and omit the zest. Easy.
I also have a Stabilized Whipped Cream recipe that works as a Cool Whip substitute. It tastes great as a "frosting" on cupcakes too!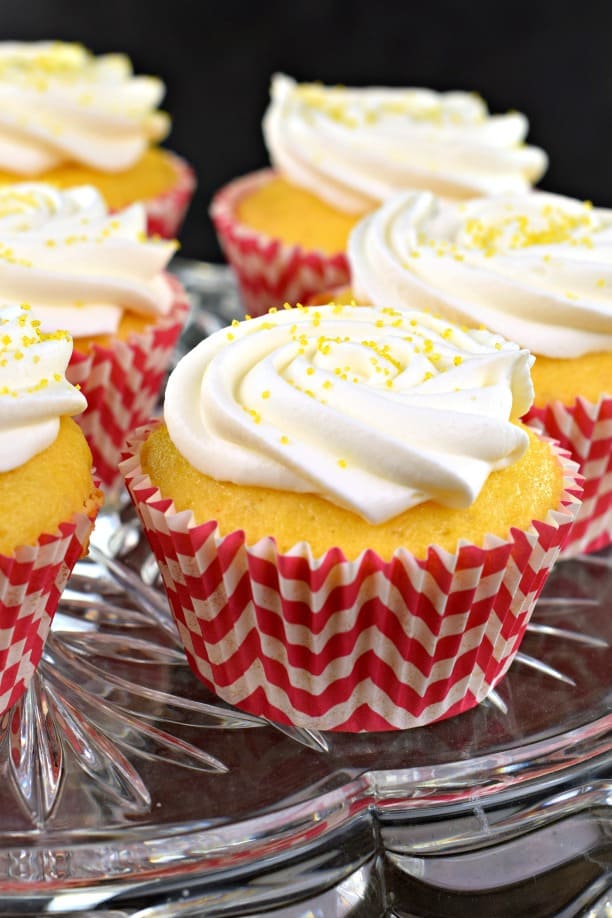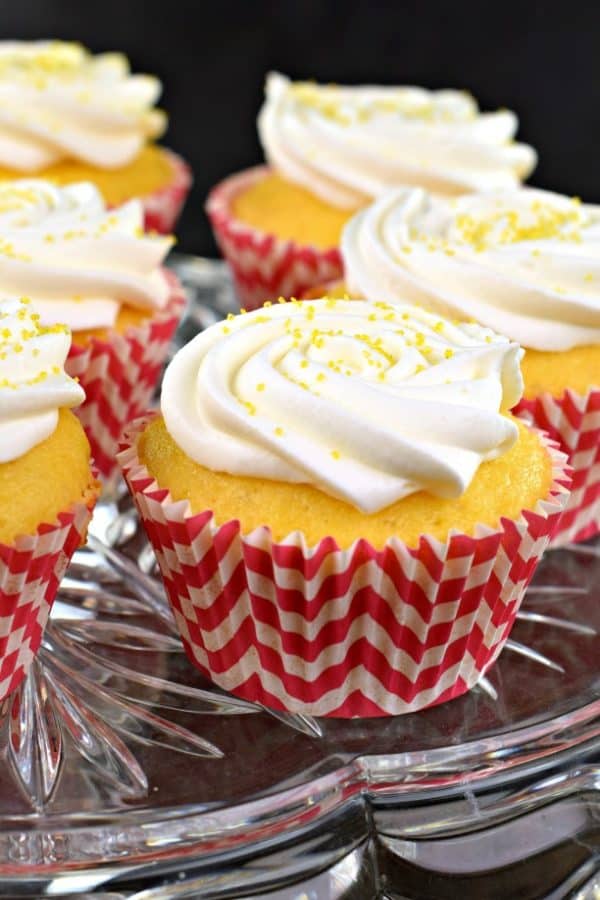 These Pineapple Orange Cupcakes are another easy, light dessert idea topped with a whipped cream style frosting. Less than 75 calories per cupcake!
What's YOUR favorite cupcake and frosting combo? Share it in the comments!
More Easy Desserts
Light and refreshing, this Lemon Whipped Cream Frosting recipe is the perfect addition to homemade lemon cupcakes.