Try this delicious, copycat recipe for Starbucks Pumpkin Cream Cold Brew Coffee at home! You'll love this coffee house inspired drink recipe that is easy to make!
If you love Starbucks but not the prices, be sure to try our homemade Apple Crisp Macchiato recipe too!! We think it's better than the original. Or give our Pumpkin Cream Cheese Muffins a try soon, so good!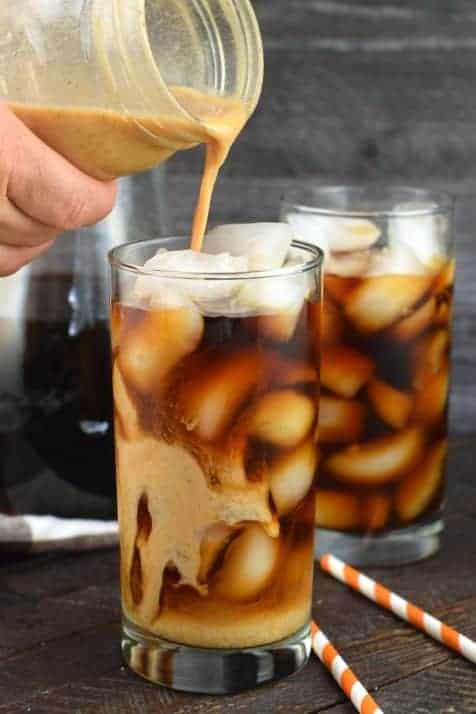 Why this Recipe Works
'Tis the season for pumpkin spice EVERYTHING.
I'm not ashamed to admit that I love all things pumpkin. From pumpkin coffee cake to pumpkin rice krispie treats, I can't get enough.
But know what I am sick of?
Spending loads of money on my newest favorite addiction, the Starbucks Pumpkin Cream Cold Brew.
If you haven't tried it yet, YOU MUST.
While I love a good pumpkin spice latte, I feel like Starbucks over the past few years has changed the recipe and it's very chemical tasting now.
But the Pumpkin Cream Cold Brew? So flavorful.
So, instead of spending money on Starbucks every day, I can buy more ingredients to make my favorite pumpkin zucchini bread recipe from home.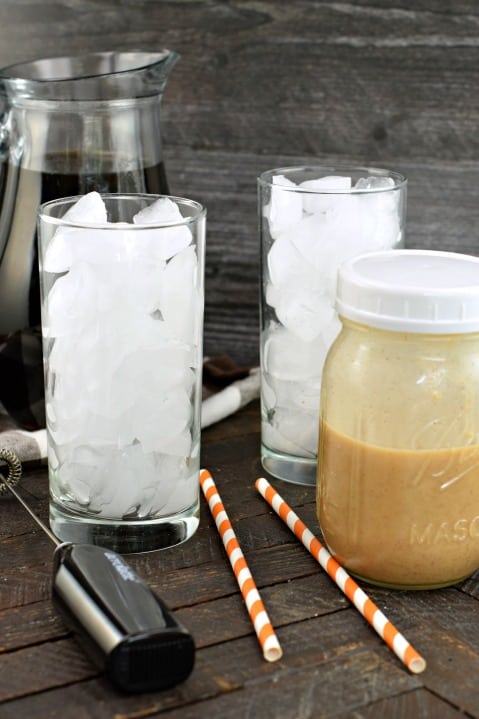 Ingredients and Tools
If you want a quick glance at what's needed for today's recipe, look no further. For the printable recipe with measurements, scroll all the way down!
Tools:
Ingredients: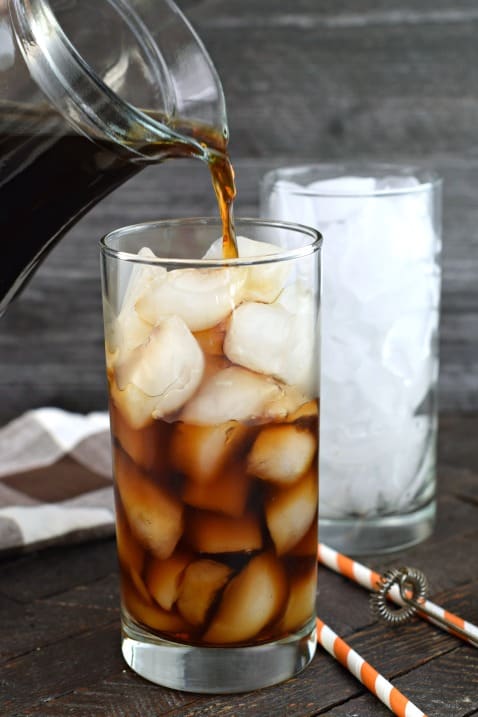 How to Make Cold Brew Coffee
Today's pumpkin cream coffee recipe starts with cold brew coffee. You can either buy a jug of it from the grocery store, buy the packets to make at home, or just whip up a pitcher of cold brew coffee using coffee beans you have at home.
Here's how to start.
STEP 1: You'll need about 1 cup of coarse ground coffee beans. Add the ground coffee with 4 cups of COLD water to a pitcher. Stir and refrigerate for 12-24 hours.
STEP 2: Place a strainer with cheesecloth over a large pitcher or bowl. Slowly pour coffee (with grounds) into the cheesecloth lined strainer until all the liquid has filtered through.
STEP 3: Dilute cold brew concentrate with a 2:1 ratio of cold water: concentrate. I usually just add an additional 4 cups of cold water. If you like it REALLY strong, use less water at this point.
Now you're ready for the pumpkin cream!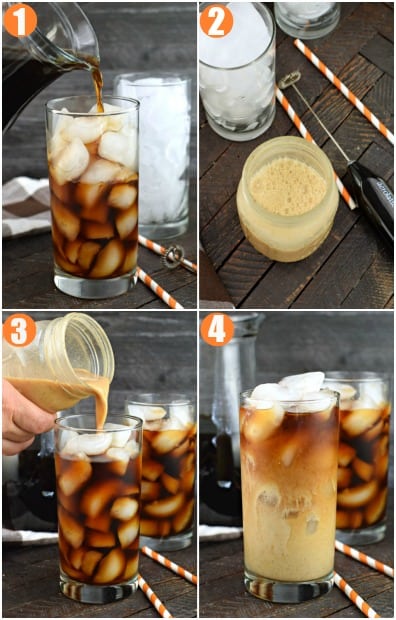 How to Make Pumpkin Cream
STEP 1: In a saucepan, combine heavy cream, sugar, pumpkin puree, and pumpkin spice. Whisk over medium heat until sugar is dissolved and cream mixture begins to steam. DO NOT BOIL.
STEP 2: Remove from heat and whisk in the vanilla extract. Strain through a fine mesh strainer and transfer to a pint sized mason jar (or pitcher). Refrigerate until cool.
PRO TIP: Chilling the pumpkin cream allows it to froth up easier. If you're just plain eager to drink your coffee, you can pour it into your iced cold brew coffee immediately.
STEP 3: Once chilled, use an Aerolatte or milk frother to froth the pumpkin cream. Or shake vigorously in mason jar.
STEP 4: Fill large glass with ice. Add cold brew coffee, leaving space for cream. Pour in desired amount of frothy pumpkin cream. ENJOY.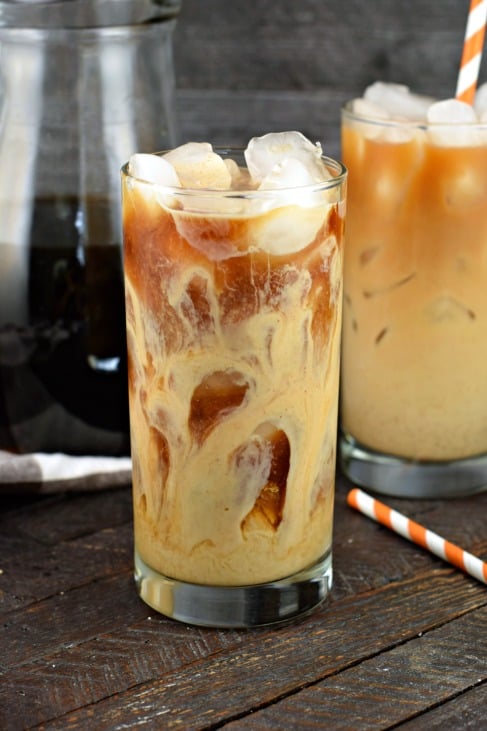 Tips and Tricks
More Starbucks Inspired Recipes
Learn how to make cold brew coffee and transform it into Pumpkin Cream Cold Brew coffee with this easy recipe!