Healthy, baked, Turkey Meatballs in this delicious casserole. Move over Chicken Parmesan, there's a new dinner at the table!
Love easy dinner recipes? Try our Ravioli Lasagna for a quick and easy pasta dish. Or give our Million Dollar Spaghetti casserole dish a try next.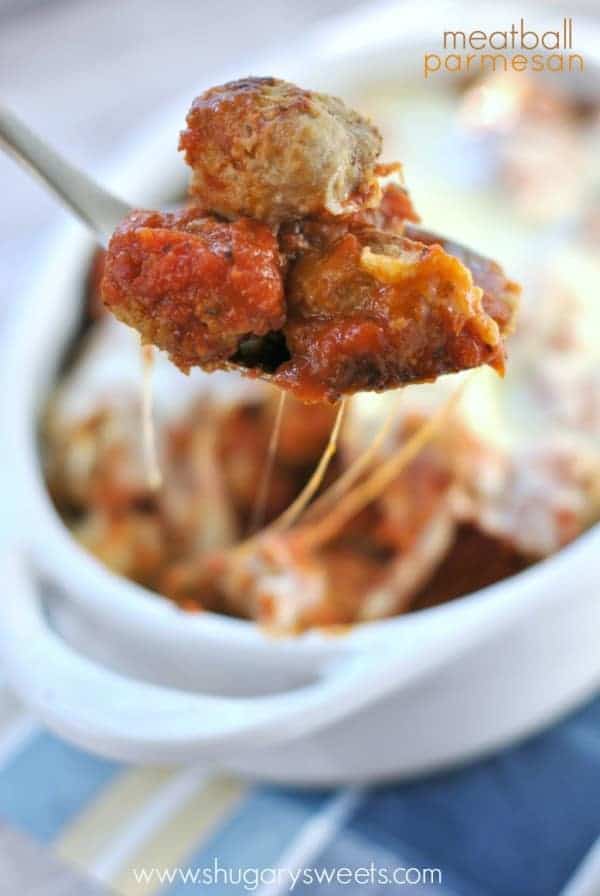 Why This Recipe Works
Everyone loves meatballs! Why not bake them into a casserole with plenty of cheese and spaghetti sauce?
If you've never made your own meatballs from scratch, this is the perfect recipe to get you started! Made with ground turkey and parmesan cheese, they're packed with protein and flavor!
My family loves this casserole on its own with an Italian salad on the side or served over a bowl of pasta.
You could also serve up some Meatball Sliders for an easy weeknight dinner! Or give our Spaghetti and Meatballs recipe a try.
So many ways to enjoy savory seasoned turkey meatballs any night of the week!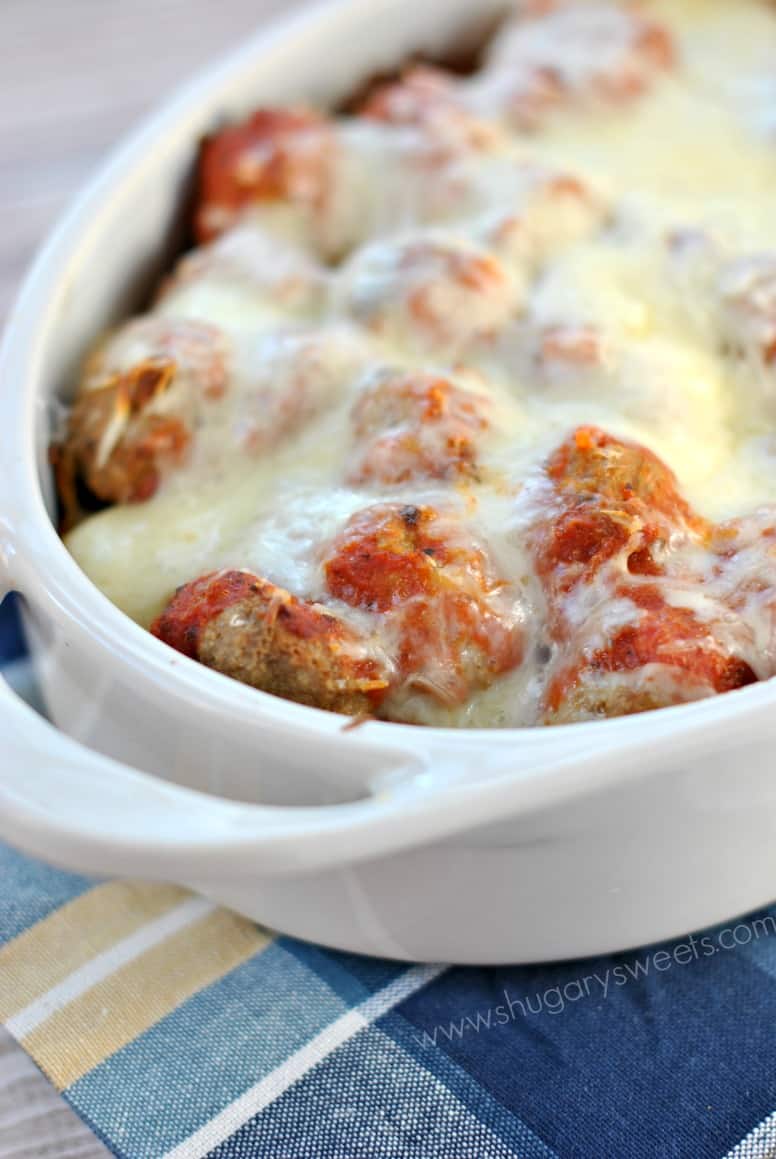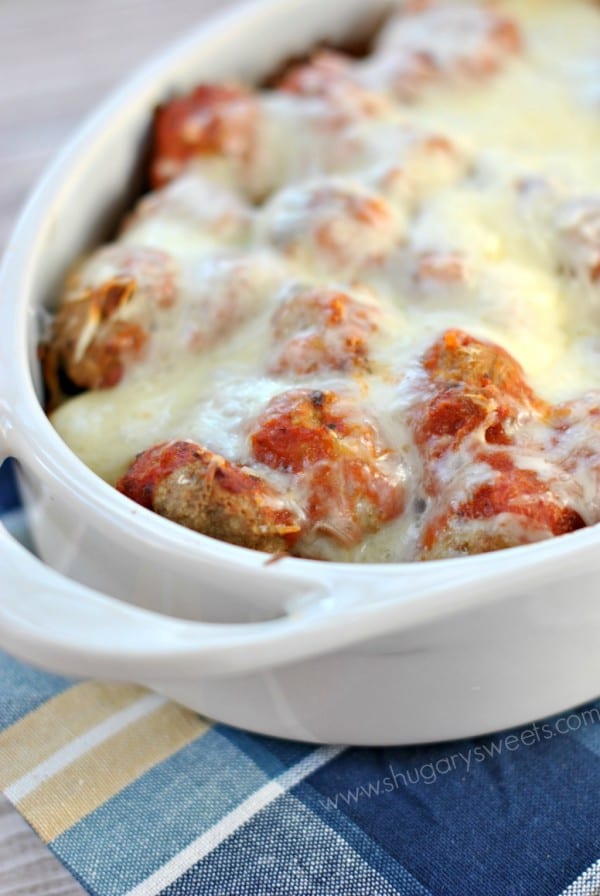 Ingredients
Here's what you need to make Meatball Parmesan Casserole.
Ground turkey – Lean ground beef works as a substitute.
Egg
Plain breadcrumbs – Store bought or make your own by pulsing plain white bread in the food processor to form fine crumbs.
Italian seasoning – I use the dried herb blend, but the fresh kind that comes in a tube would work fine as well.
Parmesan cheese – Freshly grated–not from a shaker!
Mozzarella cheese – I prefer to buy it in blocks and grate it myself for best taste and consistency.
Garlic powder
Salt and pepper
Spaghetti sauce – Jarred or try this easy homemade sauce.
Instructions
For the meatballs:
Mix the meatball ingredients together and use your hands to roll them into balls. Spread them out onto a baking sheet and bake for 20 -25 minutes.
For the casserole:
Pour half the jar of sauce into a casserole dish, then top with the baked meatballs, remaining sauce and shredded cheeses. Bake the casserole covered with foil for 30 minutes, then remove the foil and continue baking for an additional 5 minutes.
The cheese should be melted and slightly bubbly. Serve hot!
Recipe FAQs
Can the meatballs be made in advance?
You can bake the meatballs ahead of time and then freeze them for later. Freeze the cooled meatballs on the baking sheet, then transfer to an airtight container.
When you're ready to make the casserole, you can add the frozen meatballs right in; you'll just need to add a few minutes of baking time.
Can you substitute another kind of cheese for the parmesan?
Yes, mozzarella could be used in the meatballs instead of parmesan if preferred.
Can I use ground beef instead of turkey as a 1:1 substitute?
Sure thing! These meatballs would be delicious with ground beef as well.
How do you store leftover casserole?
Cover the casserole dish with cling plastic wrap or transfer to an airtight container. Keep refrigerated until ready to reheat and eat!
Serving Suggestions
You'll love this meatball casserole all on its own but we also like to mix it up! Here are a few suggestions to get you started:
Meatball Subs – Slice hoagie rolls in half and toast them before piling them high with the saucy meatballs. Add all your favorite sub toppings and enjoy.
Spaghetti and Meatballs – Have a classic pasta night and ladle the casserole over cooked spaghetti noodles. Top with extra cheese if desired.
Zoodles– Serve it up low carb style on zucchini noodles instead of pasta.
Looking for a great side dish for Meatball Parmesan Casserole? Make some Cheesy Garlic Bread or Soft Garlic Breadsticks (like Olive Garden.
With so many delicious ways to enjoy healthy baked Turkey Meatballs, you'll never run out of meal ideas the whole family loves.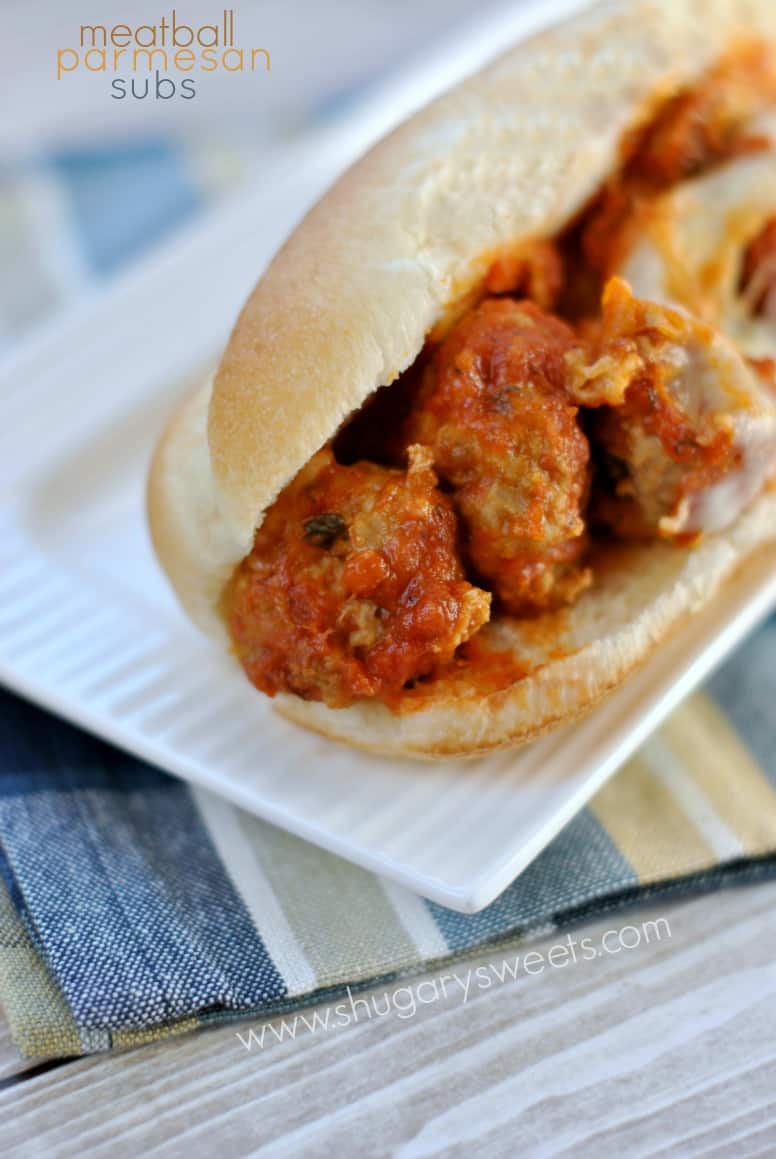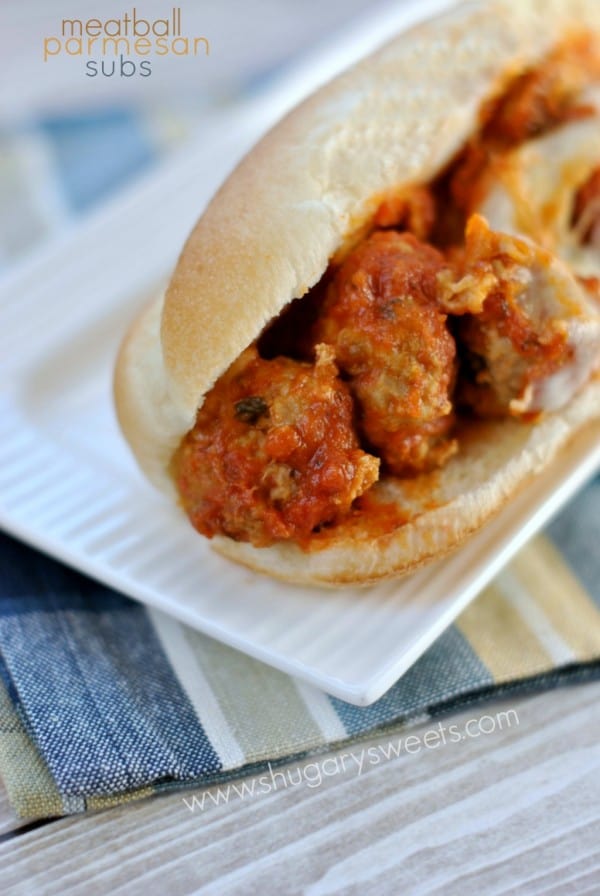 More Dinner Recipes